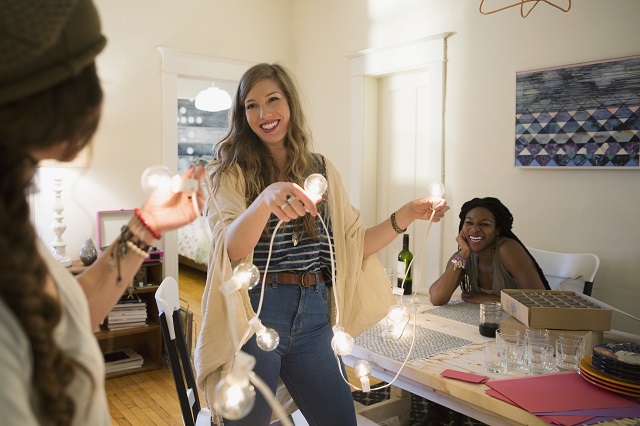 Fairy lights and string lights are the perfect complements to everything from backyard weddings to fireplace mantles. Learn the difference between the fairy and string lights to maximize safety and get the best overall value.
On this Page:
The Difference Between Fairy and String Lights
String lights are brighter and heavier. They look more old-fashioned, bulky and generally have fewer bulbs along the strand. You'll usually need nails or a staple gun to hang them. You can buy these online or in your local Target or Lowe's.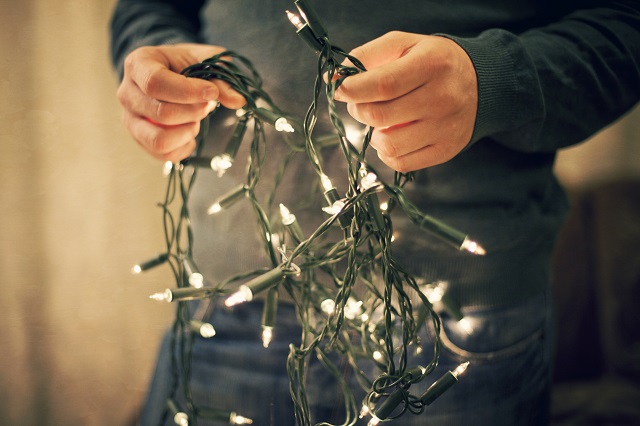 Fairy lights are more often used in home décor. Fairy lights are also used in holiday decorations and curtain lights. They usually come on shorter strands and have a delicate wire and smaller bulbs.
Put simply:
Illuminate the room with string lights.
Accent the room with fairy lights.
Installing lights outside? Waterproof, shatterproof and solar-powered string lights are more common than fairy lights.
Note: String lights may be in the 'outdoors' section of your local store, rather than the décor section where fairy lights are often found.
Hanging Fairy Lights Indoors
The materials you need will depend on the surface your lights hang from. Want to create less of an impact on your drywall? Use pushpins or thumbtacks. Use a hammer and nails if pictures or additional items will hang from your fairy lights.
Hanging String Lights Indoors
You have a lot of options when it comes to where and how to hang your new lights. Browse online for the look and feel you want, then evaluate the level of difficulty.
Zig-zagging string lights across a home office ceiling or throughout a hallway is more challenging than draping them outside on a bush.
Don't hang string lights with pushpins because of their weight and use what's available to you in the space.
Are there support beams? Secure the lights with zip-ties.
A loft with empty space? Drape them instead of hammering them in.
Want to hang string lights from the ceiling? Consider purchasing a small open loop hook, which is simple to install and keeps the lights from hitting the walls.
How to Hang Curtain Lights
Both fairy and string lights can make excellent curtain lights, so the look you want will dictate which type you should buy.
Measure your window and buy as many strands, also known as "stripes," as you'd like:

Buy anywhere from 15-30 stripes for a dense curtain.

Buy 3-5 for a more subtle look.

Secure the lights to the top of the window or curtain with the method of your choice, then hang your curtains in front of them.
Hanging Fairy Lights Without Nails
Hanging fairy lights without nails is a relatively painless process.
Buy damage-free hanging hooks from the brand of your choice.
Make sure your walls are clean and dry.
Adhere the hooks to the walls
Wrap or lay the fairy lights on the hook.
Remember that small open loop hooks are excellent for ceiling hanging. You can find damage-free loop hooks at your local Home Depot or Walmart.
Hanging fairy lights on brick? Hot glue can usually do the trick. If you change your mind, the glue generally isn't difficult to peel off.
How to Hang String Lights Outdoors
Play with your space when hanging string lights outdoors. Here are some options for how you can hang string lights outdoors:
Drape string lights across bushes or over tree branches
Wrap outdoor fairy lights with solar power around a bird feeder
Wind the lights around your deck
To hang string lights from a portico or pergola:
Use a staple gun meant for wires and cables and with an angled tip for a truly professional look
You'll inconspicuously secure the lights this way, because that staple gun gets into hard to reach places.
You can even buy pre-painted staples to blend in with the color of your pergola's wood. Don't use a metal ladder for this job, either, as it conducts electricity.
Find a handyman in your neighborhood if you have any issues.
Safety Considerations
Be aware of the type of lights you have purchased. Are they indoor or outdoor? Buy LED string lights or LED fairy lights if you intend to install lights in your bedroom or hang curtain lights. This protects you against a fire hazard. Consider a surge protector if you have dozens of lights plugged in, and be mindful of children and pets who may play with, pull on or damage the lights. Talk to a handyman for assistance with hanging string lights from the ceiling, outdoors, or if you just need an extra set of hands.
No Comments Yet