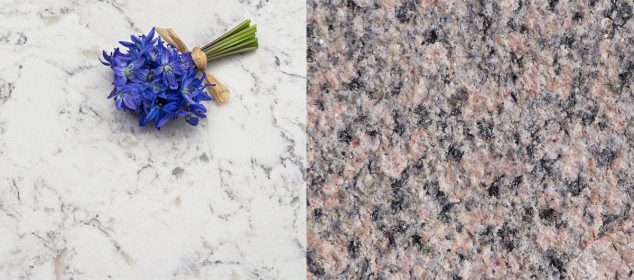 When choosing great looking, durable countertops, both quartz and granite are an excellent choice. However, there are some fundamental differences. Stone workers cut granite directly from large deposits into slabs. Manufacturers make quartz by combining crushed rock with resin to form slabs. Granite tends to be more natural looking while quartz requires overall lower maintenance.
On This Page:
What is the Difference?
Granite
Granite is a natural stone formed during the cooling of magma. Although formed mostly of quartz and feldspar, it also holds mica and other trace minerals that give it its characteristic flecked pattern.
The different minerals found in it make it one of many colors. White and cream are common, but pink and red variations are also available, as well as darker colors including black.
Quartz
Silicon crystallizes to produce quartz. It is the second most abundant material in the earth's crust.
Engineered Quartz is fabricated and typically used for countertops. Manufactures crush rocks and then bind them together with resins. White and cream are the most common colors although added pigment can give the slab color, which gives a natural look, or something more interesting. Caesarstone and Cambria are two major manufacturers.
Quartzite, as opposed to engineered, is a naturally occurring form of sandstone that has undergone intense heat and pressure. Countertop slabs are popular. Like other natural stone, this is porous and needs regular resealing.
Which is Better for Countertops or Tables?
Let's compare the natural aesthetic, affordability, everyday care, durability, maintenance and more of granite and engineered quartz as counters and tables.
Appearance/Colors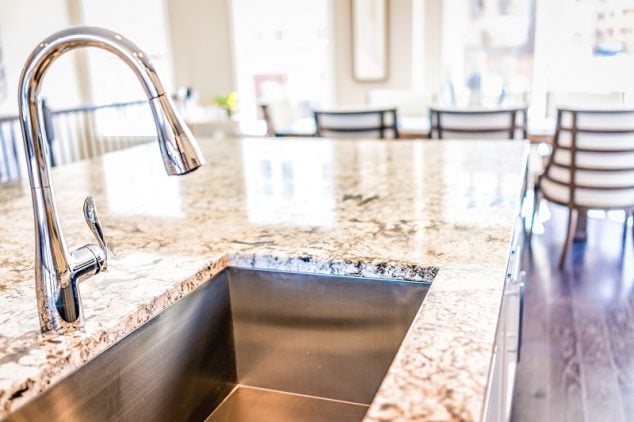 Granite
Pros– Has a more natural appearance. Found in many colors ranging from the more common off whites to more exotic blacks or greens.
Cons– Will show seams more readily. Has naturally occurring imperfections, although some consider this a good thing. Only naturally occurring colors are available.
Quartz
Pros– Colored with pigments, it can come in almost any color you can imagine, from a natural marble look to bright greens and reds, although whites with light grey or beige highlights are more common. Slabs have a manufactured, consistent look throughout which helps reduce the noticeability of seams.
Cons– Over time, exposure to direct sunlight may discolor the resin that binds the slab together. Because of the more uniform look and size of the crystals, many think it doesn't look as 'natural' as other types of stone.
The Most Natural Looking: Granite
Care
Granite
Pros– Natural stone is resilient and can last a long time if properly cared for.
Cons– Wipe up spilled liquids quickly because if left, the porous stone will absorb them, and they could cause staining and bacterial growth. It requires regular sealing to resist absorption. You need to reapply sealant every 1 to 2 years. Doing this yourself is relatively easy.
Quartz
Pros– It is a non-porous material and therefore highly resistant to staining as it will not absorb liquids. This also means it is resistant to bacterial growth.
Cons– Liquids or foods with heavy dyes in them will still stain the surface of the counter so wipe them up quickly.
Easiest Upkeep: Quartz
Return to Top
Durability, Hardness, & Strength
Granite
Pros– Resists chipping, cracking, and scratches from kitchen implements, although not recommended that you use your countertop as a cutting surface.
Cons– There is still the possibility of chipping if struck with hard objects. Countertop edges and corners are especially vulnerable to chipping. Rounded edges on counters can help alleviate this risk.
Quartz
Pros– Engineered to be durable and therefore highly resistant to chipping or cracking. Due to the resins used it is a more flexible material than natural stone which makes it less prone to breaking on install.
Cons– Although highly scratch resistant, it is not scratch proof. Scratches may even be more visible owing to the uniformity of the color.
The Tougher of the Two: Quartz
Moisture Resistance
Granite
Pros– It is resistant to moisture and staining when polished well and sealed with a sealant compound.
Cons– The sealant can wear down over time making the stone more susceptible to moisture wicking. Moisture absorbed by the stone can cause staining. Water left sitting too long may even cause some discoloration. Wipe spills up quickly and wash the counter regularly with mild soap and water. Reapply sealant every two years.
Quartz
Pros– It is non-porous and therefore will not absorb moisture. Wipe away spills quickly so they will not cause discoloration.
Cons– Liquids that are dark colored or have heavy dyes can stain the surface if left sitting for extended periods of time.
Most Resistant to Moisture and Staining: Quartz
Environmentally Friendly
Granite
It takes a lot of energy to mine and transport large pieces of natural stone. You can keep the carbon footprint smaller if you look for locally sourced stone rather than having it transported from overseas. Remnants are also a possibility if you are willing to flexible with size and color and help keep pieces of stone from ending up in the landfill.
Quartz
Made from crushed rock, the mining is a little bit easier as there is no need to carefully preserve large slabs. Also, in some cases, waste product from other uses is the raw material for engineered quartz slabs.
The Greener Choice: Quartz
Return to Top
Which is Best?

Best Countertop for Bathrooms
Bathrooms countertops are a place where water, toothpaste, and soap can sit for prolonged periods of time. So, unless you and your family are diligent about cleaning up spills right after they happen, the stain resistance of quartz wins.
Best Worktop for Kitchens
In kitchens, quartz is the better choice. Spills are no problem for the non-porous surface and its durability will keep it from chipping from heavy use. Watch out for hot pots and if you have a kitchen that gets a lot of direct sun. It can discolor the surface over time.
Quartz vs. Granite vs. Marble
Engineered to be stronger and have a more consistent look, quartz is different than the natural look of large slabs of solid stone like marble or granite. However, patterns and colors that look like more natural stones are available, giving quartz the best of both worlds.
Versus Solid Surface, Concrete, & Laminate
Solid surface is a little more affordable than quartz at $52 to $120 per square foot installed and because it is also non-porous, has a similar stain resistance. It wins out in the maintenance category because you can sand out scratches and stains, but it doesn't have the same look as real, natural stone.
Concrete countertops are also similar in price to quartz but have the advantage of versatility in color and shape options. However, as it is porous, it will need regular sealing.
If you're looking for a bargain, laminate is the way to go. Although it will never look like real stone, it is getting better at mimicking it closely.
Return to Top
Dealers & Stone Fabricators
Take care when searching for a stone fabricator and installer for your project. Dealers having their own installers can help alleviate some of the finger pointing should there be any problems along the way.
Top Granite Suppliers
Top Quartz Countertop Brands
Global
Caesarstone
Mont
Cambria
Helios
Silestone
Granite Granite Inc.
Pentalquartz
Hanstone
---
No Comments Yet
You can be the first to comment!