Laminate Flooring Replaces Hardwoods
See if We Have Top-Rated
Flooring Contractors in Your Area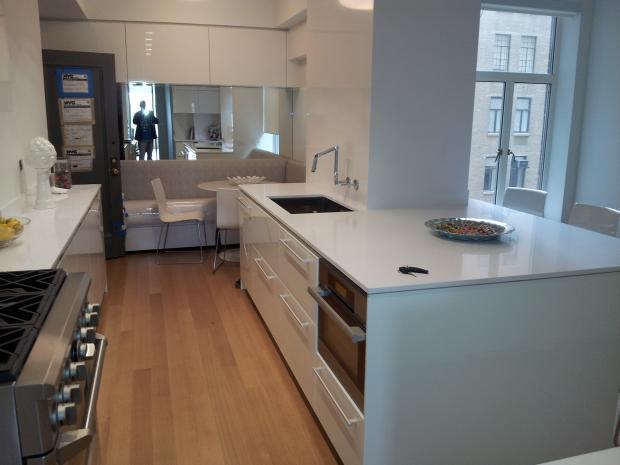 Laminate flooring is popping up all over town, and why shouldn't they? They're less work, cheaper, easier to install, and come in a variety of colors and patterns. What's more is that since this is a manufactured product, the price for laminate flooring is not tethered to fluctuating wood markets. Good news to homeowners, as they can rest easy that their flooring project will not see a price hike before the flooring is set.
Not Knocking on Wood
There is no question that wood has been and might always be the flooring material of choice. The problem is that not everyone can afford hardwood floors. Beyond that, the process of obtaining and maintaining wood floors is cumbersome and occurs every few years.
First, when you have hardwood installed, the flooring contractor will need to keep the flooring planks in your home for up to a week to adjust to the humidity levels in your home. That way when the flooring is installed, the wood won't swell or shrink, which minimizes early creaking and loose boards. Then the floor has to be stained, glazed, then sealed. Not to mention that wood needs to be refinished regularly.
The Laminate Floor Advantage
Laminate flooring, on the other hand, does not require steady maintenance and protection from scuffs and ridge marks. You won't have to oil your floors, have them sanded and restained, or worry about water spills. But that is just the part of the iceberg that sticks out of the water.
Laminate floors are super-versatile in that laminate flooring comes in scores of colors, patterns, and designs. These floors are hard and durable just like a laminate counter. Another big advantage to laminate is competition.
Laminate Flooring Brands
At last count, there are 35 different brands of laminate floors. Every time someone wants to redo their floors, there are 35 companies competing for your business. As a result, the price is always right and you can always find a brand that will fit your budget.
Of course, certain brands have specific product lines for different people. Some brands offer different wood grains, some offer different tones and colors, others offer a more durable product. Whatever you are looking for, one of these laminate brands will have it.
Best Practices
Laminate floors are for every home. Even if you are a die hard supporter of hardwoods, there are still places in your home that are better suited for laminates, such as children's rooms, laundry rooms, and entrances. These heavily trafficked areas are a great place to install laminate because if one area of hardwood gets damaged you'll likely have to refinish the entire floor. If it were laminate, you just fix what needs fixing.
Matt Myers is a freelance writer for the home maintenance and remodeling industry. Formerly a contractor specializing in deck building and casework, Matt has written over 500 articles for both homeowners and contractors.
More Tips & Advice For Your Home
Related Articles
Recent Articles
Galleries