On This Page:
Changing the carpeting in your home is an easy way to freshen up and modernize a space in a short period of time. Unlike some other home improvement projects, professional installation of carpeting is really necessary given the complex tools required to create a finished look. Many home improvement stores and flooring retailers offer "free" installation services with the purchase of carpeting from their locations; however, varying factors such as type of material, uneven floors, staircases, and old carpet removal can drastically increase the final cost of such convenient services, making them not as free as you might have hoped.
Because effectively calculating the costs associated with carpet installation is not as straightforward as it seems, any homeowner looking to update his or her carpeting needs to consider far more than just the price per square foot of the material.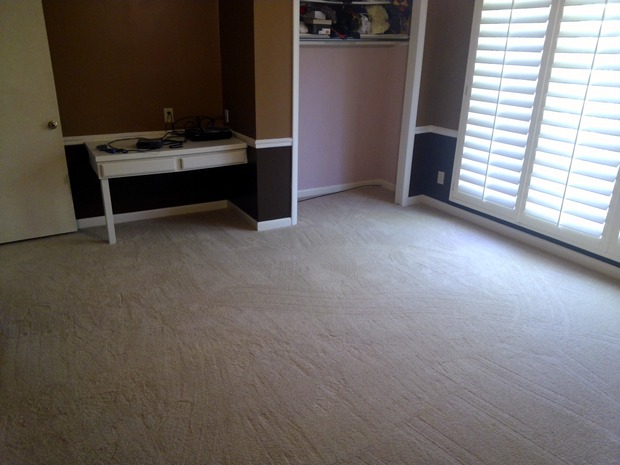 Photo courtesy of Howell Flooring in Greensboro, NC
What's the Average Cost per Square Foot to Install Carpeting?
Many factors go into the final carpet prices and installation job, including room size and shape, carpet style, furniture removal, hauling out old flooring, labor, and more. That's why there is so much variety in our user reports, which show that the average cost of an entire carpet installation project is $1,607, with most homeowners paying between $762 and $2,522 but with some paying as little as $200 or as much as $4,000.
Here's a look at those costs, broken down by square foot:
Cost of carpeting: $1-$11 per square foot
Cost of padding (if not included in the carpet or labor cost): $0.30-$0.60 per square foot
Cost of labor: $0.50-$1 per square foot
Cost of labor add-ons (furniture removal, Berber carpet installation, special cuts, hauling away, etc.): $0.50-$2 per square foot
Therefore, a standard 12-foot by 12-foot room without any odd angles or cutouts should cost between $300-$750 for carpet installation using a low- to middle-grade carpet material. That equals approximately $2-$5 per square foot.
Find a Carpet Installer Today
The Cost of Carpet Itself
The single most influential element that affects the final cost to install carpeting is the price of the carpet itself. The range of options is vast, spanning from basic olefin and polyester, priced around $1-$2 per square foot, all the way to wool and patterned Berber, which can cost upwards of $9-$11 per square foot. Basically, the style and materials used to make the carpet determine its cost, which means homeowners need to balance the desired look and effect with their budgets.
Carpet Styles and Options
Despite the many choices in stores, carpet really only comes in three basic styles known as piles. These three types - cut, loop, and cut and loop - each offer distinctive features and benefits to homeowners and work best in different rooms of the home based on the level of foot traffic.
Cut Pile Carpet: Created when the woven loops of carpet are all cut to the same height and tufted at the ends, its resulting appearance is dense and soft. Cut pile carpet includes four subcategories:

Saxony or Plush: The most common type of carpet, this looks like a freshly mowed lawn. It's subject to wear, however, and therefore best in low-traffic areas.
Textured Saxony: This type is twisted to create a permanent curl and resist lines and wear. It's great for medium- to high-traffic areas.
Frieze: More tightly twisted than textured Saxony, the yarn from Frieze carpet actually curls over to create a durable product that resists lines and works well in high-traffic areas.
Cable: Notable for its thicker and longer yarn, cable carpet is the plushest style. However, it is subject to wear and matting, making it best for low-traffic areas.

Loop Pile Carpet: Also known as commercial carpet, loop pile is the uncut version of cut pile carpet commonly found in high-traffic areas of the home and in businesses. It is made of yarn that is actually looped into its backing, making it incredibly durable and resistant to lines. Often multicolored to hide dirt and stains, different types of loop pile carpet may include both low- and high-profile areas to add additional texture and concealment.
Cut and Loop Carpet: By combining the techniques used to create cut pile and loop pile carpet, it is possible to make unique patterns and designs that add interest and texture to a room. Alternately known as "cut and uncut carpet" and "sculpted carpet," this style of carpeting is durable and easily conceals lines, making it a good choice for medium- to high-traffic areas.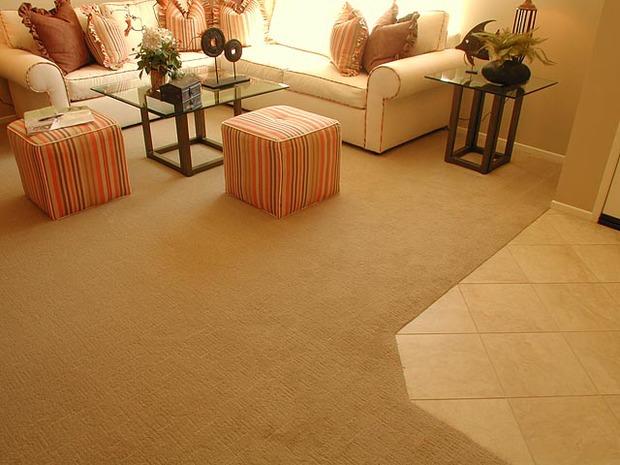 Photo courtesy of Shop Carpet Corporation in Tamarac, FL
Carpet Materials
There are six common materials used to make carpet: acrylic, cotton, nylon, polyester, polypropylene (or olefin), and wool. While the majority of carpets sold in the United States are made of the synthetic fibers listed, each of these common materials offers homeowners different benefits, drawbacks, and price points.
Acrylic: More common in area rugs, acrylic carpet fibers are notable for their spongy feel and resistance to stains, mold, mildew, and moths. Acrylic fibers are easy to clean and dye and are fade resistant. They are subject to pilling, however, and, as the closest material to high-cost wool, are a more premium fiber.
Cotton: Also more common in area rugs, cotton carpets are most notable because they are incredibly soft. However, like cotton garments, these carpets stain easily and are subject to fading, so they are not optimal for homes with young children or pets. They also tend to be priced much higher than synthetic fiber alternatives.
Nylon: Used in 65 percent of all carpets sold in the United States, nylon fibers are a good option because they are durable and easy to clean, making them suitable for families with kids and indoor/outdoor dogs and cats. Often used in the construction of mid-price carpet, nylon is notably the strongest type of carpet fiber and therefore is often found in high-traffic areas. It is also resistant to mold and mildew. Nylon carpets are subject to static, however, and often receive an anti-static treatment before installation. There are two different types of nylon used during manufacturing:

Type 6 Nylon: considered the value fiber. Type 6 is often unbranded and may only meet minimum construction requirements or have inconsistent fiber quality.
Type 6.6 Nylon: considered the premium fiber and often branded (DuPont nylon, for example).

Polyester: Well-known for its beautiful color applications, polyester carpet fiber also resists fading and wear over time. The fiber itself is also resistant to mold and mildew and is generally considered non-allergenic. However, the quality and density of the polyester weave vary from brand to brand. As a result, some polyester carpets are especially susceptible to tracking and crushing, making them a poor choice for high-traffic areas. To get the most out of polyester carpet, look for higher-density construction and lower profiles but higher twist levels. Avoid high piles, low density, and "blown" yarns, all of which tend to show wear more quickly.
Polypropylene or Olefin: The fastest-growing fiber in carpet construction in terms of usage, polypropylene or olefin is used in about 30 percent of all carpets manufactured in the United States and has many of the same characteristics as polyester. It is notable for its incredible stain resistance. It also resists bleaching and sun fading and maintains its color because it is solution-dyed rather than topically dyed. Olefin is also moisture resistant, reducing the occurrence of mold and mildew, and incredibly durable. Buyers are most likely to find olefin fibers in Berber or loop pile carpet, which do well in high-traffic residential areas as cheaper alternatives to nylon.
Wool: The most traditional choice when it comes to carpet material, wool is a premium carpet fiber notable for its deep, rich look and luxurious feel. Along with an incredibly high price tag, homeowners who opt for wool should expect a durable, stain-resistant product. Because it is a natural fiber, wool is more susceptible to fading and static, however, and actually absorbs moisture, possibly leading to mold and mildew in wetter areas such as a basement.
Get Your Carpet Installed Now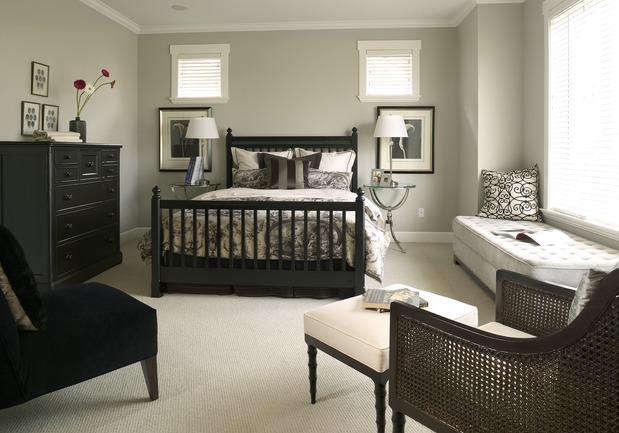 Additional Costs & Fees to Install Carpeting
In addition to the cost of the carpet itself along with the labor charges associated with its installation, there are several other factors that seriously affect the final price tag of any job.
Subfloor Installation: This applies to new builds and additions where a new subfloor may not be installed or ready to have carpet installed over the top.
Adding Moldings: Used to separate rooms and help secure doors, you may need to add moldings if you are changing floor types from something else to carpeting.
Baseboards: Used to define the line between the wall and floor, at a minimum, baseboards may need to be removed and reinstalled for proper carpet installation. However, when adding or replacing carpet, replacing or repainting baseboards is a common add-on.
Custom Cuts: Any time a contractor has to lay carpet in anything but a square or rectangular room there may be an add-on to compensate for the extra time and skill it takes to complete the install. This is especially true when carpeting stairs, which is considered a specialty installation and will not be included in most promotional installation offers.
Removal of Old Flooring: Carpet installation quotes are based on bare subfloors without any nails or glue on top. If you have existing carpet, tile, or other flooring in a room, it will likely need to be removed before you add new carpet.
Moving or Rearranging Furniture: If you currently live in your home, you may either need to clear the room that will be having carpet added or else pay the installers to move the furniture themselves.
Don't wait until the last minute. Get in touch with a carpet professional today.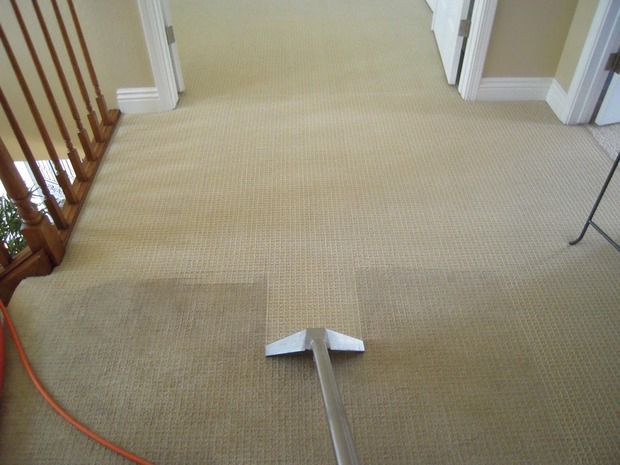 Photo courtesy of The Steam Team Carpet Cleaning, LLC in Gibsonton, FL
Carpet Maintenance
Once your new carpet is installed, getting the most out of its life means performing regular cleaning and other maintenance to keep it looking its best. Tips to get this done include keeping outside shoes off of carpeted surfaces, vacuuming regularly to rid carpeting of dust and dirt, and always removing spots and stains immediately using a blotting method - never rub a carpet stain!
It is also important to carefully consider the foot traffic in any area where you want to put carpet. No matter the style and fiber used in your carpet's construction, if it's in a high-traffic area such as a main hallway, it's going to show wear faster than if it's in an out-of-the-way spot like a guest bedroom. Sometimes the best maintenance you can perform is prevention. You can also ask carpet repair or installation pros.
Thank you for submitting your feedback.
Share your cost experience
Help others plan and budget for their projects