Build a Kid Gym in Your Home to Improve Kid Fitness
See if We Have Top-Rated
Room Designers in Your Area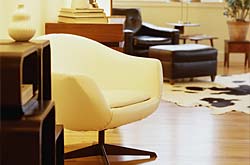 Exact statistics for the incidence of child obesity are far from universally agreed upon, but the fact that child obesity has been on the rise is beyond debate. Rough numbers indicate that, today, close to 1 out of every 6 children suffers from obesity, while a generation ago barely more than 1 out of 20 children could be considered obese. Needless to say, child obesity stems from more than simple genetics. More than just self-esteem and depression, child obesity is associated with dramatically increased risks of diabetes, heart disease, high blood pressure, respiratory problems, and other health concerns. Everything you can do to improve your kid's diet is helpful in reducing the risks of child obesity, but increasing your kid's level of physical activity can be just as important in improving kid fitness.
Benefits of a Kid Gym
Obviously, your kid's fitness is the biggest benefit. One of the obstacles to creating a home gym is the space bulky exercise equipment occupies. Smaller exercise equipment is sufficient for kids, and few kids find traditional exercise machines appealing. You should try to be as creative as possible with you kid gym, but you may be able to coax your kid onto the treadmill with incentives—ideally, something other than ice cream.
What You Might Include in Your Kid Gym
You'll want to talk to your kids about what they want in their home gym. Their interest in their kid gym is all-important to getting the benefits from such a room. Kids, as you know, can be fickle, so retain realistic expectations, and remember that without their input you're unlikely to get anywhere.
If you have a smaller child or reasonably high ceiling, you might think about a climbing rope. A mat will keep your child safe and allow them to somersault and tumble.

Typical playground equipment is often a good idea: swings, small slides, and monkey bars.

An indoor tree house will give your kids the idea that their gym is a place to escape and call their own. It will help your kids want to use the exercise equipment you put in the room.

Padded walls and unbreakable windows will allow your kids to literally play in the house. You can set up holes for them to throw footballs through or a picture of a batter to throw strikes to.

Interactive virtual sports are another idea. If you've got the money and your kids play sports, you might think about a projection screen and interactive virtual sports software. This is ideal as it will appeal to your kids' sense of a video game but will still require them to exercise.
Adult/Kid Home Gym Combinations
There are two different kinds of combinations you might consider and find beneficial for your home and kids. First, you can install your home gym area with equipment and features for both you and your kids. This, of course, will allow you to work out with your children, spending quality time together and staying in shape at the same time. The obstacle to this scenario—other than getting your kids to work out with you—is finding the room for both kinds of equipment.
The other kind of combination for adults and kids is a removable kid home gym that can be converted to a makeshift home office/guest room. It doesn't occur to many homeowners to build a kid home gym simply because they believe their kids get enough exercise outside. Indeed, before you build an indoor home gym for your kids, you might think about an outdoor swing set and playscape. On the other hand, a removable home gym will allow your kids to have a place to play in the winter. During the summer, you can return the room to its other use. A single wood beam running along the ceiling of the room will allow you to install a swing, monkey bars, rings, ladder, or climbing rope. These items can be easily removed from the beam. A small computer desk and futon can also be easily stored during the winter for gym mode.
Marcus Pickett is a professional freelance writer for the home remodeling industry. He has published more than 600 articles on both regional and national topics within the home improvement industry.
More Tips & Advice For Your Home
Related Articles
Recent Articles