Cabinet Secretaries for Home Renovations
See if We Have Top-Rated
Home Professionals in Your Area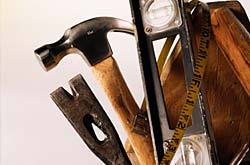 Designing your kitchen or bathroom from scratch is a complicated and detailed process. It's helpful to understand how the work will be subdivided, what services each professional will play, and how this work will fit into the larger context of your kitchen or bathroom remodel. Your remodeling general contractor or project manager is going to call on several pros who are experts in their craft as his Remodeling Cabinet. The final responsibility always rests with you, the President of your home remodel, and for this reason, it's important to understand the service and civic duties of your project.
The Home Remodeling Cabinet
Secretary of Transportation: Flooring Contractors
Not only is the relationship between the Transportation Secretary and your flooring contractor a good analogy, it's one of the overlooked aspects to kitchen and bathroom flooring. Everybody wants flooring that looks good, but you also want to look for something that will accommodate cold, wet feet on bathroom floors and rushed, dish-carrying foot traffic in kitchens.
Flooring Idea: Ever loathed the fact that carpet, with its low moisture tolerance, isn't a viable kitchen floor? Well, take a look at cork flooring, carpet's soft flooring cousin. It'll keep your feet happy and your floor maintenance to a minimum.
Secretary of Energy: Electricians
There is no subcontractor that combines basic safety guidelines with keeping things powered like an electrician. Just as the Department of Energy focuses on better energy technology, more efficient sources, and nuclear waste disposal, the Electrical Secretary will hook up your refrigerator, microwaves, and any new electrical appliances. Properly sized wiring is critical to your home's safety.
HomeAdvisor Preferred Contractor, Clarence Williams warns, "You can't rely on fuses that only protect the wiring. Unacceptably high currents can cause insulation damage and overheating that can ignite adjacent, combustible materials."
Secretary of Treasury: Plumbers
For one of the only times in U.S. history, the Treasury Secretary is a household name. Chief economic advisor to the President, the Treasury Department, as everybody now knows, influences financial markets and monetary policy. The Plumbing Secretary is the person who makes sure the financial markets of your home are unclogged. If you're stuck constantly plunging toilets and clearing sink drains, you'll quickly find yourself unable to lend time to your family, hobbies, and personal leisure.
What to avoid: Unlike the current government intervention, don't throw everything and the kitchen sink at a clogged drain. Multiple drain cleaners can create a chemical reaction that threatens serious damage to your pipes and/or septic system.
Secretary of the Interior: Framing Carpenters
The Interior Secretary oversees such agencies as the Bureau of Land Management, National Park Service, and the U.S. Geological Survey. No stranger to lumber and precise measurements, framing carpenters will complete any structural changes in your home. Many homeowners begin a kitchen or bath project with no intention of tearing down the walls. Be warned, however, homes with older kitchen and bathroom spaces may have mold and other water damage lingering behind these walls.
Of course, you still can't avoid the red tape. Home improvement consultant, Jon Nunan, reminds us that "building codes can regulate many aspects of your carpentry framing, including the size of doorways, the height of ceilings, the size of hallways, and locations and sizes of stairways and windows."
Secretary of Homeland Security: Drywall Contractors
If a framing carpenter is the Interior Secretary, then the drywall contractor has to be appointed for Secretary of Homeland Security. Of course, most homeowners think of drywall in terms of color palettes and decorating schemes, but drywall is first and foremost about creating a border between your home's living space and structural components. If the Interior Department is in charge of the designation, administration, and protection of federal land, the Drywall Secretary will give that land the shielding it needs from moisture, dust, and other environmental hazards.
Drywall Tip: Keep an eye on the sky. Although drywall nails are inexpensive and quick to use, drywall screws are more secure, and often a better choice for hanging drywall on ceilings.
Looking for a change? We can help! Use this link for a professional
Home Remodel
Secretary of Housing and Urban Development: Cabinet Installers
If HUD is primarily concerned with the nation's housing stock, your cabinet installers will provide your bathroom and kitchen housing, the means to store your kitchenware, dried foods, bathroom supplies, etc. Much like choosing housing, you should talk to a cabinet professional about the difference between stock (cookie-cutter) cabinets, semi-stock (mass-produced) cabinets, and custom-built cabinets. The design of your cabinetry is at the heart of both the look and function of your home's kitchens and bathrooms.
Home improvement consultant, Matt Goering, points out this commonly overlooked benefit of custom cabinets, "They can be built for placement in hard to fit corners and built deeper into the wall because of the integrity of their materials."
Secretary of Agriculture: Countertop Installers
The Agriculture Secretary doesn't just produce food for the country. The office also helps ensure the food is safe to eat. Restaurants use stainless steel countertops because research has shown they're the most hygienic. Counters that are easy to clean don't just reclaim leisure time; they also help ensure your food doesn't become contaminated. The Department of Agriculture also conducts an extensive education program for farmers, gardeners, and citizens alike. Your Countertop Secretary should be able answer any of your questions about radon and granite counters, the "green qualities" of glass counters, and the increased strength of new lines of laminate counters.
According to HomeAdvisor, the online contractor referral service, while the average stone counter costs $4,800 and the average solid surface counter costs $4,400, a comparable laminate counter might cost about $1,400.
Secretary of Health and Human Services: HVAC Contractors
Most people don't even realize they need a HVAC contractor for most kitchen and bath remodels. You may want to consider installing additional heating in your bathroom for those winter months and freezing tiles. Often, the real need for a HVAC Secretary is to install and inspect ductwork they may have been ripped out or altered as part of the remodeling design, or you may need to add bathroom and kitchen ventilation to remedy issues with moisture, mold, and mildew.
Indoor air quality has become a serious public health concern. According to a study conducted by the Mayo Clinic, 93 percent of chronic sinusitis cases were caused by mold.
Marcus Pickett is a professional freelance writer for the home remodeling industry. He has published more than 600 articles on both regional and national topics within the home improvement industry.
More Tips & Advice For Your Home
Related Articles
Recent Articles