Chasing the White Rabbit: Making Sense of Buying Windows
See if We Have Top-Rated
Window Contractors in Your Area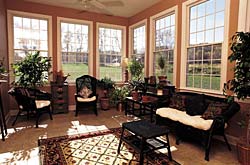 We live in a world that seems to get more and more complex by the minute, a place where even the most straightforward purchases can make your head spin. Take something as simple as buying a new TV, for example. It used to be that selecting the right size television caused people to break into a cold sweat. Now we've got to decide between plasma, projection, HD, LCD, and 1080p, just to get started! Unfortunately, choosing the right windows for your home isn't much easier. For starters, there are low-e coatings, single, double, and triple panes, gas fills, solar heat gain coefficients, and a variety of window glazings to consider. And in addition to all that, you'll need to choose between different framing materials, various levels of insulation, and a wide range of window styles, as well. Almost makes a homeowner long for an earlier and simpler age, or does it?
Through the Looking Glass
As it turns out, the convergence of glass and confusion isn't as novel as we'd like to think it is (no pun intended). All you've got to do is look to Lewis Carroll's Alice's Adventures in Wonderland, and its sequel Through the Looking Glass (the classic animated Disney film is actually a hybrid of the two), to realize that tough decisions aren't unique to our present day and age. Should Alice follow the rabbit down the hole? Drink the potion? Eat the cake? Nibble the mushroom? Granted, she does get herself lost in a strange land, grows into a giant (more than once), and shrinks herself down to miniscule proportions a few times, but to Alice?s credit, she makes it back home eventually. And she does it the hard way: through trial and error.
Similar to Alice's storybook adventures, making the right decision about which windows are the best fit for you and your home isn't always an easy one. The good news is that, unlike Alice, there's no need to tackle this adventure all by your lonesome. If you're in the market for new or replacement windows, here's a quick guide to aid you in making the right choice the first time, so that you can stand tall, and avoid feeling small, after your new windows are installed.
Window Shopping in Wonderland: What to Look For
In truth, Alice didn't make her way through Wonderland alone. She had many guides along the way, including the Cheshire Cat, the Mad Hatter, and even the White Rabbit himself. That said, there's no reason you should seek advice on window installations from Tweedle Dee and Tweedle Dum, either. Finding an experienced and honest window installer should be your first order of business. Once you've managed that, you'll be in a much better place to choose the right windows for your home, since modern, high-efficiency windows are high tech, custom affairs. Here are the things you need to discuss with your pro.
Multiple Panes—Steve Poitz, a member of the Canadian Window Standards Subcommittee, and an engineer who specializes in energy-efficient windows, states that even a clear glass, double-paned vinyl or wood framed window can reduce energy usage by up to 24% in cold climates during the winter, and by up to 18% in hot climates during the summer. Those are some impressive statistics, especially considering the fact that those savings are generated by installing a no frills, economy line replacement window, not the more technologically advanced, energy efficient windows that are standard fare these days. Want to increase those savings even more? Increase the panes. When it comes to windows, every one counts. Three is better than two is better than one!

Bells and Whistles—According to Bill Barr of All Star Windows and Siding in Loveland, CO, insulated window frames, heavy gas fills, low E-coatings, and cutting edge technology such as heat mirrors, should "absolutely" be added to multiple paned windows to further improve their energy efficiency. "There are a lot of products that go into a good window," says Barr, who notes that it's a combination of technologies, not any single feature, that reaps the biggest rewards. How much difference can the right combination make? According to Barr, you can expect energy savings of anywhere from 30% to 50% if you replace all the windows in your home with high-efficiency models.

Budget—Be sure to set a realistic budget with your installer regarding how much you're able to spend, though don't forget to keep the bigger picture in mind. According to sources as varied as the American Council for an Energy Efficient Economy and the U.S. Department of Energy, energy loss attributed to windows accounts for about 25% of the annual heating and cooling costs for the average American home. Reduce or eliminate that loss with the right fit of high efficiency windows, and it's easy to see why windows are the perfect example of a home improvement that can end up paying for itself, and then some, as time rolls by.
Choosing the right windows doesn't have to make you feel like the Mad Hatter. Do your homework, find the right contractor to work with, and you'll be enjoying your own window wonderland before you know it!
Matt Goering, formerly a carpenter and house painter, is a freelance writer for the home improvement industry who has published over 600 articles.
More Tips & Advice For Your Home
Related Articles
Recent Articles
Galleries