Choosing Your Home Alarm System
See if We Have Top-Rated
Home Security Contractors in Your Area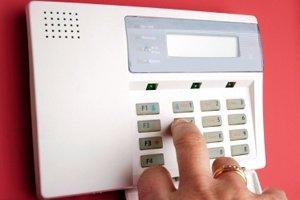 Home alarm systems are a must in many neighborhoods; however, with 2.1 million burglaries annually, and more than 65% of those residential burglaries, it is a good idea in any neighborhood, if only to provide peace of mind. There are many ways to do this, though, and determining your need is the most difficult thing to do.
The Easiest Way Out
We've all seen the "Beware of Dog" sign pinned up next to a puppy Chihuahua, but a simple step like a sign that warns of dogs, a security alarm, or a neighborhood watch organization can often do some good in dissuading a would-be burglar. These steps, however, only prevent the least-seasoned thief—perhaps neighborhood kids and random transients. To truly safeguard your house and home, you will want a proper alarm company to install a home alarm system.
Choosing your Home Alarm System
Installing a security system is always a good idea, but choosing the right one can be difficult. It is crucial to assess your home security needs before you begin consulting with a home security advisor or alarm company. Most of these security companies specialize and will naturally push their product. With the variety of alarm systems out there, it is important to understand what you need before you begin shopping.
The most basic alarm makes loud noises upon unwanted entry. This is simply to make neighbors aware and to scare off the unwanted intruder. It does not alert the police, fire, or an alarm company. Other home alarm systems come with a wide variety of options. They can monitor doors and windows by zone or by individual attribute, sending a signal to your security panel expressing exactly what the problem is. They can monitor fire, carbon monoxide, temperature, and combustible gas levels. Or they can include motion detectors and cameras.
Topping the larger decisions within this, there are two. First, do you want to pay an alarm company to monitor your house 24 hours a day, or should the system send a general distress signal to 911 every time the alarm goes off? Naturally, the second option can get expensive (and embarrassing) if false alarms are common.
The Hard Wire System
The second decision is whether you install a hard-wire system or a wireless system. Hard-wired simply means that holes are drilled into each window and doorframe and wires are run through the walls to the panel, while the wireless device uses pads that send a radio frequency to the control panel. The hard-wire system is difficult to tamper with and easier to maintain, but more costly—particularly if your home is already built. The wireless system often works well enough, but it relies on radio frequencies that can be tampered with and batteries that need regular service.
When do I use my Alarm?
The biggest obstacle for many homeowners is using their alarm with any regularity. This, of course, is a pretty crucial step in securing your home. To prevent this problem, make sure the alarm panel is at the door most often used and, perhaps, also in the master bedroom. Equally important, turn your alarm on not only each night, but each day as you leave. Be aware that more than 60% of burglaries happen between the hours of 6am and 6pm. This means that more than half happen while you are at work.
Settling in on a System
As you consider your options, be sure to think about how each might affect your normal routine. Do people often enter and exit the house at night? Will the alarm be accidentally set off often? Is there a dog or other animal that would regularly set off motion detectors?
As you consider the features in a security system, be sure to think through how it fits into your daily routine. But the best defense is always in your ability to determine risk, implement a good security plan, and make it routine. If you stretch your routine too far—a pack of wild Chihuahuas guarding a moat, for instance—you will find yourself either overwhelmed or neglecting the plan. So the best thing to do is figure out what works best for you and make it part of your life.
Brice Particelli, formerly a carpenter in Colorado and Kentucky, manages continuing education programs for Columbia University and is a freelance writer for both the home improvement and travel industries.
More Tips & Advice For Your Home
Related Articles
Recent Articles