Contractor's extra effort creates bright living spaces for Denver family
See if We Have Top-Rated
Home Improvement Pros in Your Area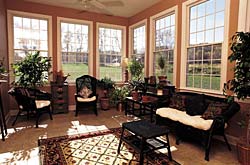 Nestled among pine trees in suburban Denver is a brick, ranch-style house that belongs to Ron and Shelley Liggett. In many ways, it's the perfect place for the couple. They love the location, privacy and space the home offers.
When the family moved in last year, the house had one major problem they wanted to fix. Although the couple's teenage children, Chris and Taylor, enjoyed hanging out in their basement bedrooms, the tiny basement windows didn't allow natural sunlight to enter the boys' space or give them an emergency exit.
Let there be light
The Liggetts embarked on a major home improvement project that would add three egress windows in the basement. They also decided to replace a large, worn picture window in the main-floor piano room.
After asking ServiceMagic for a list of qualified contractors and eliciting three bids, the couple settled on L & M Construction.
Hal Bregman, L & M's marketing director, "seemed on top of the ball, in control and committed to doing it right," Ron said.
Hal promised to bring a qualified, enthusiastic team of craftsmen who could dig out the ground surrounding the new windows, cut the concrete, frame new openings, install windows, build external window wells and haul away dirt.
"It was an extraordinarily complex job compared to taking out old windows and replacing them with windows of the same size," he said.
L & M also had to tackle the 2-foot by 6-foot horizontal picture window on the main floor. That required subcontracting with a brick mason to do the precise work. L & M found the best person for the job.
Getting the job done right
"Our philosophy is to always do top-quality work," Hal said. "We don't come in blind and wing it. We know what we have to do and do it right."
Ron is happy he hired L & M. Unlike with some other contractors he's hired, Ron didn't worry about whether the job would be completed right.
"L & M was easy to work with. There was a high level of integrity there," Ron said. "When they said they would be there, they were. When they said how it would happen, it happened. There were no complications."
Now that the project is finished, Chris and Taylor have settled in to their bedrooms, playing their musical instruments and fooling around with video games and other teenage pursuits.

"It makes it a much better living space down there," Ron said. The boys now have a bright living space with less of a basement feel. Perfect masonry work shows no signs that L & M ripped out and replaced the large picture window.

L & M also delivered an unanticipated bonus. Before the construction project, the ground sloped toward the house, causing what Ron described as a "bad water problem." L & M used the dirt from digging the egress windows to slope the ground — and direct rainwater — away from the house.
More Tips & Advice For Your Home
Related Articles
Recent Articles
Galleries