Home Foreclosures: The New American Lemon
See if We Have Top-Rated
Home Improvement Professionals in Your Area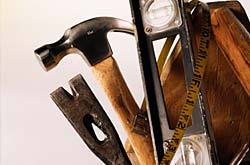 Although most commonly associated with automobiles, the term "lemon" comes from the beginning of the 20th century and indicates any item sold in substandard condition. Today, this term could be used to describe the fire-sale of homes that have been ravaged to the point of inhabitability, a common and under-reported side effect of the housing crisis.
Foreclosures and Underdeveloped Housing Stock
Homeowners who can't keep up with their mortgage also have trouble keeping up with home repairs. With record foreclosure rates and a shadow inventory of bank-repossessed homes that haven't been put on the market, a recent trend toward poor home maintenance seems to be accelerating. Indeed, regardless of the condition of their mortgage, many homeowners neglect and/or underestimate the required level of maintenance associated with being a homeowner. With 130 million homes in the U.S., on average 31 years old, continual upgrades are needed not just to maintain the basic livability of a home but also to allow its energy efficiency to keep pace with higher energy costs.
This same reality is causing experts and pundits alike to assert that the home improvement and remodeling industry is poised for strong growth and recovery once the economy gets back on its feet. Of course, this assertion is dependent on the eventuality of people owning, occupying, and overhauling these foreclosed homes before they are literally run into the ground. Indeed, while the "echo" boomers—offspring of baby boomers—are supposed to give a lift to the economy as they mature, these demographics may now be seen as an economic lifeboat for the housing crisis.
These Homes are Target for Vandalism and Property Destruction
Between vacant and summer/vacation homes, the Census Bureau says a record one out of every nine homes is unoccupied. From foreclosure signs to word-of-mouth, it's not hard to discover that a home is unoccupied, as these homes become prime targets for vandals, squatters, or even violent political protests. Toilet paper and eggs have given way to spray paint, busted windows, crow bars, even arson. While the housing market has caused home values to plummet 30 percent since their peak in 2006 and nearly 20 percent in the last year alone, this vandalism can cripple the value of the housing structure in a single day. How common are these trends? Thomas Popik, an expert with Campbell Communications, a Washington-based group that supplies data to private mortgage industry analysts, recently had this say in an interview with CNN, "About a third of all of the foreclosed properties nationwide have been so damaged, either by the previous owners or by criminal gangs coming in after the foreclosure, that they no longer qualify for standard mortgage financing."
Foreclosed Rental Properties: Anatomy of a Lemon
Often, a foreclosed property isn't the owner's primary residence. While ordinary Americans are trying everything they can to stay in their homes, the owner, whose mortgage is under-water and doesn't need the home to live in, may have little incentive not to walk away. About one-third of the homes currently in foreclosure are occupied by someone other than the owner, according to Rick Sharga, senior vice president of the Irvine, Calif.-based RealtyTrac, Inc.
Plus, many of these homes weren?t in the best shape to begin with. According to the Joint Center for Housing Studies, this decade has seen "inflation-adjusted expenditures per rental unit averaged almost 35 percent below its peak level in the late 1980s, indicating underinvestment in the housing stock." In other words, landlords haven't been keeping their rental properties up-to-date—the delayed repairs renters have complained about over the years weren't just smoke and mirrors. Meanwhile, some renters, already less likely to properly care for a home, may feel inclined to actively gut the house when they find themselves evicted from their home through no fault of their own. In this way, when a bank puts a foreclosed rental property on the auction block, it can be compared to selling a refurbished car that was previously totaled. In fact, during these auctions buyers may not even be allowed to enter the interior of the home, before buying the property.

Lemon Homes: Buyers and Sellers Beware
First, you need to make sure you don't buy one. This is the big caveat about buying a foreclosed home. Short sales are one thing, but homes sold at bank auctions may not be subject to the same home inspections and disclosure laws. Home sellers would also do well to play up this fact when competing in this buyer's market. Unfortunately, the low listed prices of distressed homes may drive away buyers before they even look at your home, but once you get someone's interest, it's a good selling point. On the other hand, you need to make sure your home doesn't fall into this "lemon" category. Robbing your privately-owned home of this advantage may make it essentially impossible to sell.

Marcus Pickett is a professional freelance writer for the home remodeling industry. He has published more than 600 articles on both regional and national topics within the home improvement industry.
More Tips & Advice For Your Home
Related Articles
Recent Articles