Home Gyms Take the Work Out of Working Out
See if We Have Top-Rated
Remodeling Contractors in Your Area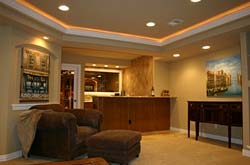 A home gym is a great addition to any house, but many people tend to shy away from them. They sound expensive. They sound like a lot of work. And they often sound intimidating. Health enthusiasts tend to associate their idea of exercise equipment with professional clubs, and therefore, any personal home gym can't compete with the luxury and extravagance of the large fitness centers. But what they don't realize is that a home fitness center can be just as effective, and doesn't have to contain a million machines to produce results. Actually, these additions can save you money and offer conveniences that the corporate clubs cannot.
Cost, Convenience, and Control
You don't need to build a separate addition to store equipment. In fact, many homeowners have plenty of unused space just lying around the house, such as a finished basement or spare bedroom. These areas are fully functional but often aren't fully exploited. But why spend time, money, and effort just to fill up a perfectly good room with workout equipment when there's a building right across town that can take care of it? Well, home fitness centers offer advantages beyond gaining muscle and losing weight.
Costs: Think about how much you spend on monthly fees? On a personal trainer? How much do you spend on gas just to go workout? Investing in a home fitness center could save you money in the long run: one initial fee and then a lifetime of results.
Convenience: No more waiting for equipment. No more leaving the house to lift weights. No more sharing showers. And you no longer have to deal with hygiene issues: damp equipment, sweaty smells, and those sticky benches.
Control: You decide when to work out. You decide what exercise to do next. You decide which machines are worth your while to buy. You control the remote control, the music, and the people you spend time around.
Crucial Questions
Before you invest, it's important to answer some crucial questions. The whole point of a personal home gym is to perfectly match your tools to fit your specific needs. Here are a few things to consider before buying your equipment:
Expense: First, make a budget. And though there are tons of options out there that run the gamut in terms of price, it doesn't have to be expensive to be good. Also, remember you can get things used. But if you do buy new, make sure it comes with a warranty.
Workout: Make a list of things you want your equipment to do. Cardio or weights? Running, kickboxing, or yoga? Machine or free-weights? Weight-based machines or tension bands? Each comes with their own pros and cons in terms of results, cost, and safety, but always make sure each piece you buy is easy to use, durable, and adjustable.
The Area: The whole point is to make your home gym more convenient, so make sure you buy equipment that is space-efficient? Too much equipment can interrupt the traffic flow, the overall look, and your safety? So make sure you harmonize your purchases to the specific size of your room (and don't forget about ceiling height as well). And don't be afraid to renovate or remodel the room if needed, just make sure you hire a professional to do the dirty work.
Home Gym Tips
A home gym comes with its own disadvantages as well. Working out should never be easy (that's how you lose those pounds), but that's why the professional establishments go out of their way to make it feel fun. So as you invest in this new house addition, here are some tips that will help get yourself over the hump:
Motivation: You probably can't afford a personal trainer to offer words of encouragement. And it's hard to bribe friends and family for a spot. Instead, invest in a workout video to keep you motivated. Or buy a sound system to help the run go faster.
Get Creative: You don't have to buy every expensive piece of equipment. If you can't afford an electronic stair-stepper, use plastic step-benches instead. Use a kitchen chair for dumbbell curls. Or elastic bands instead of rowing machines. Get therapy balls for sit ups, a yoga mat for stretches, or jump rope instead of a treadmill.
Enjoyment: Most important, don't let it get too convenient. Just because it's in your house, doesn't mean you can get lazy. So make sure you buy equipment that is fun for you so that working out won't be such a chore.
Marc Dickinson has worked in both the general contracting and landscaping trades and is currently a home improvement freelance writer with over 300 articles published.
More Tips & Advice For Your Home
Related Articles
Recent Articles
Galleries