Independent Living for Seniors
See if We Have Top-Rated
Senior Care Pros in Your Area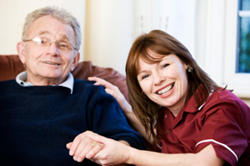 Independent living services are ideal for seniors who are in good health and want to make the most of their golden years by reducing the number of chores they need to attend to and increasing their social opportunities. Although amenities vary depending on the type of community you select, most feature a more manageable living space, little to no yard work, and some even offer the chance to have your laundry and cleaning done for you. As for the social side, you can find independent living services with full-time programming staff, or you can opt for a community of peers that relies on informal socializing. Most communities require residents to be 55 or older; for some it's 62.
Types of Independent Living Services
Retirement Communities: Likely what comes to mind when you hear the term independent living, retirement communities typically offer the most amenities and housing options, from compact apartments to multi-bedroom condos or even houses. Most retirement communities were constructed with seniors in mind, so they tend to be well-laid out and often feature perks like swimming pools, tennis courts, or golf accessibility.
Continuing Care Retirement Communities (CCRCs): Similar to a retirement community, CCRCs combine independent living services with assisted living and nursing care, all on the same campus, with the ability to switch between the arrangements as you need. Saves you the hassle of hiring outside help or moving to another facility should your health decline.
Senior Apartments: An apartment complex designated for seniors. May feature enhanced security and senior-friendly lay-out (like grab bars in the bathrooms and short distances from the parking lot to the building), but doesn't usually offer the level of amenities found in a retirement community.
Subsidized Housing: Both government and non-profit versions exist. Can be set up as apartments or in a dormitory-style, with communal eating facilities. May have some social programming, but don't expect laundry service. Waiting lists can make entry challenging.
Costs of Independent Living Services Because independent living services don't have a medical aspect, they aren't covered by private insurance or Medicare/Medicaid. CCRCs tend to be the most expensive, since you're paying for the convenience of receiving all potential care in one spot, followed by retirement communities, which tend to be priced like other local high-end condos. Senior apartments often run the same as a mid-range apartment in your area, while subsidized housing is set aside for low-income seniors, and takes a percentage of your income as payment.
More Tips & Advice For Your Home
Related Articles
Recent Articles