Locksmiths Crack Open Security Concerns
See if We Have Top-Rated
Locksmiths in Your Area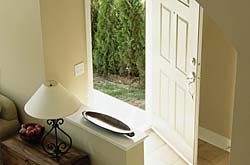 Since most locks and safes were once originally made by blacksmiths, these metalworkers soon became the first locksmiths. They were trained to pick locks and crack open safes when necessary, but oddly enough, possessing a criminal mind and capability also made these technicians the perfect security specialists. Able to defeat any lock, they could now put this practice to use by constructing even more resistant forms of defense. Today, though still called locksmiths, these professionals are trained to do a lot more than open doors. Since we live in a highly technological world, locksmith services are developing at a frenetic pace and now extend to state-of-the-art security systems and electronic and magnetic locks, which can be placed in your car, home, or commercial business.
A Smith of All Trades
The term "smith" often refers to any metal forger trained to shape and mold steel into specific objects and forms. In the case of a locksmith, they work exclusively with designing locking mechanisms and manufacturing keys. They often run their businesses out of storefronts and are useful when you need a key duplicated or a new lock installed. However, these professionals aren't just salesmen: Since locks are your first line of defense in any house, they are often employed for several security purposes. There are a variety of locksmith services they can provide depending on the circumstance. They can repair any broken or damaged lock. If you have a break-in and need a lock replaced, they can change out the deadbolt and re-cut a new key. If you lost or gave away a key, they can re-key existing locks. Plus, they don't just work with homeowners; many businesses also hire them as security consultants. And small business owners, who work from home, can almost always benefit from some type of locksmith service.
Security Consultant
Though working with locks and keys are still a main part of the job, most locksmiths are more than simple key-cutters. By examining the differing levels of safety and risk within a building, they can assess the situation and determine which security system would be most efficient and effective. Often, they work with advanced systems, such as keyless entry, electric locks, and other controlled systems to make each layer of security fail-safe against intrusion. Often combining different forms of defense helps make a building all the more secure, but each layer also adds to the initial cost of the installation. Whether you need to know if your garage door opener is still secure or whether you need to know if your window hardware is still up-to-date, a locksmith should be able to answer any question you can think to ask.
Emergency Locksmiths
Since locking yourself out of a car or house is always inconvenient and unexpected, many technicians run their business out of a truck or van instead of a storefront. These companies often offer 24/7 locksmith services every day of the year and can be at your location within a half hour. Many emergency locksmiths cover all angles of the business, but often they're trained and certified in one specific area of the trade. For instance, they may specialize in car locks for when you're stranded on the road and have safeguarded your keys inside the vehicle. (It's embarrassing, but we've all been there.) Or, they may focus on safes that need immediate opening, whether they reside at a bank or in the home (gun safe, underground safe, etc.). Or, they concentrate on residential locks and find themselves on-call day and night to respond. Both burglaries and former romantic entanglements can create a need to change the locks.
Tools of the Trade
If properly certified, many can achieve the level of Master, which is when they've completed training through a reputable association or guild. This title enables them to work in all areas of locksmithing and security, but as you contact these contractors, you'll want to inform them of your particular situation so they can properly prepare for the job. First off, what kind of lock do you need replaced: exterior entry lockset, cylindrical deadbolt, interior passage lockset, surface deadbolt, combination lock, padlock, etc.? Or, are you supplying the equipment (whether new or pre-existing) but need help with installation? Do you need other door hardware (knobs, handles, door chains) or security features (keypads, alarms, swipe-systems, etc.)? Any information you can give them beforehand helps the job go quicker and makes the final project that much safer.
The Cost of Locksmith Services
Naturally, it depends greatly on the nature of the service. Responding at 4 a.m. to a worried homeowner who wants to change the locks or can't get inside his or her own home is going to cost more than planned service, although comprehensive evaluation and consultation won't be cheap, either. According to data collected from homeowners who actually hired a locksmith, HomeAdvisor estimates the average cost of locksmith services is $150 and includes multiple projects as low as $50 and as much as $450.
It's important to note that this figure may represent more in-depth projects that require planning and lend themselves to online referral services. Yet, with HomeAdvisor, you should feel that any project can be handled through an online service request. Your request gets instantaneously forwarded to local and prescreened locksmiths. It's not unusual to hear from one of our contractors within hours or even minutes of making a request, especially if you note the project's urgency.
Marc Dickinson has worked in both the general contracting and landscaping trades and is currently a home improvement freelance writer with over 300 articles published.
More Tips & Advice For Your Home
Related Articles
Recent Articles