Rain Barrels: Old Fashion Irrigation
See if We Have Top-Rated
Roofing Contractors in Your Area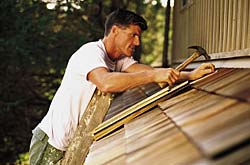 As concern for our environment grows, so does the average person's knowledge of how important conservation is in all of its forms. More people are recycling and purchasing green products, and taking extra care to reuse whatever they can. The reuse of water is a good way to conserve a very valuable natural resource. That is why the ages old concept of the rain barrel is gaining new popularity in modern times, a way to "green" rain gutters.
Rain Barrel Basics
Rain barrels are pretty simple devices. You connect the barrel to the downspout that leads from your rain gutters to the ground. After a shower or storm, the barrel will be filled with water that that is stored for later use. Towards the bottom of the barrel, there will be a spigot that a hose can be attached to; you'll be able to wash a car or water a lawn in much the same way as using a conventional hose. Rain barrels generally have no pumping system and use gravity to function, so the higher up the barrel is placed, the more water pressure will come out of the end of the hose. Multiple barrels can be placed around a house to collect even more water; with enough barrels, you may be able to keep your lawn and plants green all season without paying for municipal water!
Types of Rain Barrels
Since their main function is holding water, rain barrels aren't generally made out of metal; because they are meant to be portable, brick, stone, and concrete aren't good choices. Glass and ceramic are nice, but heavy and vulnerable; and the little pig that built his rain barrel out of straw was disappointed again by less than optimal results. Wood and plastic, however, both make for great rain barrels; models are readily available made from both. Plastic rain barrels are the easiest to use and care for. They can be found made entirely of recycled materials, so their purchase makes a positive impact on both ends. Plastic barrels are lightweight and sturdily constructed to stand most types of weather. Of plastic and wood barrels, plastic is far less expensive.
Time for a new roof? Use this link to hire a local pro to
Replace Roof
Wood rain barrels are often old whiskey barrels. While they are more expensive than plastic models, wooden barrels are great to look at and add charm to the space they inhabit.
Homemade Rain Barrels
Since the design is so simple, it is certainly possible to make a rain barrel yourself. The fact is, though, that manufactured models are generally not that expensive. Before buying materials, do a price check to see how much money will be saved going the DIY route; if it seems sufficient, go for it! There are a few things to watch out for with homemade rain barrels. You need to make sure that your seals are tight. Around the spigot, even a small amount of dripping can cause a lot of water loss, negating the function of the barrel. Around the downspout, a tight seal will prevent mosquitoes from breeding in your barrel. This part is especially worth doing exactly; a barrel of mosquitoes is, in no way, a barrel of monkeys! If you need additional help, you can always
consult with a gutter professional
. It may be a safe alternative in case some types of rain barrels require adherence to the gutters near the roof.
Jon Nunan is a freelance writer who draws on his experience in construction, ranging from landscaping to log home building, for his articles on home improvement.
More Tips & Advice For Your Home
Related Articles
Recent Articles
Galleries