Remodeling: Reclaim Your Unused Space
See if We Have Top-Rated
Home Improvement Contractors in Your Area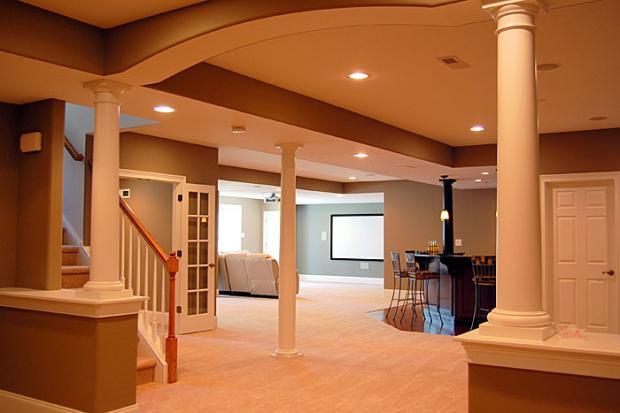 One of the easiest ways to add more room to your home is to better utilize the space you already have. Remodeling the basement, garage or attic are all
cost-effective ways
to greatly expand your home's living space.
Basement Remodeling
Most basements are dark areas where we store seasonal decorations, old toys, and anything else not used on a regular basis. This is the perfect remodeling project to begin reclaiming your space.
First, think about what the basement environment naturally lends itself to. You can save money if you think creatively and turn the negative aspects of the space into positives. For example, a lack of light would be a drawback in many rooms. However, it's quite useful if you convert the space into a home theater or dark room.
Here are some other basement remodeling ideas:
Play area, teen hangout, or music studio: A basement's isolation creates a sound break for a children's play area, a teenager's hangout or a music studio.
Exercise room or recreation room: The large space of a basement lends itself to an exercise room with lots of equipment or a recreation room large enough for a pool table and other games.
Wine cellar: The cool environment of a basement easily lends itself to a wine cellar.
The most important thing to remember before you begin any basement remodel, however, is to solve any moisture problems you might encounter in the future. Even if your basement rarely has dampness or flooding, it's best to solve the problem completely before beginning any remodeling work.
Garage Remodeling
Many people find that a garage offers the perfect environment to house their home office, studio space or workshop. As many garages are attached or near the home, they can often be easily fitted with the same comforts a home has: heating and cooling, phone wiring, even plumbing.
Transforming your garage doesn't mean you have to sacrifice your storage area. Many garages today have become multifunctional, allowing for cars, general storage, and a home office or workshop all in the same space.
And, if you find you will be losing too much storage space in your garage, consider building a small storage shed in your yard to house tools, sporting equipment and seasonal items. A building separate from the house will expand your storage space, allowing you to use the garage in ways that you could not use a shed: electricity or heating, for example.
In addition to remodeling your current garage space, you could also consider an addition above the garage. Raising the roof and adding a room for work space above your existing garage can give you additional space, not to mention increase the value of a home, without changing the floor plan.
Here are some other garage remodeling ideas:
Laundry room: If your laundry room is in the basement and you have no space upstairs, building a small laundry room in your garage will eliminate the need to go up and down the stairs.
Mud room: Protect your home from outdoor dirt and debris by encouraging everyone to leave their shoes and other outdoor gear here. Install a sink for easier clean up.
Music studio: This is where many "garage bands" got their start. Consider soundproofing the garage to avoid neighbors' complaining.

Attic Remodeling

The large open space of attics is conducive to a number of remodeling projects. Consider converting your unused attic space into a home office, a children's play area or a guest apartment.

As attics are not originally retrofitted for everyday living there are a few important things that are needed to make this a livable space. Two issues that are specific to attic remodeling are insulation and heating. Proper insulation and heating will make the room comfortable year-round.

Also, keep in mind the attic's existing floor may not be structurally up to everyday living, including heavy furniture and children playing and jumping around. But, while most attic floors were not designed with this use in mind, this can certainly be remedied. It is best to consult a structural engineer for his professional opinion on your flooring.
More Tips & Advice For Your Home
Related Articles
Recent Articles