Why You Should Hire a Basement Sealing Contractor
See if We Have Top-Rated
Basement Contractors in Your Area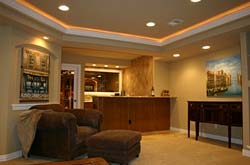 More than any other basement waterproofing solution, basement sealing is advertised by suppliers as a DIY project. While nothing is impossible, attempting to seal your basement on your own is risky business. In fact, by some accounts, fewer than 20% of DIY basement waterproofing and sealing projects end up being successful. With those statistics in mind, it's probably a good idea to call in a basement sealing contractor to do the job right.
What a Basement Sealing Contractor Knows That You Don't
The short answer is a lot. When performing any basement waterproofing, it is vital that you first identify exactly where the water in your basement is coming from and what's causing the seepage. Failure to diagnose your problem correctly means you could put in all that sealing work for nothing. A basement sealing contractor is an expert in the field, trained to identify where water is getting into your basement, and what's causing problem. With that information in hand, your contractor will then have what he needs to custom tailor a waterproofing plan for your home.
It All Starts with Preparation
Besides being an expert in diagnosis, a basement sealing contractor is also an expert in prep. Many DIY basement sealing projects fail because the homeowner doesn't know how to prep the basement properly before sealing, or just doesn't have the tools, time, or inclination to do a thorough job. Basement sealing only works if all the previously applied wallboard, sealers and paints have been removed, and the surfaces underneath are thoroughly cleaned. It is dirty and time consuming work for homeowners and professionals alike. A professional, however, has the expertise and equipment to help them get the job done better and faster than most homeowners are capable of.
Band-Aids Look Great but Accomplish Little
The old adage holds true with cuts and scrapes, as well as leaky basements. In short, sealing a basement, without addressing what's causing the water seepage in the first place, is often just putting off the inevitable. Few sealing products are made to withstand the high hydrostatic pressure than can occur if you've got a real problem with water accumulating around your home's foundation. Because of that, eventual failures of sealer are common. Add to that the fact that most sealers will degrade over time, like any other material, and there's an excellent chance your water leakage woes will return over time.
Unless . . .
The only true solution is to address your home's drainage problems in conjunction with any sealing you perform. Most basement sealing contractors also specialize in other forms of basement waterproofing, meaning they will devise a plan that includes French drains, sump pumps, or other basement drainage solutions, as well as applying a sealer. Some of these can turn in to major construction projects, so for that reason alone you'll want to bring in a professional to finish the work.
Basement sealing is an excellent home improvement project to invest in. It can transform your basement from a dark, damp dungeon into valuable living space almost overnight. If it's not done correctly, however, you can easily end up worse off than you were when you started. Often, hiring a basement sealing contractor is the only way to guarantee your basement will stay water free for years to come.
Matt Goering, formerly a carpenter and house painter, is a freelance writer for the home improvement industry who has published over 600 articles.
More Tips & Advice For Your Home
Related Articles
Recent Articles
Galleries