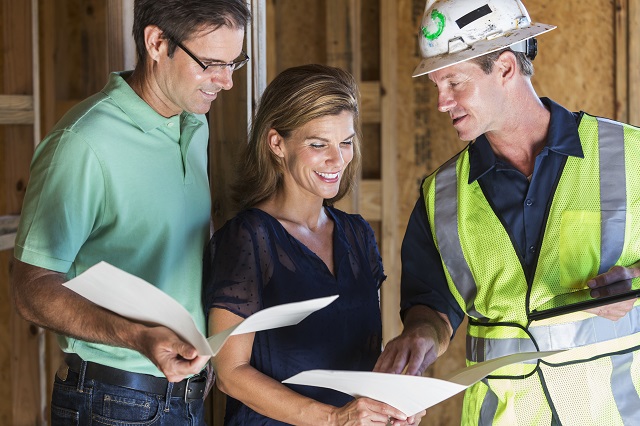 Hiring a contractor is a great way to ensure that your home project goes smoothly and turns out exactly how you want.
Here are 10 tips to help you find the best contractor near you!
1. Confirm the Service Professional Works for the Company
Verify that the individual with whom you are speaking is an authorized agent of the company.
HomeAdvisor checks every professional profile to ensure that professionals are valid, however it is a good idea to double check.
When contacted by a company, make sure to get the person's name and phone number that you speak with. This way you can reference them when you call back, and also make sure that what they tell you is common knowledge among the rest of the people you work with.
Making sure that you are all on the same page will decrease the chances of miscommunication between you and the company.
2. Ask For a Copy of the Company's License
It is important that you verify the license is still in good standing. Also keep in mind that certain states or provinces do not require licensing if the job is under a certain dollar amount.
You can find a list of your state's licensing requirements on the HomeAdvisor website. We recommend before working with a service professional, that you verify information presented is still current and/or acceptable to you.
It is always a good idea to obtain a copy of the service professional's insurance certificate for future records and in case anything happens. This is a good way to feel more secure in your home project and to weed out individuals who could be scammers.
3. Ask For Proof of Insurance
Ask the company to provide a copy of their insurance certificate. We recommend that you verify with the insurance agency or carrier that the policy is still in good standing.
General Liability insurance typically covers a contractor for accidents that occur while the contractor is working. However, there are exclusions to coverage, and you should confirm the actual scope of the contractors coverage directly with the contractor.
4. Finalize the Contract Before Starting on a Project
It is important to clearly lay out the plans for any home project, in case there are any disputes in the future. Writing up and signing a written contract between you and your contractor will make room for dispute much smaller.
A good contract…
Should be written on company letterhead
Should contain the company's name, address, phone numbers, and license number (if applicable)
Should contain the consumer's name, address (where work is to be performed), and phone numbers
Is dated when it is written
Includes a detailed description of the work that is going to be performed
Provides dollar amounts associated with each task included in the project
Includes an anticipated/estimated start and finish date
Provides a payment schedule
Includes a termination clause
Contains a clause that protects the homeowner from any potential mechanics liens once you have paid the contractor in full
Clearly states whether permits will be pulled, and who will be responsible for pulling them.
5. Make Payments Directly to the Company
Do not pay an individual, instead make sure that all finances are handled with the company itself. This will ensure that there is no dispute about payments being received or not.
It will also ensure that the individual is doing the work that they have been assigned to do.
6. Avoid Paying With Cash
Check and credit cards are preferable, and be sure to get a receipt for all payments.
Paying with cash leaves large room for scamming, because there is no digital or paper trail to confirm whether payments have been made or not.
7. Withhold Final Payment Until You Are Satisfied With the Project
Don't pay in full until the project is completely finished and you have completed your final inspection.
If subcontractors were used, be sure to get signed releases from all subcontractors clearly indicating that they have been paid in full by the general contractor.
For larger projects, don't make the final payment until you have passed the final building inspection.
8. Don't Advance Money For Materials
If absolutely necessary, make sure the materials are delivered to your house with a receipt showing that they have been paid in full.
Advancing money can lead to improper spending and over-spending on unnecessary items. It is best to make sure that you only provide enough money for the items that are relevant at that time.
9. Check Multiple References
In addition to reading the company's HomeAdvisor Ratings & Reviews, consider checking additional references for the service professional.
Companies will often have customer reviews on their website, and Google & Yelp will have company reviews as well. These can be helpful tools to make sure that the contractor you use will do the best job on your home project.
10. Document All Changes to the Contract
Make sure all changes to the original contract, no matter how small, are documented and signed off by both parties.
This will ensure that there is no question as to whether something was agreed upon or not and will save you a lot of headaches in the future.
34 Comments