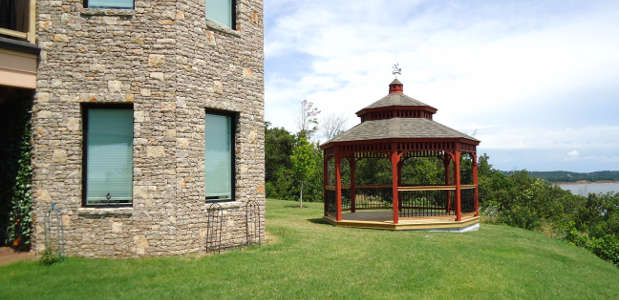 There are a variety of reasons you may want to add a gazebo to your backyard. They are often used as a kind of covered patio area that allows you to enjoy the natural setting of your yard away from your house. If you have a gardening interest, a gazebo can act as a permanent structure that helps define the garden (known as a garden bone). For general landscaping purposes, a gazebo serves as a more beautifying object than a patio or deck. For outdoor parties, they will give you a covered area to set up a buffet table or an extra gathering area for guests. They are also perfect for more formal events like weddings or receptions after religious ceremonies. Whatever the intended use, the best gazebo addition is as beautiful as it is functional, as romantic as it is valuable, to your home, your yard, and your life.
Five Keys for the Best Possible Gazebo Installation
Placement: You might think you want to place your gazebo in the middle of your yard for decorative balance, but the best place is usually near other landscaping features. This can include more than just gardens. Gazebos work especially nice near water, whether you want to enjoy the trickling sound of your outdoor pond or watch the kids in your backyard pool.
Dimensions: The size of your gazebo is usually a combination of decorative balance, budget, and purpose. A smaller model will be more intimate but may reduce the options for its use when you have guests over to your home. A larger structure will allow more people to enjoy the space but can also overwhelm your backyard landscaping and your pockets. Sometimes it's hard to imagine how a gazebo will look until it's built without an experienced eye to help guide you.
Finding a Builder: Hiring a gazebo builder is the best way to ensure you get exactly what you want and need. You probably don't realize just how many options you have. A builder will be able to help advise you on the place, size and kind of gazebo that's right for you.
Ready to start your
Gazebo Addition

?Find Pros
Materials: Wood gazebos are the most traditional and still the most popular. Given that a large part of a gazebo's appeal is the warmth and elegance it brings to a landscape, wood is hard to beat. The one major drawback is maintenance: You'll need to guard against rot, termites, and other wood-damaging pests. Aluminum does away with much of this maintenance. As faux wood finishes continue to improve, aluminum gazebos are beginning to catch on, but even these are far from indestructible: make sure your gazebo meets the building requirements for wind storms and other local weathering conditions. Finally, vinyl gazebos are a nice compromise between aluminum and wood. Vinyl has similar maintenance-free qualities to aluminum and may provide a better texture than aluminum.
Costs: The cost of adding a gazebo to the yard is usually the first question a homeowner will ask. Unfortunately, it's also one of the more difficult questions to answer. No surprise there, right? Well, we can tell you the average cost of gazebo construction from data compiled from homeowners across the country who completed a gazebo project with one of our contractors. Our data shows this average is $10,667. You should know, however, that these figures often reflect the tough, economic decisions that homeowners must make more than the cost to build the "average" backyard gazebo. The only way to truly gauge how much yours is going to cost is to send a handful of specifications to a local builder and get several estimates.
No Comments Yet