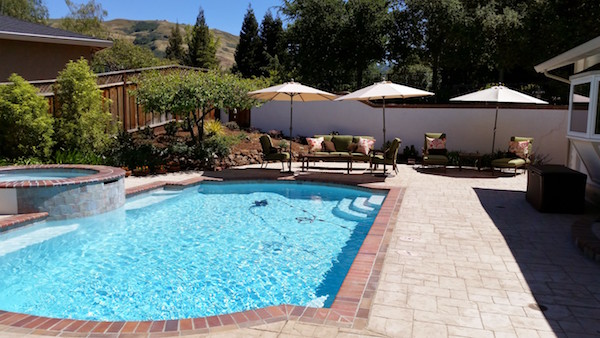 The first and often the easiest decision to make with a new backyard pool is whether you want an above-ground or in-ground pool. Most homeowners are already familiar with the added luxury and capability of an in-ground pool. Of course, it's also not surprising to most homeowners that the average cost of an in-ground pool is substantially higher. How much higher? Well, that depends on the construction material. For a vinyl-lined in-ground pool, you might pay twice as much. For a fiberglass pool, you might pay four times as much. And, finally, the installation of a concrete pool can be up to six times more than above ground pool prices. That said, a high-quality, in-ground, concrete pool is also likely to increase the value of your home in a way a basic above-ground pool never could.
Safety Advice for your Backyard Pool
If you have children and/or pets living in your neighborhood, safety is a life-and-death issue that must be taken seriously. Even the most conscientious parents must realize that they can't keep an eyeball on their child at all times. Moreover, many municipalities require that you build a fence around your pool area. Your contractor should be aware of local laws, or you can check with your town hall. Other owners have found a hard pool cover to be a sensible option because it also keeps debris, like fallen leaves, out of the pool. Adequate lighting, especially motion-sensor lighting can provide an added measure for both safety and home security. As absurd as it sounds, there have been accounts of would-be intruders falling into pools and suing their intended victims for negligence. For this reason alone, pool safety is a must for homeowners whether or not children are present.
More Pool Tips: Planning for Future Costs
When you're figuring the cost of your backyard pool installation, make sure to consider the long-term costs associated with ownership. Here are some of the ongoing costs you should anticipate:
Opening and closing your pool for the season.
Maintaining pumps, lining, and equipment.
Utility bills and operating costs.
Buying the chemicals, such as chlorine, shock, and pH balancer.
Hot Trends for Backyard Swimming Pools
Many homeowners are now thinking "outside the box" when it comes to pool design. They're not just looking for a quick dip, but their own oasis where they can get away from it all. If this idea appeals to you, consider some of the following extras:
Pool Design: No need to go with the traditional rectangle. These days it's possible to have your pool custom designed with as many curves as you wish so that your swimming pool helps enhance the backyard landscaping.
Backyard Pool Decks: A well-designed pool deck can be a place for family and friends to gather, and it integrates your pool into the greater design of your home.
Pool-Spa Combo: A hot tub or whirlpool is a great way to unwind after a stressful day. Many designs combine a heated spa with a larger swimming pool, so that you get the best of both worlds.
Fountains and Waterfalls: Feng shui experts have known for years that water features enhance the energy and ambience of your home. Why not apply the same idea to your pool, where these options can give your pool a luxurious feel?
Pool Sheds and Cabanas: Free-standing or attached to the house, these structures offer greater convenience and luxury in your backyard pool area. They can provide a way to lounge in the shade on a hot day, or even house a bathroom so swimmers don't track water into the house when they use the restroom.
Final Tip: When choosing and designing your backyard swimming pool, the most important thing is to think about how you and your family will use the pool. Let this be your guide to choosing the best options for your backyard pool.
No Comments Yet