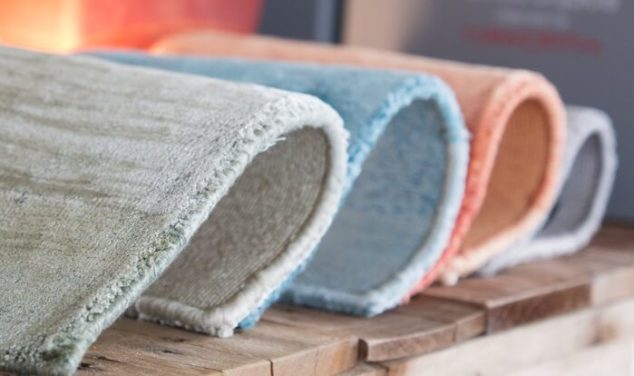 How to Choose the Best Type of Carpet for Your Home
Carpets are part of what makes a home truly feel like a home. The flooring of a house says a lot about it. The right balance seems to give each space that cozy, comfortable feeling.
When you are building or remodeling your home, your flooring choices can easily become overwhelming. You have to consider things like allergies, pets, your family and which rooms get the most traffic. As you browse, how do you know which material or style of carpet is right? This guide covers several factors you should consider to help you make the best choice.
How to Buy Carpet
When you get ready to buy carpet for your home, you'll need to think about several things, including:
cost to install carpet: $800 to $2,600
total square footage
color
style
family needs, like hypoallergenic or pet-friendly
What to Look for When Buying Carpet
Piles: the way carpet appears cut or looped
Carpet Fibers: materials used to make the fabric
Density and Weight: how thick or heavy it is
Carpet Treatments: products added during or after manufacturing to provide extra protection against stains or moisture
Carpet Pads: the layer underneath that affects the feel and wear
Consult With a Pro To Buy a Carpet
Different Types of Carpet
What Are Piles?
Piles describe how manufacturers use the fibers to make the carpet. The yarn is usually looped or cut to a certain length and twisted to stay in place.
There are several pile styles with different textures. Some will hide dirt more easily, while others track and wear down quickly. When you choose one for your home, consider the amount of traffic and how you plan to use the room.
Cut Pile
A cut pile carpet has straight strands that are cut and twisted. It tends to be fairly soft, which means you can see marks such as footprints and vacuum streaks. There are different types, such as:
Saxony, velvet or plush
textured
twist pile (often called frieze)
Low Pile Carpet
The height affects the wear, appearance and feel of the material. A short pile carpet has yarn cut to 0.25" or less.
Plush Carpet
The plush style is trimmed off so that yarn ends poke up. Saxony plush, one of the most popular varieties, has short tufts that are densely packed to look like a thick carpet. It doesn't tend to wear as well as loops.
Textured Carpet
Textured carpet features strands of varying lengths to create a feeling of depth and variety. Since it is fairly durable and trackless, it's useful for areas that see more traffic.
Twist Pile Carpet
Every cut pile carpet features twisted yarn to provide texture and protection against wear. Usually, more twists means better durability. Frieze is one type with particularly long strands. It is the most long-lasting and often chosen for commercial areas.
Compare Carpets With Pros
Level Loop Pile
A level loop pile has yarn glued on both sides to make strands of the same height. This type is great for high-traffic areas, but carries a rather informal appearance. It is fairly stain-resistant and usually comes with little cushioning.
Berber Carpet
Berber carpet creates a nubby texture with complete yarn loops that stand upright. It tends to wear better than cut-pile because it is less likely to tuft or shed over time.
Historically, the term refers to hand-knotted rugs and carpets from the Berber region of Africa. Most products currently available under this name are machine made from synthetic materials. If you buy a Berber-style, you'll probably get level loops made of nylon.
Patterned Loop Pile
Patterned loop pile uses varying heights and colors to create interesting designs and textures in the carpet. It's great for bringing a casual look to a house and is often chosen for areas like family rooms.
Cut-Loop Pile
A cut-loop pile features a mixture of yarn styles that offers more design possibilities. This type can be quite comfortable and beautiful for any room of the home.
Compare Carpets With Pros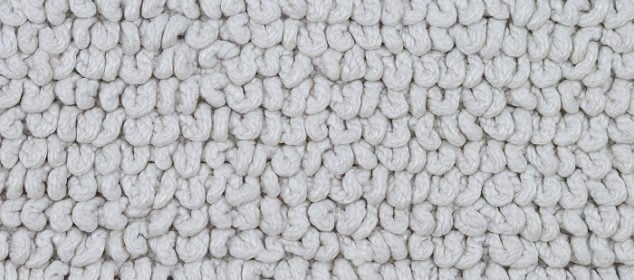 Carpet Fibers Comparison
Carpet fabric can be made from a variety of materials, including:
nylon
polyester
olefin
wool
cotton
sisal
Nylon Carpet
Nylon carpet is:
the most popular
strongest
often found in high-traffic areas
resistant to mold and mildew
This material is subject to static, however, and often receives an anti-static treatment before installation.
Acrylic carpeting used to be the standard. It fell out of favor because it wore out too easily.
Polyester
Polyester carpet offers many of the benefits of nylon at a lower cost. It resists moisture and stains and avoids showing wear. For best longevity, select a product with a lower pile and a high twist count.
Olefin
Olefin is a low-cost, easy-care material that's often used as an indoor and outdoor carpet. It is usually pre-treated to resist fading. Compared to nylon, it is softer and less expensive but not as durable. Excessive heat, like dropping a hot pan on the surface, can cause burn marks or melt the fibers.
Olefin and polyester resins often come from recycled products, but the carpets are not generally recyclable. This is because the flooring contains multiple components that are difficult to separate for processing.
Wool
Many homeowners consider wool to be the ultimate fiber. It costs twice as much as synthetics, but it is:
comfortable
durable
natural in appearance
soil-resistant
It can be particularly difficult to maintain. Be aware that direct sunlight will fade it over time.
Cotton
Cotton carpet is usually the softest of fiber options. As a natural material, it costs more. As a rug, it's easy to clean. Wall-to-wall styles are prone to stains and fading.
Sisal
Sisal carpet is derived from a cactus plant that's stronger and more durable than other natural fibers. Like jute, it is earthy and rough-textured, perfect for rugs and some outdoor applications.
Get Carpet Quotes from Pros
Density & Weight Guide
The density and weight of a carpet are measured in ounces, usually ranging from 25 to 50 ounces per square yard. This significantly affects its feel and durability.
Fabrics that weigh more often have more strands of yarn per square yard, indicating higher quality. Products with a lower density may look like a thin carpet, even if they have a longer pile.
Carpet Treatments
Certain brands feature treatments to make maintenance easier. These may come as a part of the actual carpet material or a coating placed during installation. Depending on the product, they can help:
resist stains
block liquid absorption
avoid collecting
release pet hair and dander
Remember that the effectiveness of treatments depends on when they are applied. Products added during manufacturing tend to work better and last longer than after-market options.
The cost of carpet cleaning runs $125 to $250. The kind of treatment you have may determine how often you'll need to do this.
How to Pick a Carpet Pad
Most soft flooring types need a cushion underneath for ideal use. The thickness and density of carpet pads affects how the carpet looks and feels. Products with a density of 6 to 8 pounds are standard. Thickness ranges from 0.25"-0.50".
Carpet pad installation costs $0.50 to $1.00 per square foot, and the right choice depends on the material. Plush styles for low-traffic areas can support a thicker product. If you buy a Berber-style, you'll want a thinner one with a higher density.
Get Carpet Quotes from Pros
Best Carpet for the Home
Best Carpet for Stairs and Landings
The best carpet for high-traffic stairs and landings is a nylon short pile. It's easy to clean and less likely to mat.
Best Carpet for Hallways
Dark-colored carpets are best for hallways because they conceal dirt. With this choice, you may need to increase the lighting. A Berber-style provides long-term durability.
Best Carpet for Bedrooms
The best carpet for bedrooms is nylon or wool, depending on your budget. Choose a long pile or high level loops and a thicker pad for extra comfort.
Carpeting for Kids' Rooms
A kid's bedroom tends to get higher traffic than others, so it's better to choose a loop pile in a synthetic fiber. This material is easier to vacuum and spot-treat without compromising comfort.
Best Carpet for Living Rooms or Family Rooms
High-traffic areas of the home need carpet like frieze or Berber that won't show wear. Select synthetic materials if you want easy maintenance.
Best for Kitchen & Dining Room
If you're buying a carpet for your kitchen or dining room, choose cotton in natural colors. A rug is easy to wash, which you'll need to help clean up food spills.
Best Type of Carpet for Allergy Sufferers
The best hypoallergenic carpet has manmade fibers like nylon. A short pile or loops makes it simple to vacuum dust mites and pet dander.
For the Active Family
Carpets made out of nylon, polyester or olefin are preferred choices for active families. If you have little kids that are constantly running around and getting into things, you want a material that is durable, stain-resistant and easy to clean.
Soft Carpeting for the Homebody
The ideal carpet for families who stay home a lot is a plush or Berber-style made out of a soft wool or nylon. These products are comfortable and look clean, even if they take a little extra upkeep.
For the Luxurious Family
Luxury carpets like wool or cotton are beautiful, timeless and eco-friendly–but come at a price. Homeowners often choose these for low-traffic areas of the home where guests might visit.
For a Sunny Home
If you're carpeting a space with several windows, you'll want a fade-resistant material. Synthetic fibers such as nylon or olefin minimize fading or bleaching.
Best Carpet for Elders with Walkers
If you or a family member use mobility devices like a walker, you may prefer a carpet with a short pile or loops. This material makes it easier to move across the floor with support.
Best for Wheelchair Users
The best carpet for wheelchair users has a short pile or loops and a pad with a density of 8 pounds. This combination prevents crushing and improves your ability to push the chair on the floor.
Hire a Local Carpet Installer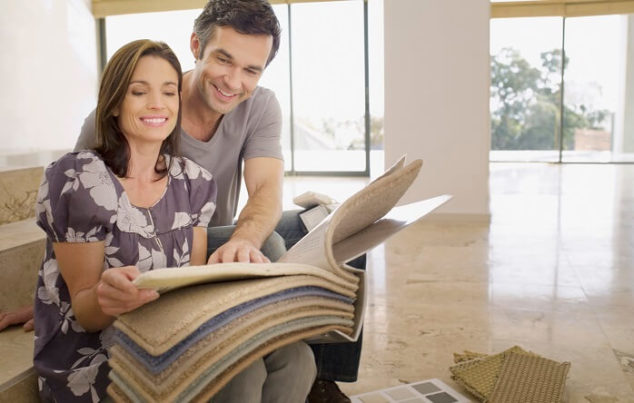 Carpet Material Comparison
Best Carpet for Pets
The best carpet for dogs and cats is a short pile made of nylon. This material helps to minimize problems common to having pets in the house, such as:
stains
soil
pet dander
wear-and-tear
Best High-Traffic Carpet
The most-durable carpet is nylon with short loops. It resists stains, wear and fading.
Stain-Resistant Carpets
The most stain-resistant carpet is typically made of olefin. Manufacturers add color to this resin-based material during manufacturing, which makes it ideally resistant to bleaching.
Mold-Resistant Carpeting
Synthetic Short Pile
Longest-Lasting Carpet
The longest-lasting carpet comes in a frieze or Berber-style. Most materials will hold up for 5 to 10 years, but these may go for 20 to 25 years.
Best-Quality Carpet
Wool
Easy-to-Clean Carpets
Nylon Short Loops
Most Comfortable Carpet
Textured Saxony or Wool Berber
Best Carpet for Resale Value
Thicker Pile or Berber-Style
Low VOC/Environmentally-Friendly Types
Carpets made with natural fibers such as wool or cotton usually have the lowest amounts of volatile organic compounds (VOCs). As an alternative, you can buy synthetic products that have a "Green Label Plus" from the Carpet and Rug Institute.
Best Commercial Carpet for the Home
Nylon Frieze
Hire a Local Carpet Installer
Carpet Buying Tips on a Budget
Buying cheap carpet is usually the most affordable way to get flooring for your home. Since removal and replacement can be tricky, it's best to find a professional carpet installer near you.
---
No Comments Yet
You can be the first to comment!