According to thousands of homeowners, the national average cost to install a concrete patio is around $2,777, with most homeowners spending between $1,644 and $4,191. Professional labor prices fall between $2.50 and $8 per square foot. Materials run about $1.50 per square foot.
Creating an attractive and welcoming outdoor space is often a priority for homeowners. While there are a number of different options and materials to choose from, a poured concrete patio is often considered the best choice. Concrete patios are incredibly durable and can withstand almost any weather conditions. They work with most house styles and can be customized to fit any available space on the property.
On This Page:
Concrete Patio Installation Costs
Trying to calculate the exact cost of concrete patio installation is not easy because each project can vary so much in style and size. Even different geographic locations have different average prices for this service. On average, homeowners should expect that the costs of installation alone, which excludes the material prices listed above, will run anywhere from $2.50 per square foot all the way up to nearly $8 per square foot. Things that have the potential to influence the total price of the project include all of the following:
Urban or rural location
Size of the patio
Shape of the patio
Thickness
Stains and coloring
Patterns
Multiple levels
If you're ready to start this project, get a concrete pro out today.
Concrete Patio Materials Cost
A significant portion of the expense of a poured concrete patio will be the materials themselves. Whether installation is handled by a professional or a homeowner, these materials will remain the same, although professional companies may be able to source lower-cost items when they buy in bulk. On average, the cost of materials will run between $264 and $334 for a 200 square-foot space. Some of the materials included in that price are:
Screws
2 inch x 4 inch lumber
Gravel for sub-base
Concrete mix to pour
Water
Edging trowel
Concrete sealant
Concrete Patio Cost by Location
| City | Average Cost Range |
| --- | --- |
| Columbus, Ohio | $1,775-$4,080 |
| Atlanta | $1,530-$3,600 |
| Michigan | $1,330-$3,660 |
| San Francisco | $2,260-$6,585 |
| Houston | $1,500-$3,000 |
| Minnesota | $1,740-$5,000 |
| Denver | $2,000-$4,600 |
| Albuquerque | $2,000-$3,700 |
| Seattle | $1,700-$4,600 |
| New York, NY | $1,870-$5,200 |
| Northern Virginia | $1,850-$4,530 |
| San Diego | $2,000-$5,400 |
Cost data is based on actual project costs reported by HomeAdvisor members.
Compare Quote From Top Concrete Pros Near You
Getting the Right Quote
A significant aspect of paying for installation is the price variation between concrete companies. It is vital that homeowners research expected costs and gather quotes from a minimum of three providers before making their selection. In addition, getting information online or from previous customers can ensure that a specific company has a good reputation and can handle the kind of project that is desired.
Get a quote from a concrete professional now.
Advantages and Disadvantages of Concrete Patios
Before deciding to install a concrete patio, homeowners should get a clear idea of the pros and cons of this type of outdoor space. Above all else, concrete patios are strong and resilient to weather conditions. This is accomplished by using steel reinforcing bars, a grid system and often a sealer as a top layer to prevent chipping that might affect the concrete's structural integrity. Other advantages include the option of customizing the material with colors, graphics, or unique shapes and designs. However, it is important to keep in mind that drawbacks do exist. The surface of poured concrete is hard, and it can become slippery in the rain or when ice forms in sub-zero temperatures. In addition, cracks can occur, and they may ruin the look of the space for some homeowners.
Determining the Size of the Patio
One of the things that homeowners will have to think about before they can determine the price of a new concrete patio is how much space they want included in the design. Concrete patios can vary significantly in size, and it is up to each individual to decide on the best fit for their property. Large spaces can become expensive quickly, but having more outdoor area for relaxing or entertaining may be a priority. Once you know where the patio will go, measure the perimeter to get a final figure for square footage. This can help determine the exact costs of materials and installation, and it will be helpful when getting quotes from professional concrete installation companies.
Cost of Staining Concrete Patios
One of the most popular ways to give a concrete patio a more distinct and attractive look is with the help of staining, which changes the color of the concrete itself from the traditional gray hue. There are two major ways to add color. The first involves adding a concrete dye when mixing it up and before installation, which is the more affordable option and generally costs less than 50 cents per square foot. The second option is to use a colored sealant over the concrete once it has dried. This requires a lot of labor in order to achieve a uniform look, and it can cost anywhere from $2 and $4 per square foot when done by professionals.
Concrete Patio Designs
Adding any design elements or extra touches to an ordinary patio will increase the aesthetics of the outdoor space, but it will also increase the price of installation. Examples of these extra touches are included in the list below:
Stained borders
Customized stencils
Sawcuts to create a faux tile appearance
Multi-storied leveling
Staircases
Texturing to create a faux stone appearance
Staircase style: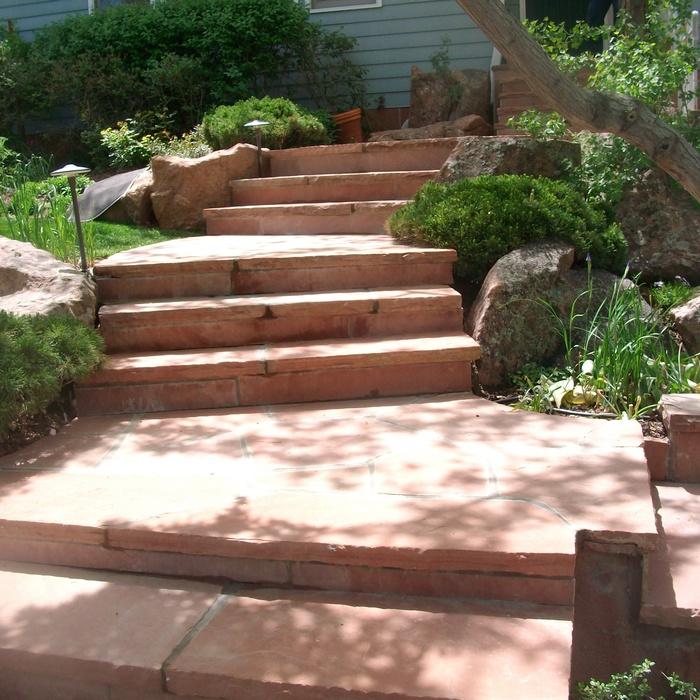 Stained style: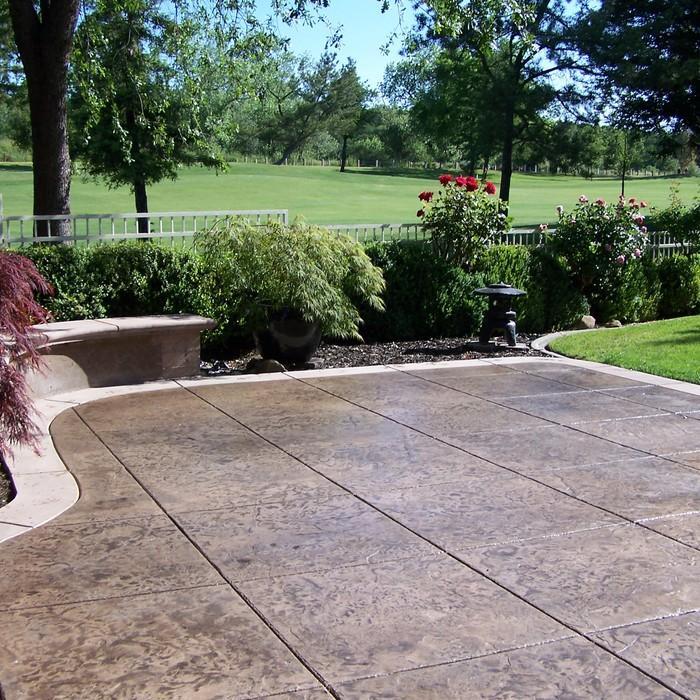 Return to Top
Thank you for submitting your feedback.