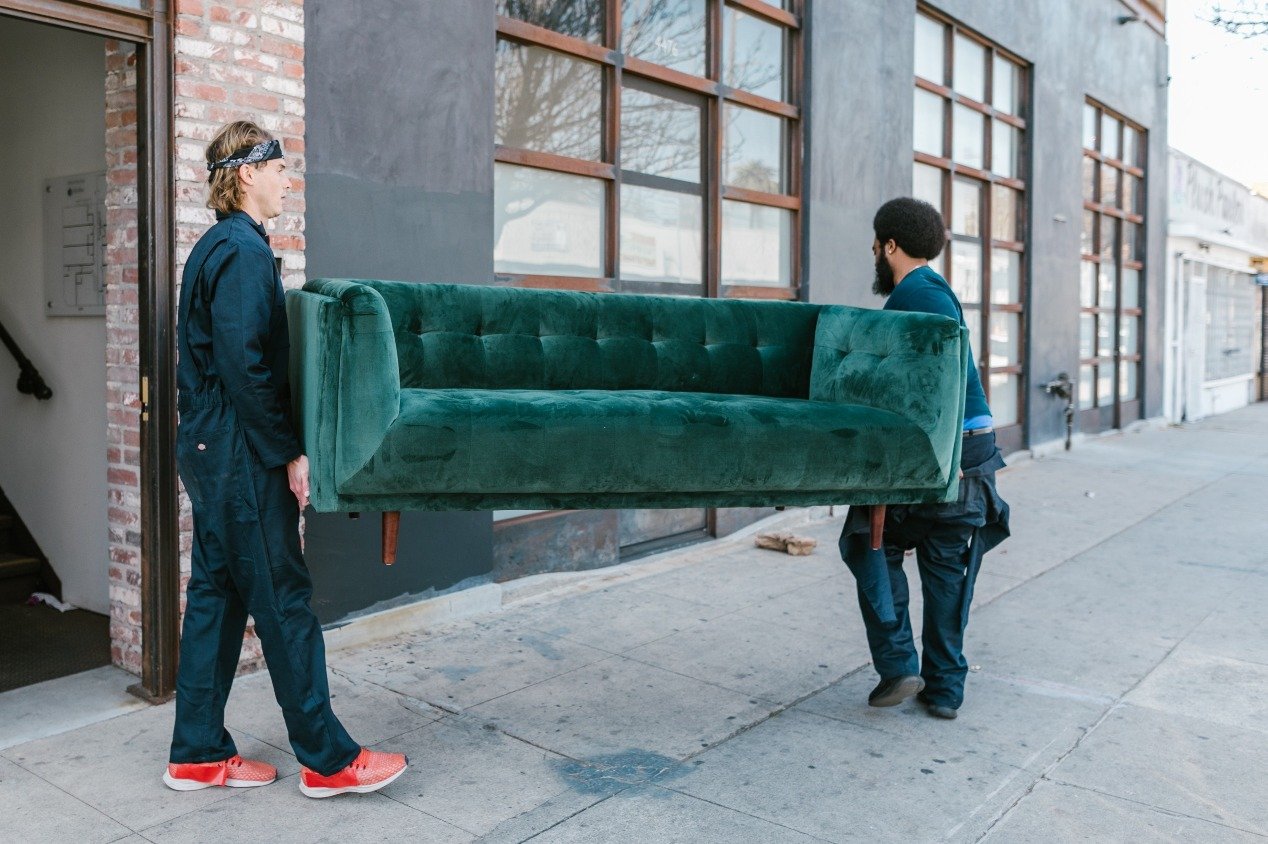 You may need to move for any number of reasons. Maybe you're a student moving away to school, an empty-nester downsizing, or a teacher moving to a new assignment. Whatever your reason for relocating, packing up and moving can be expensive, so we'll share some ways you can save big when the time comes for your next move.
Keep in mind that some deals may be limited in scope and timeframe, and offers from any business are always subject to change. You should always confirm the offer on the company's website, and with any representatives you contact.
Table of Contents
General Moving Discounts
When you need to move, you may be focused on moving services specifically, but you can find even more savings with packing services, internet plans, and moving trucks.
Discounts for Packing Services
The following companies offer a variety of discounts on packing and moving supplies.
Packing Service, Inc: You can use this company's coupons for savings, such as 10% on a delivery service, 5% on a loading container or truck, four free assorted boxes, or a $100 discount on a job costing more than $1,500.
USA Moving and Storage: Although coupons change often, you can access this site for moving and storage coupons, such as free wardrobe boxes.
AAA Moving Discounts: With a AAA membership, you can take advantage of the company's partnership with Atlas. AAA members also qualify for discounts and deals on storage, packing, moving supplies, full value protection on your belongings, international moves, in-state moving discounts, and more AAA discounts specific to the paid membership, which starts at $59.99 per year.
Discounts on Internet Services
After you move, you may need to set up internet services. The following companies offer discounted rates and other benefits for new residents.
Affordable Connectivity Program: You may qualify for a monthly internet service discount of up to $30 per household or $75 on tribal lands through the Federal Communications Commission. You can enroll using an approved provider and apply online to see if you qualify.
Verizon: Verizon offers internet plans starting at $25 a month.
AT&T: Check the site for deals on internet service plans, including AT&T Fiber.
Comcast Xfinity: You don't have to sign a term contract to get unlimited internet and streaming for $30 a month through Comcast.
Discounts on Moving Trucks
When choosing how to haul your stuff during your move, consider the following resources for special discounts on moving truck rentals.
U-Haul: You can find coupons to fit your needs, including 15% off truck rentals and special prices on rental trailers, receiver hitches, hitch covers, storage pods, and packing/moving supplies.
Penske: You can take advantage of discounts that include free unlimited mileage on one-way moves.
Budget: Save 20% off truck rentals when you enter the code 20DIS.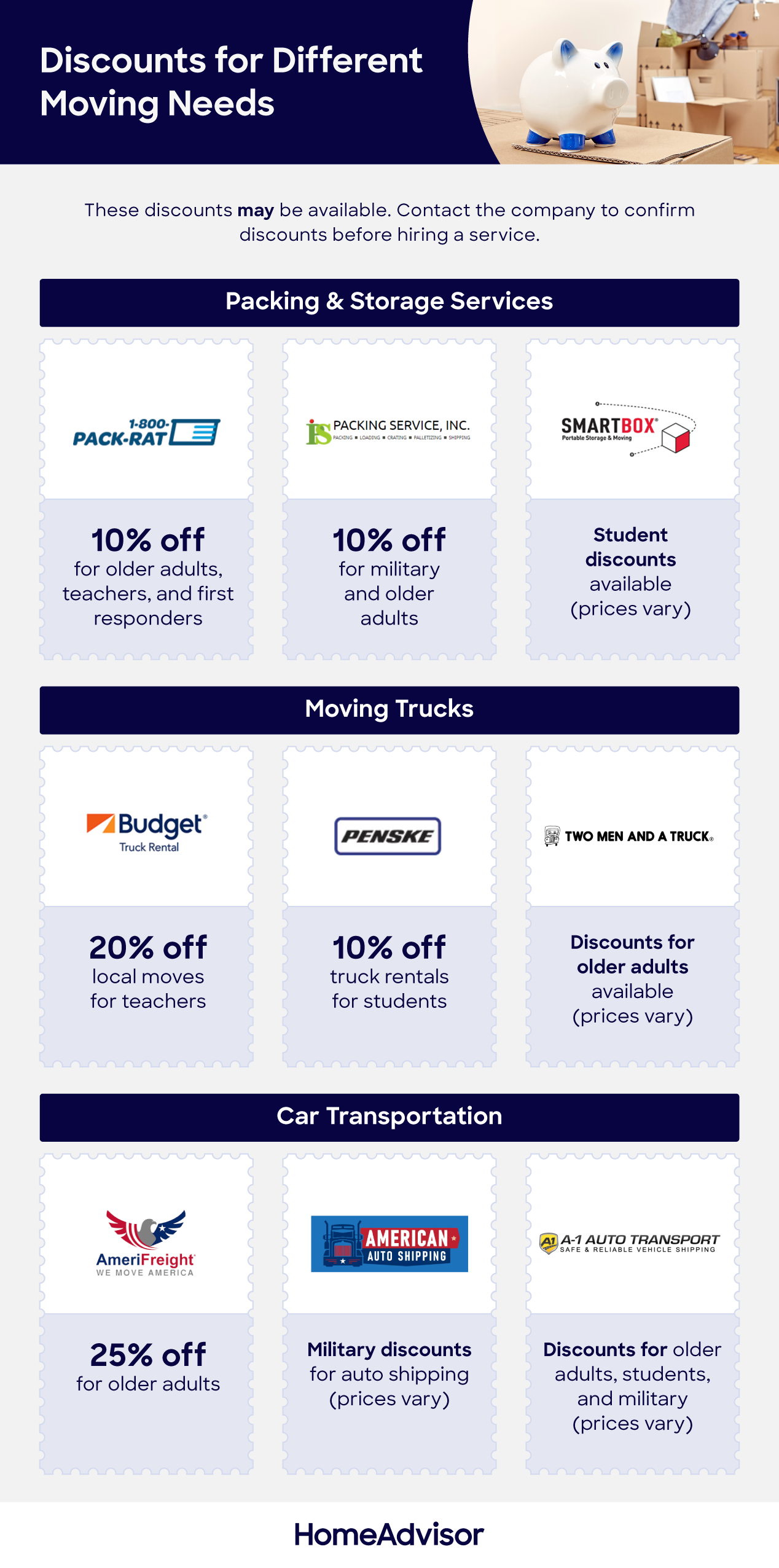 Moving Discounts for Teachers
Budget Truck Rental and Monster Movers offer special discounts to teachers on the move. Visit their websites for more information.
Budget Truck Rental: You can earn a 20% discount if you're moving locally or 15% off of one-way moves with the discount code TEACH.
Monster Movers: Educators receive 5% off every move with the coupon code #MOVE4EDU. This discount applies to anyone who teaches any subject to anyone.
Moving Discounts for Students
Students can receive discounted rates and special deals on moving and professional packing costs from Penske, SmartBox, and U-Haul.
Penske Truck Rental: If you're a college student, you can enter the promo code STUDENT* to receive 10% off your next truck rental. Penske also provides college students with free unlimited miles for one-way moving rentals and doesn't tack on surcharges for renters ages 18 to 23.
SmartBox: Student discounts are available on SmartBox's portable moving and storage containers, which are delivered directly to you. To qualify, you must be currently enrolled in a college or university.
U-Haul: Collegeboxes, a division of U-Haul, ships a Signature Supply Kit directly to you for $39.99. The kit includes five double-walled boxes, one larger bonus box, a roll of packaging/mailing tape, a permanent marker, five zip ties, and 10 FedEx label pouches.
Moving Discounts for Military Members
Members of the military can find deals and discounts at several sites.
U-Pack: You can get $50 off your move with the code MIL50, which applies to all current and past service members.
Storage Rentals of America: If you're on active duty and need a place to store your belongings, you can get a 10% discount by showing a valid military ID at any Storage Rentals of America location.
PODS: The PODS military discount gives you 10% off whether you're on active duty, retired or a veteran with the promo code SERV10.
IRS moving deduction: Active-duty members of the Armed Forces moving due to a military order can use Form 3903, Moving Expenses, to file for a tax deduction.
Penske Truck Rental: If you're on active duty or a veteran, you can use the code MILITARY* to receive a 10% truck-rental discount.
Budget Truck Rental: If you are a member of the military traveling with orders, you can save 20% on your truck rental when you book online with the discount code USMIO.
Moving Discounts for Older Adults
If you're within a certain age range, you have a number of choices for moving assistance and discounts. While some companies specify this range on their websites, you'll need to verify with others if you qualify for a discount.
AARP Budget Truck discount: If you're an AARP member, you can save 20% on local or one-way rentals from Budget on Sunday through Thursday or 10% on Friday and Saturday. You can also receive a physical damage waiver of $10 a day.
Professional Movers: Professionalmovers.com offers a 5% discount on local moves if you're 50 years of age or older. For long-distance moves, you can take advantage of the company's New Beginnings program, which offers discounts on hotel rooms and Hertz Car Rentals, among other benefits.
AARP Moving Services: You can qualify for a member discount of up to $250 if you belong to AARP and book your moving services through Shyft.
1-800-PACK-RAT: This company can provide you with a 10% discount on its moving and storage containers.
AmeriFreight: You can receive a $25 discount on auto transport and car shipping with a copy of your license.
Financial Assistance and Affordable Housing
If you are unemployed or need financial assistance to help with your move, the following programs may be able to help.
Emergency Solutions Grants Program (ESG): Housing and Urban Development grants help foster stability in permanent housing after a housing crisis or homelessness. Go to your state government's website and search for ESG-related resources and applications for assistance.
Average Cost of Moving & Packing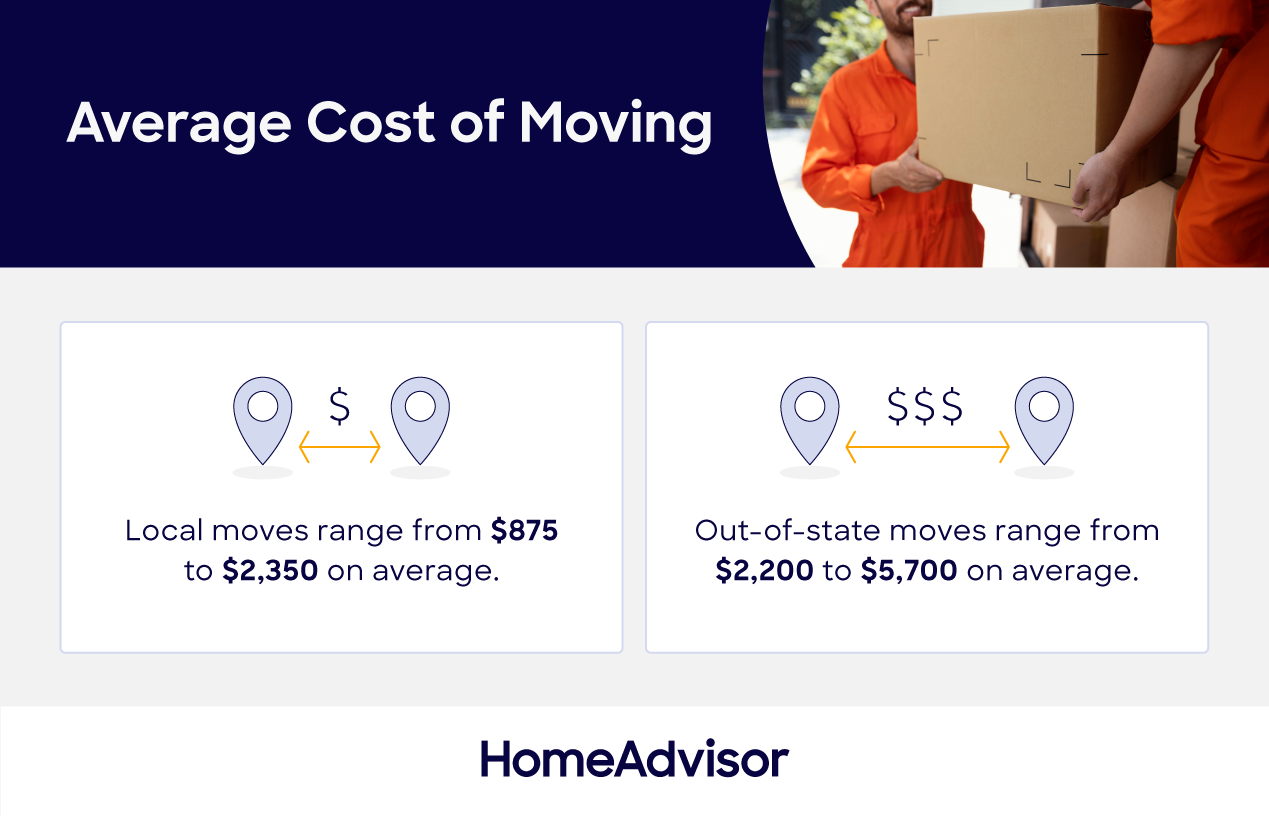 In 2022, the cost of moving varies based on a number of factors. For local moves, the cost ranges from $875 to $2,350 on average. For out-of-state moves, the cost ranges from $2,200 to $5,700 depending on factors such as weight and overall distance. Professional movers usually cost $25 to $50 an hour.
The farther you plan to move out of state, and the more rooms you're moving, the more it will cost you. In addition, specialty moving costs for bulky items like pianos or swing sets are likely to cost you an additional $400 to $2,000.
Tips for Saving Money on Your Move
You don't always need discounts to save money on your move; you can trim costs yourself by economizing in a variety of ways.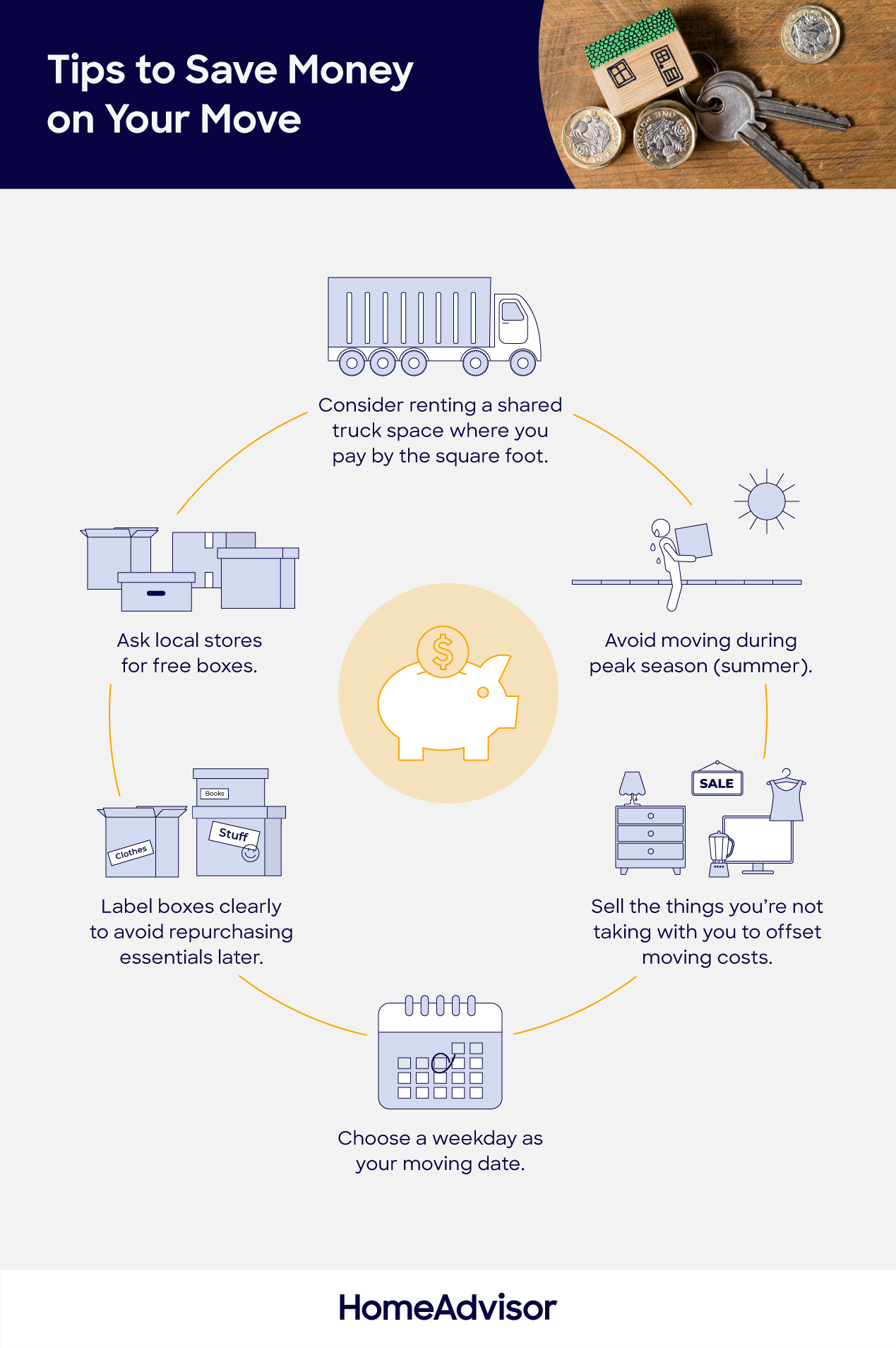 Consider renting a shared truck space where you pay by the square foot. Movers may offer discounts if they can transport loads for more than one customer in a single trip. You just pay for the space your items take up on the truck, not the entire truckload.
Avoid moving during peak season (summer). Try not to move between May and August, when prices are at their peak.
Ask local stores for free boxes. Many supermarkets, furniture stores, and other retailers will be happy to let you use their discarded boxes. You can also find free boxes online from message boards like Nextdoor and Craigslist.
Sell the things you're not taking with you to offset moving costs. The smaller your load, the less it will cost. Why not reduce the size of your move and earn some extra money in the process by selling items ahead of time online or at a yard sale?
Label boxes clearly to avoid repurchasing essentials later. You'll want to make sure toiletries and kitchen basics are easily accessible.
Choose a weekday as your moving date. Moving midweek and in the middle of the month can save you money. Demand is typically lower at those times, so your cost is likely to drop too.
Moving is bound to cost you money, but if you know how and where to save, it doesn't have to cost you quite as much. Check into the discounts available online and elsewhere, and trim costs where you can. Do your research, too: Find out the best local moving companies near you, get a moving quote from each, find the best prices, and compare services.
No Comments Yet