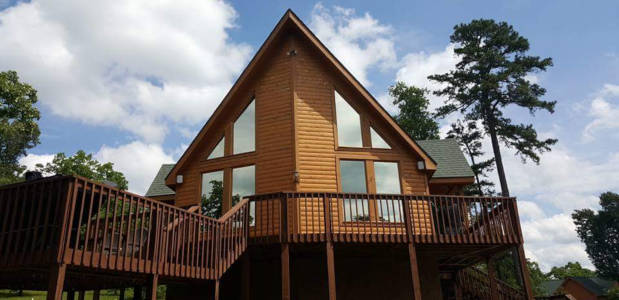 Homeowners build new homes for many reasons: to customize the design, choose features that preexisting homes cannot provide, or maybe to live in a specific location. For something unique, you could choose a timber framed, panelized, or other type of "kit" home. These are constructed with "building systems" prefabricated in a factory, and then delivered to the site for completion. However, the vast majority of homes built in the United States are framed on-site from the ground up. But before you jump into home building it's important to do your homework and consider your options.
What Are Your Material Options?
Lumber is by far the most popular framing material in home building, though a dwindling supply of old growth trees has steadily increased the price. Steel framing studs, which used to frame commercial buildings for generations, are gaining in popularity for the residential market. They don't deteriorate and can withstand extreme weather conditions, but it's also expensive and requires different techniques. For this reason, it may not be an option home builders offer.
Will There Be Difficulties with a Location?
If you want to build on a remote site – in the woods, at the beach, or on a mountain – research the availability of electricity, water, and other utility services. Also, consider potential difficulties the location might pose to construction crews before purchasing land. And always be aware of restrictions, including zoning and covenant ordinances, for a particular area.
What Features Are Most Important?
Next, consider your needs, desires, and budget. Do you have to have at least three bedrooms and two bathrooms? A kitchen for two cooks? A backyard for kids and dogs? Would you like a finished basement? A home office? How much house can you buy with your down payment and mortgage? Prepare for trade-offs when deciding which options and upgrades are worth the extra expense and when standard items will suffice.
Ready to start your
Custom Home Build

?Find Pros
What Design Best Fits You?
Once you identify these priorities, you can begin considering home designs. Start by browsing through magazines, catalogs, and visiting model homes. If buying within a development, look for a home building company that most closely matches your style and fits your building cost budget. Consider the exterior features (siding, roofing, landscaping), and determine which are standard and which cost extra. Next, check out the interior options. If you want vaulted ceilings, would the builder include them for an extra fee? Could you add extra cabinets? Do you have any special electrical or HVAC needs?
Would a Custom Home Be Your Best Option?
For a custom home, you could hire an architect or building designer to help draw up the plans and then contact home building contractors to bid on the project. You may be able to order house plans online, and hire a residential designer to customize a few details (but make sure they comply with local building codes). Find a builder willing to build his floor plan on your lot, or look for a Design/Build contractor to do the whole project from design through construction.
Do You Like the Other Homes by Your Builder?
Before you decide, look at other homes built by the contractor. Drive by on a weekend when homeowners are outside doing chores and talk to them. Ask if they found the builder easy to contact, fair with building costs, and if the workers were clean and timely? People usually tell you if they are pleased with their homes—or why they are not.
Other Factors to Consider
If you live in an area experiencing a housing boom, ask the builder about the amount of time they'll spend with you throughout construction, especially when you have questions. Do they use their own crews or do they subcontract? How are change-orders handled? Do you have to pay for changes immediately or are they added to the final price? Will he allow you to do anything yourself or bring in your own subcontractors? Can you supply any of your own materials? Also, be clear about post-sale warranties and services if problems should arise after you move in.
No Comments Yet