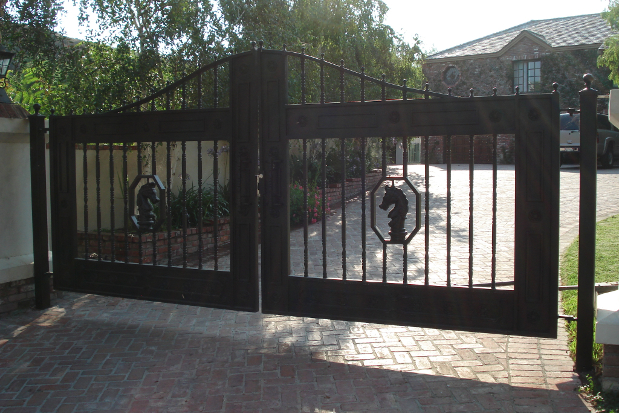 Though in recent years, vinyl gates have been gaining in popularity, wooden and metal gates have been the standard for ages. Their great variety of styles and applications keep them at the top of the list for many homeowners. Choosing the gate that's right for you can be difficult if you don't know the advantages and disadvantages of each material. Keep reading to learn what you should know when considering a wood or metal gate.
Metal Gates: Entries for Centuries
Metal gates are extraordinarily durable. Their strength has been tested and tested again with amazing results. The tide, however, is shifting; old metals are being replaced by new ones. Iron, while historically quite commonplace, is now becoming a rarity. Though some of the finest metalwork ever found has been on bronze, brass, and copper gates, they are not an option for most because of price.
Steel and aluminum gates are the new trend. Aluminum gates are especially popular because of their light weight and resistance to weather. Most, however, are lacking in strength when compared to other metals. Aluminum gates are often too hollow or thin – a way to keep prices low. They are also considered less aesthetically pleasing.
Solid steel gates are quite strong and pleasant to look at as well. They are often painted black and marketed as "wrought iron", which can get confusing. Very few companies make real wrought iron gates; the cost is too high, and the labor too intensive. Steel can easily be molded to have the appearance of old iron, but it is actually less durable. On the plus side, homeowners that can afford steel can have the wrought iron look without the enormous price tag.
Wooden Gates
The price, performance, and look of a wooden gate depend on the tree it's made from. A gate made of pine will be affordable, light, and will look however you paint or stain it. Cedar is often used to make wood gates because of its natural weather resistance and bug repellent qualities. Hardwood gates are very expensive, but have a look and feel like nothing else.
All wooden gates will need maintenance to keep them in top condition. Newer vinyl gates that are made to look like wood are virtually maintenance free, but even the untrained eye can tell the difference between the real thing and a vinyl facsimile.
Ready to start your
Gate Installation

?Find Pros
Gate Weight
With gates, as with many other things, it is often assumed that heavier is better. Be they metal or wooden gates, the soundness of the model is frequently judged by its heftiness as opposed to its actual construction. It is true that a heavier metal gate is generally made from solid rather than hollow metal, and that hardwood weighs more than pine, but judging a gate by pounds alone can be a mistake.
Whether you have a driveway, entry, or garden gate, its weight can be a factor in its performance and longevity. A gate that is too heavy can cause damage to hardware and the fence or wall it's mounted on. Weight problems in automatic gates can also be an issue. The DIYer especially should be very cautious when installing a gate opener and make sure that it is rated for the gate's weight.
No Comments Yet