Interlocking Brick Pavers
See if We Have Top-Rated
Patio Builders in Your Area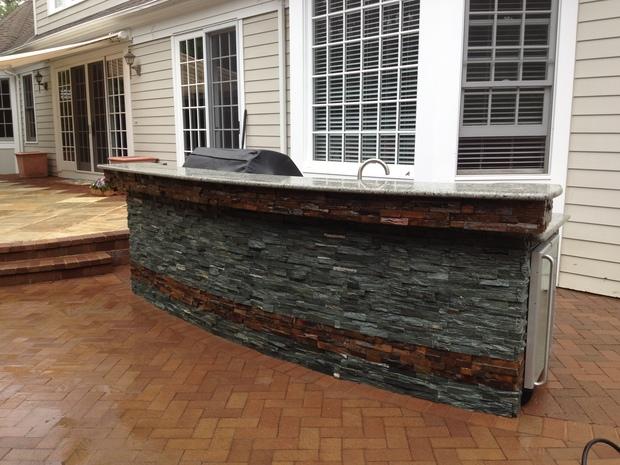 Interlocking brick pavers are a relatively new phenomenon in patio design. To be sure, brick pavers have been around for years and have made thousands of brick patios all across the country. The problem was that most people would try to tackle patios as a do-it-yourself project, resigning to the fact that there might be lumps and errors that they were willing to accept.
More to the point, the problem was that so many people built really bad patios. Awful ones, to be exact. Not only were they uneven, but they washed out with a good rain, were unstable, and caused more trips and falls than anyone ever expected. Beyond that, there weren't very many colors of brick back then except red and yellow.
Brick Revival
Along came these big box home stores that sell everything from cabinet hardware to mulch, and now brick makers had a new place to strut their products. This time their product would include new colors, new shapes, and even a different construction that would aid any do-it-yourselfer in making the best patio possible.
What came out of this was interlocking brick pavers, sometimes called interlocking concrete pavers. This little beauties can be found in any home store, nearly any hardware store, and definitely at every nursery around. Interlocking concrete pavers have a built in promise that a big rain will not ruin the entire patio, since they lock together and form a solid unit.
Another advantage is that whomever installs interlocking brick pavers doesn't have to sweat over accurate spacing because these concrete pavers are built to have uniform spacing.
Are Interlocking Pavers Right for You?
There is no reason to think that you have to install these interlocking pavers yourself. If you happen to like the design or the color or the promise of a brick patio, but don't want to do the work yourself, by all means hire a patio builder to come out and get you fixed up.
Another good move is to place these pavers over parts of the yard, near the fence for example, that have a difficult time growing grass or have an easy time growing weeds. These pavers can block out the sun and give your landscaping some nice texture at very little expense.
Matt Myers is a freelance writer for the home maintenance and remodeling industry. Formerly a contractor specializing in deck building and casework, Matt has written over 500 articles for both homeowners and contractors.
More Tips & Advice For Your Home
Related Articles
Recent Articles
Galleries