Basic Steps for a Waterproof Basement
See if We Have Top-Rated
Basement Contractors in Your Area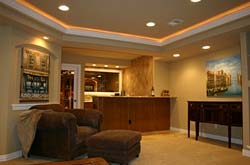 Basements and water damage are as synonymous as pancakes and maple syrup, but they don't need to be. A waterproof basement can be achieved by embracing a multi-pronged attack on the water entering your basement. With a combination of basement sealing, drainage solutions, and water damage restoration, your basement can be valuable living space instead of a dark, damp, and neglected area of your home.
Three Steps to Waterproof a Basement
Understand Water Leakage and Infiltration: The first step towards a waterproof basement is understanding why your basement has a problem in the first place. Usually it's a combination of factors. As your foundation settles and shifts, cracks and fissures develop in the walls and floor which let in water. Also, the concrete that makes up your walls and floor is a porous material. When your home experiences a heavy rain or snowmelt and the ground water outside your basement walls increases in volume, so does the hydrostatic pressure. That pressure eventually forces water through the pores and cracks in your concrete walls, resulting in sweating and other seepage. Finally, many homes experience water leakage at the footers, where the walls and floor meet at the base of the foundation.

Devise a Plan: Once you understand the basics of water seepage, you are better prepared to figure out how to deal with your problem. Cracks in the floor and walls must be sealed directly to prevent water from getting through, and the same goes for the joints at the base of your foundation walls. Also, walls and floors can be sealed in their entirety to prevent sweating and seepage. And, finally, installing French drains, sump pumps, and interior, exterior, or below slab drainage systems, can help relieve the buildup of the hydrostatic pressure that is the prime cause of basement seepage.

Call a Basement Waterproofing Contractor: Waterproofing your basement is generally better left to a professional basement waterproofing contractor. You can try to create a waterproof basement on your own, but by some accounts, fewer than 20% of DIY basement waterproofing projects are successful. A basement waterproofing contractor, on the other hand, has the skills to first identify the root of your water seepage problems, and then to figure out how to address those problems directly. If your goal is a waterproof basement on the first try, hiring a basement waterproofing contractor is definitely the best way to go.
Pre-Existing Condition: How to Rid Your Basement of Water
While waterproofing your basement is a great investment because it transforms your basement into usable living space, it is also a timely process that can necessitate some major construction projects. The question often arises of what to do about the water that is already in your basement. Calling in a water damage restoration specialist who offers basement drying services is a good solution. Water seepage brings with it a host of potential problems, including the development of mold, mildew, and fungus, as well as obvious structural damage. That being the case, employing a specialist who offers basement drying services is always a good idea. Using water pumps, vacuums, dehumidifiers, and industrial strength fans, a water damage restoration company that will help to dry out your basement in preparation for any major work that has to be done.
With so much riding on your foundation (literally your entire home), investing in a waterproof basement is one of the best decisions any homeowner can make. You may be wondering how much professional basement waterproofing is going to cost. Well, as every basement is different, so is every waterproofing job, but we can give you some idea of the average cost. According to data from homeowners across the country, the average cost of basement waterproofing is $4,012, but keep in mind this includes projects that cost less than $1,000 and more than $10,000.
Marcus Pickett is a professional freelance writer for the home remodeling industry. He has published more than 600 articles on both regional and national topics within the home improvement industry.
More Tips & Advice For Your Home
Related Articles
Recent Articles
Galleries