Complete a Presidential Inspection of Your Home
See if We Have Top-Rated
Home Inspection Professionals in Your Area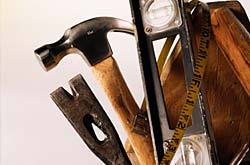 Maintaining your home may not be as complicated as running the country, but it can feel like it sometimes. You may not be able to hire an entire staff to brainstorm a course of home maintenance for the next years, but taking a cue from the current administration's various taskforces can provide valuable insights into a comprehensive, first-rate home maintenance plan.
The Energy Team: Americans' homes are a nearly perfect microcosm for how energy costs can hamstring someone's spending power. Without a high performance heating and cooling systems, energy-efficient appliances, replacement windows, and insulation, your ignoring some of the biggest and most easily avoidable drains on your monthly income. From energy secretary to EPA administrator and coordinator of energy and climate policy, your own energy team would do well to use a local HVAC contractor as your own kind of energy czar. Have this professional conduct an energy audit and evaluate whether new windows or an insulation upgrade is more valuable to your home.
The top-rated energy maintenance request from homeowners last year was solar panel installation. HomeAdvisor, leading online resource connecting homeowners with home improvement contractors, received 67,570 requests in 2008.
The Security Team: Right next to energy-efficiency, home security is a top priority for homeowners. If a home security system represents your home's military defenses, then secure locks, windows, and doors, air filtration systems, and properly installed electrical wiring are the infrastructure that comprises your home's homeland security. Between secretaries of state, defense, and homeland security, national security adviser, and directors of the CIA and FBI, your home deserves similar oversight and layers of protection.
Home security systems are still the most popular installation, although according to HomeAdvisor this may change by the end of next year. While standard security alarm systems have decreased by 26 percent over the past year, installation of surveillance cameras have nearly doubled.
The Economy Team: No other home maintenance plans matter if you can't figure out a way to pay for them. Completing even basic home maintenance may keep your weekly, monthly, and annual finances somewhat stretched, but ignoring upkeep can lead to costly replacements of entire roofing, siding, and heating and cooling systems, among others. More than reducing your spending power, these crippling expenses can jeopardize your ability to pay the mortgage.
In terms of economic value, gutter cleaning gets the top spot. Nationwide, the average cost of professional gutter and downspout cleaning is $150. Considering that gutter cleaning protects your roofing, siding, and lawn, you can't skip this project.
The Domestic-Policy Team: One of the most underestimated aspects of a home maintenance inspection is creating a long-term schedule for your maintenance projects. From gutter and carpet cleaning to roof and chimney inspections, creating a home maintenance policy agenda is a critical aspect of homeowner governance. Keep tabs on how old your appliances, roofing, siding, and windows are so you'll be able to prepare accordingly for their replacement.
It's not just your imagination, appliances don't last as long as they used to. Growing steadily over the past few years, appliance repair is the second most common home improvement request with 101,168 requests, according to HomeAdvisor.

The News-Tracking Team: Home innovations are expanding at an incredible rate. You need to understand what's available, what may become available, and what simply isn't worth it for your home. From the latest gadgetry to increasingly cost-effective installations from the past ten years, remodeling magazines, online resources, tradeshows, and manufacturer websites can all be important sources of information for your home. Obama's team of media monitors isn't going to let the blogosphere and punditry spin his administration out of political capital without a fight, nor should you assume new technologies are out of your price range without putting in the research.

One of the fastest growing home improvement innovations—with some of the niftiest and most applicable green technologies—geothermal heating and cooling systems get the nod for newsworthy projects. Requests for geothermal installation have more than doubled in the last year.

One Inspection at a Time
Of course, you may not be able to undertake everything at once, but divvying up the areas of a home inspection will allow you to see each issue your home faces, prioritize the repairs and general maintenance, and find reasonable ways to pay for the various projects. Whether you need a few months, one year or five to get your home in good shape again, starting now will help put you on the right path for your own residential recovery.

Marcus Pickett is a professional freelance writer for the home remodeling industry. He has published more than 600 articles on both regional and national topics within the home improvement industry.
More Tips & Advice For Your Home
Related Articles
Recent Articles