Make the Most of Your Basement Finishing Project
See if We Have Top-Rated
Basement Contractors in Your Area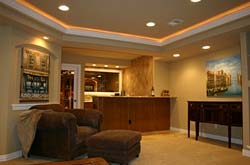 Few homeowners realize the wealth of home improvement possibilities that lie right underneath their feet. If you're looking to add space to your home, and to have fun with home design, there aren't many spaces more satisfying to work with than your basement.
Starting from Scratch
For starters, you're dealing with what amounts to neglected space, so you get to start from scratch. Your imagination is your only limitation when it comes to what you can do, and when I mention imagination, I mean use it. A creative finish basement project can include recreation rooms for the family, home gyms, innovative home offices, basement bars with the obligatory pool table, and play areas for the kids. All those things that just don't make sense upstairs are good to go down below. Of course, if you're not feeling adventuresome, the basement is an excellent area to add a few extra bedrooms and a bath to increase valuable space and square footage for your home
Keep Things Open
Maybe the biggest mistake made with most finish basement projects is not keeping things open. The temptation is to put in as many bedrooms and other enclosed areas as possible. Remember, however, that your basement has a confined feel to it already because of the inherent lighting issues. That being the case, the more open you can leave it, the better. Instead of a separate kid's room, use design features such as distinct paint, flooring, and lighting to set off a special area for the little ones. And don't set off your entertainment area with walls. Use furniture instead to create a barrier between your entertainment center and the rest of your basement space. Thinking along these lines can be the difference between a wide-open area your family can enjoy and a dark maze that rarely gets used.
Let There Be Light!
The other big reason to keep things open is to help keep your basement as lit as possible. Even if you set off different areas with different types of lighting, that lighting will still be shared by the larger area as a whole. It might sound like a trivial thing, but when you're talking about an area that naturally tends towards the dark side, the more light you can bring into the equation the better.
Install Windows for Light and Safety
Perhaps the biggest improvement you can make when it comes to lighting up your basement is utilizing the transparent properties of glass. Installing full-sized basement egress window will work wonders as far as bringing in natural light is concerned. And if you're considering adding a bedroom, that basement egress window is a must. Most municipalities require a basement egress window to be installed as a safety feature in all basement level bedrooms to facilitate easy escape and easy access for the fire department in case of a fire.
Install Interior Windows
On a side note, don't limit your imagination when it comes to windows, either. Think about installing interior windows where appropriate. For example, installing a large pane of glass between your home office and the larger living space will make your basement feel bigger and make your office more inviting at the same time.
If you are considering a finish basement project, talk to a contractor experienced in basement finishing to be sure you get off on the right foot. While they offer limitless design possibilities, basements also produce interesting remodeling challenges because of the prevalence of exposed wiring, plumbing and ductwork. Working around these structures and incorporating them into your design can be tricky, so you want to be sure that you're trusting the work to someone who knows what they're doing.
Matt Goering, formerly a carpenter and house painter, is a freelance writer for the home improvement industry who has published over 600 articles.
More Tips & Advice For Your Home
Related Articles
Recent Articles
Galleries