Moving Countdown: Moving Day
See if We Have Top-Rated
Moving Contractors in Your Area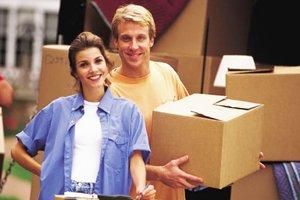 Moving Day: Today's the Day! Hooray!
Everybody up. Rise and shine. You've planned, prepared, pruned, purged and packed, and maybe even prayed! You've done a great job of organizing a successful move. Good job!
1. Before the movers arrive...
Strip your beds, and make sure the bedding goes into a box labeled "Load Last."
Pack all last bathroom and kitchen items in a "Load Last" box or take with you and stack in an appropriate area.

2. When the movers arrive...
It's important that an adult be authorized to take your place if you are unable to be present at any time while the movers are there. Let the Moving Agent know to whom you have given this authority. Be sure that your chosen representative knows exactly what to do, and which valuation program and amount you have selected. Remember, this person may be asked to sign documents obligating you to charges. Make sure to give them the Master List of everything they need to know and do, include your phone number in case they need to contact you with a question.
Confirm the delivery date and time at your new address. Write directions to your new home for the van operator, provide the new phone number, and include phone numbers where you can be reached in transit. Make sure to take along the destination Moving Agent's or other necessary name, address and telephone number.
Write down your shipment registration number and keep it with you in case you need to call your mover with questions about your shipment.
It's important to pay attention to the moving process. It is your responsibility to see that all of your goods are loaded, so remain on the premises until loading is completed.
Stay in your home until the last item is packed. Make a final inspection before you sign any paperwork (Inventory, Bill of Lading, etc.).
The van operator will contact you or the destination agent 24 hours prior to the expected arrival time. This allows time to locate you and arrange for unloading. If for some reason you cannot be reached, it is then your responsibility to contact the destination agent.

3. Once the house is empty...
Depending on the distance of the move you may have time to clean the house before going to the new house to meet the moving truck. If so you can clean the old house use the cleaning supplies you boxed for the last-minute clean-up, leaving the house as clean as possible. It's also advisable to hire a cleaning company to come in and finish up for you letting you move on to the new house.
4. Arriving at the new home...
When the van operator arrives, review all details and paperwork. Moving companies have stickers with numbers for each box, piece of furniture and dust ball they move and load onto the truck from your house. Some companies require you to check off each number tag from their list as they come in the door. Otherwise, accompany the driver as he or she inspects and tags each piece of furniture with an identifying number. These numbers, along with a detailed description of your goods and their condition at the time of loading, will appear on the inventory.
Again, it's important to pay attention to the moving process. It is your responsibility to see that all of your goods are loaded, so remain on the premises until loading is completed.
5. Follow the new house checklist:
If you haven't had time to ready the new house and you probably want to clean before the furniture is unloaded off the truck, make sure your vacuum is packed last, so it can be unloaded first.

Remember that moving companies sell rolls of wide, thick plastic with a sticky backing to serve as runners for your floor and stairs. This is a worthwhile investment to keep your new home carpets looking new.

Be sure you're there when the movers arrive. Plan to stay around while they unload in case they have any questions. If you cannot be there personally, be sure to authorize an adult to be your representative to accept delivery and pay the charges for you. Inform the destination agent of your chosen representative's name. Your representative will be asked to note any change in the condition of your goods noted on the inventory at the time of loading, and to note any items missing at the time of delivery.

Prepare to pay. Have payment on hand for your moving charges. Unless other billing arrangements were made in advance, payment is required upon delivery in cash, traveler's checks, money order or cashier's check. Personal checks are not usually accepted.

Check to make sure the utilities have been connected, and follow up on any delays.

Make sure your phone is connected. Ideally, you should have the phone company hook it up the day before Moving Day.

If possible, find childcare for move-in day too. This will relieve stress all around.

Confine your pets to an out-of-the-way room to help keep them from running away or becoming agitated by all of the activity or plan for pet-care.

It's a good idea to review your floor plan so you can tell the movers where to place your furniture and appliances. Plan to be available to direct them as they unload. Post the room names on the door frames with large paper: John's bedroom, den, master bedroom, Emily's bedroom, etc. These signs should match the labels on the boxes. Some rooms are a given, like the kitchen or garage, but don't leave anything to chance.

6. Create "Unpacking Central" in your new home
"Unpacking Central" is your organization station. Everything you need to unpack should be here. This is where you coordinate and compile all of your unpacking supplies: scissors, razor cutter, plastic gloves, dusting clothes, trashcan, etc. Having Unpacking Central ready for every box to be unpacked keeps everything organized and makes unpacking run more smoothly. It helps also to have a carpenters apron or craft apron with pockets where you can keep your pen, plastic gloves, cutting knife, scissors and such so that you're not walking back and forth and laying down items and not finding them quickly when needed.
Now, leave the rest to the professionals. Sit back and relax, and enjoy looking forward to enjoying your new home, the new opportunities, friends and experiences that are part of any move.
7. Choose one room to de-stress in
One way to de-stress after the move is by predetermining one room in your new home to be free of boxes. This way, you, your family and pets will have a quiet retreat and a breather from all the box stacking and unpacking mania.
One Last Tip:
To prevent possible damage and to make sure they are working properly after the move, do not use televisions, stereos, computers, other electronic equipment and major appliances for 24 hours after delivery, allowing them time to adjust to room temperature.
Enjoy your new home! You did a great job!
More Tips & Advice For Your Home
Related Articles
Recent Articles