Moving Day Countdown: 6 Weeks Before
See if We Have Top-Rated
Moving Contractors in Your Area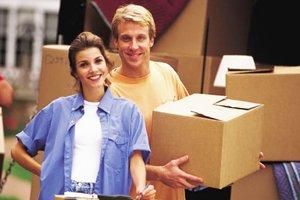 6 Weeks Before Move-Out Day: Create a Master Moving File
Whether you're making a local move or a long-distance move, these steps will help you get and stay organized throughout your move. Whether you are hiring movers or getting help from your neighbors, this guide will help make your experience a better one.
1. Create a Moving Information File
This file needs to be a brightly colored organizer folder with interior pockets. The bright color makes it hard to lose in stacks of newspapers, books, mail and other files. Make sure to label it in large letters as well. This kind of file folder makes it easy to store important information, your master lists, keep lose pieces of paper and notes and a good place to collect receipts for moving-related expenses. (If you're not sure what tax deductions on moving expenses and what receipts you'll need to keep, ask your accountant or the Internal Revenue Service.) Adding envelopes labeled for different items can also be helpful.
2. Write a Moving List
This list includes and organizes the basics about the overall move and timelines that need to be met. To keep from being overwhelmed everyone in your household responsible for the move needs to be a part of it, and/or needs to know where the list is so that they can check it as well. This list should be divided into two sections, important information and a checklist of to-do items:
Important Information:

Moving date and time
All moving company and moving agent info, including contact info, moving estimate, and any other paperwork.
Payment for the moving company. Find out how the moving company needs their payment. Unless other billing arrangements are made in advance, payment is required upon delivery in cash, traveler's checks, money order or cashier's check. Personal checks are not always accepted.
Utility and phone shut-off dates
Utility and phone turn-on dates for new home
Realtor, mortgage banker, and builder contact information for both locations
Map/directions to new home

To-do List:
Contact your insurance agent to transfer property, fire, auto and medical insurance.
Make plans for small children on moving day so there's no confusion on moving day.
Make plans for animal care, including kennels and food.
Contact any clubs or associations you are affiliated with for information on transferring, selling or ending your memberships.
Contact school, church, or synagogue for any info you may need.
Contact your company's HR regarding leaving your job and how this will affect your insurance, retirement plans, etc.
Contact the Chamber of Commerce or Visitor's Bureau in your new community to request information on schools, parks and recreation, community calendars and maps.
Take care of changes of address, both postal mail and email. Remember that if you have a website, email and other internet systems that have your address and/or email address that changes, they will need to be updated as well.
Check your homeowners insurance before the move. If something of value is stolen, lost or broken during the move, how will it be covered? If someone gets hurt in the move, are you covered? Also, find out what paperwork (receipts, appraisals, and photos) you might need to file a claim in case of loss.
Ask which insurance the moving company carries.
Transfer all current prescriptions to a drugstore in your new town.
Complete transition with physicians, dentists and other medical professionals.
Empty your safety deposit box. Thousands of people leave town without ever doing this. Also, call your bank to find out how best to transfer your bank accounts.
Contact brokers and all other financial agents with whom you work.
Make your personal travel arrangements (flights, hotel, rental cars, etc.) for you and your family if necessary. Try to keep your plans as flexible as possible in the event of an unexpected schedule change or delay.
Hold a garage sale. If you're going to have a garage sale you'll have to have had items already mounting up or will have to go through your house and find what you want within this week and advertise quickly. If you don't have a lot it will not be worth the effort. It's just as easy to give to charity and ask for a donation form for a tax write-off.
Order address labels or make them on your computer before you move into your new home. It is more efficient to have them on hand when you need to indicate a change of address on anything. Leave a few behind with the people who move into your old home or apartment so they can forward anything that gets delivered to them for you. Give them a few bucks to cover any postage costs.
Ready quarter pages of brightly colored card stock or heavy paper with your complete change of address and phone numbers to give out to friends and neighbors, old and new.


3. Don't Pack Important Items
There are important documents and items that are best not packed for the moving truck but carried with you to insure safety and confidentiality. Plan ahead and create a container for these to travel within. These items include:

Dental and medical records
Prescriptions, eyeglass specifications and vaccination records
Wills, stock certificates, birth and marriage certificates
Other one-of-a-kind items that are impossible to replace: jewelry, photos, home videos

Also, take your current phone book with you. You may need to make calls to residents or businesses back in your former hometown.

4. Collect Packing Tools
Whether you have a moving company do all of your packing or you do it yourself, there will be items that you will need to pack early or that you will choose to pack yourself. Buy packing paper/newsprint from your moving company for packing materials and collecting boxes that you may already have.

The bottom line from here on out is write everything down! You'll thank yourself later. Creating a simple Master Moving File before you even think about packing one box will be so very helpful.
More Tips & Advice For Your Home
Related Articles
Recent Articles