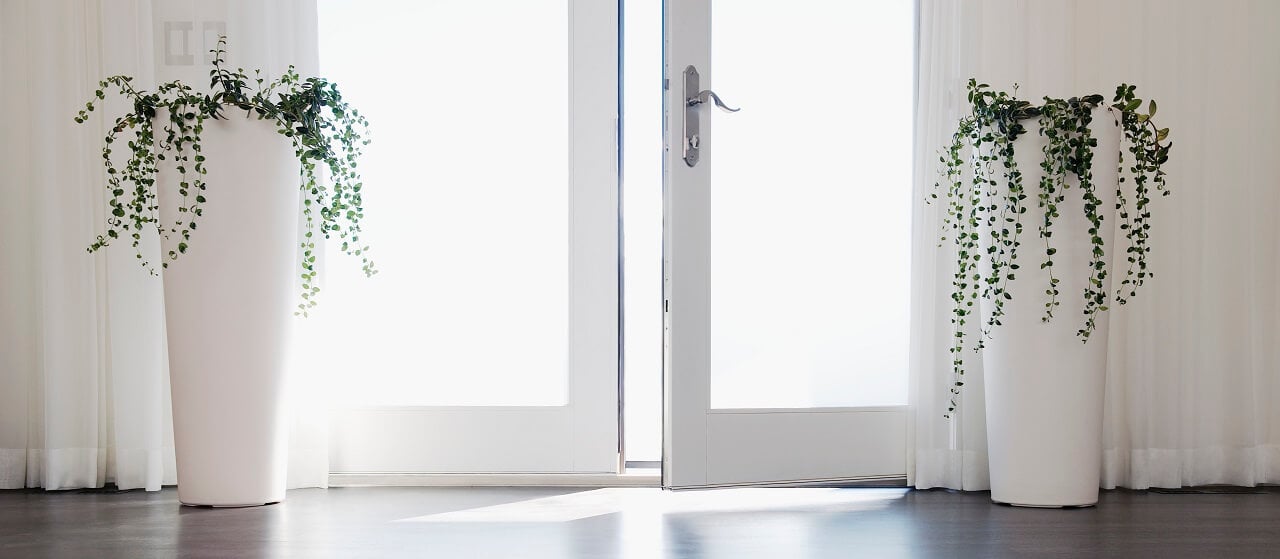 How & Where to Get the Best Price on Cheap Doors
The door is called the frontal guard of a house, and you can get this door at a basic to a high-end price. The basic cheap doors cost on average $50 to $500, without installation price. The high-end French doors cost more than that.
Generally, the cost of a door depends on what kind of material it is made of. The empty hollow cored styled door costs $40 to $90. Beveled glass doors cost $1,000 and $1,500, on average. The cost of installing a door is between $400 and $1,500, on average. If you want to buy the door at a low price, you have quite a few options at your disposal.
On This Page:
Cheap Doors
You can buy the best door at a reasonable price, but you need to have a good idea about the cheap doors' material options. Research the materials and costs, then compare elements like durability, cost and styles, and buy what is convenient for you.
Best Buy Doors
Usually, the best buy doors are made of composite timber, and the door is carved with different kinds of designs. You can customize these doors according to your own choice. Also, the best buy doors are:
Strong and durable
Beautiful
Best at giving your home an elegant touch
customizable
Disadvantages of Low-Priced Doors
Low-priced doors don't always mean low-quality, but consider the following drawbacks when purchasing yours:
Not as firm or sturdy as higher-cost counterparts
Design is simple and not as unique
May not be as weather-resistant
May need a lot of repairs
What Are Some Cheap Door Materials?
Doors are made of different kinds of materials, and you need to have a good knowledge of them to buy the best door for your budget. Plywood, steel, aluminum, glass and vinyl are all popular and low-cost options to consider.
Plywood
The most common type of cheap door material is plywood. Plywood doors have high strength and sturdiness. Because of that, plywood doors can take heavyweights, and it is weather resistant. Plywood doors cost about $50 to $200.
Steel
Steel is the strongest door material among all the materials. It does not bend or crackdown easily. The maintenance of steel doors is also more reasonable than most others. The cost of steel doors is about $25 to $100.
Aluminum
Aluminum doors are one of the most common choices among buyers because of their affordability. Aluminum is famously lightweight but firm and sturdy. This type of door costs about $90 to $150.
Glass
Glass doors are a standard option among the buyers. The best thing about glass doors is that they are super easy to maintain. Glass does not collect dust and it is super easy to clean. Also, glass doors do not rust. Glass doors cost $80 to $150 on average.
Vinyl
Vinyl is one of the most affordable options and is the best option for exterior doors. The structure of vinyl doors is strong and durable. Also, vinyl doors are easy to clean and maintain. They cost about $85 and $500 on average.
Cheap Door Materials Price Per Piece*

| | |
| --- | --- |
| Steel | $25 – $100 |
| Plywood | $50 – $200 |
| Glass | $80 – $150 |
| Vinyl | $85 – $500 |
| Aluminum | $90 – $150 |
*This price does not include the cost of labor and installation, which is about $400 to $1,500.
Discount Doors Pricing and Suggestions for Cheap Interior and Exterior Door
You can get the cheapest door at the price range of $25 to $150, excluding the installation cost. You can buy plywood and steel at this price range. Also, you may get a good deal on glass doors in this price range.
Cheap Doors for Interior
For the interior, you will want to choose a door design that will make your home environment classy and elegant. The cost of interior doors mainly depends on their plans. You can choose the French styled doors, which have multiple glasses throughout the door. This door remains side-by-side, and it allows the light to go through. This kind of door will add a touch of creativity to your home, and these French styled doors cost around $200.
You can also install the glass sliding door in your interior. In that case, the cost of sliding glass doors is about $400 to $1,000, on average.
Cheap Doors for Exterior
For the exterior, you may want to choose a design that will make your elegant home looking, and at the same time, it will be strong and durable. The cost of exterior doors mainly depends on the style and the purpose of the door.
You can use the patio styled front door in your house. It will enhance your house's beauty and costs around $300 to $4,000, without installation cost. You can use the storm door to give extra protection to your main front door. The cost of a storm door depends on the design and setup, and it usually costs around $100 to $500.
The Best Place to Buy Doors
Before buying the cheap door, try to search for the different places where they sell cheap doors. Have a good knowledge of the materials and know about what kind of deals they offer. Then compare the deals and choose what will be best for you.
Door Company Pros and Cons

| Seller | Pros | Cons |
| --- | --- | --- |
| Big Box Stores | Available choices | Quality will be compromised |
| Large Franchises | Quality materials | No creative designed doors |
| Online Retailers | Easy price comparison | Lack of close examination |
| Small Franchises | Less costly | Limited options |
| Door Installers | Best service | Options are few |
Where to Buy Cheap Doors
You can buy the cheapest door at $25 from online retailers and the big box store. The cost does not include the delivery, labor, and installation price.
TIP: Before buying a door, contact your local dealer or installer to know which type of deal will suit your area's weather.
Cheap Door Installation and Replacement
The cost of installing doors is about $400 to $1500, excluding the materials. The cost of repairing a door is about $100 to $350. You may repair the door frame if it's broken on your own. In that case, you can save some money.
You can get some discount if you choose a package deal or buy the materials from the installers.
When Is the Best Time to Buy Cheap Doors?
April to May is the busiest time of year for buying the windows and doors. If you buy the door in the off-season, then you get it at a cheaper rate. The best time to buy cheap doors is in the late fall or winters. Because it's when the busy season ends and the installer gives various discounts to clear out the stock.
Hiring Cheap Door Installers
After you buy your desirable cheap door, hiring a door installer is the most important thing to do. You need to research different door installers to learn about what kind of service they provide and what will be satisfactory for you.
The installation of a door is a complicated and tricky thing. So it is best to hire a professional for that.
Questions to Ask Your Door Installer
You can hire a door installation company near you to install your door. In that case, you can have some best deals. Also, before hiring any professional, you can ask the following questions-
Do you have any insurance?
What kind of experiences do you have?
Can you show me any reviews about your company?
Can you give me a contract with all the estimated charges?
FAQs
Which is best for bathroom doors?
Pocket doors are the best for bathroom doors. Because it doesn't take much space, and it doesn't swing open instead, it glides into the wall.
Which door is best for the bedroom?
The solid core doors, which are made of composite wood or plywood, are best for the bedroom because they give an elegant look and work best as a sound barrier.
No Comments Yet