Door Installation & Replacement Costs
On average, door installation costs $973, with most homeowners spending between $473 and $1,479. Replacing interior types in an existing frame runs anywhere from $100 to $1,000 . Entryways run upwards of $5,000 or more depending heavily on the material. Framing or reframing an opening averages $485. Prices vary depending on the size of the opening plus structural changes in load bearing walls.
Other cost factors include location, type, and framing needs. Most projects require hiring an expert for proper installation.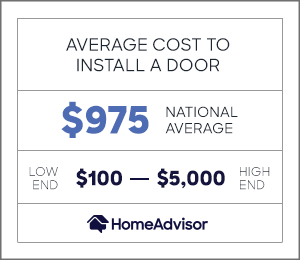 Door materials are usually the largest cost factor. Slab and pre-hung types range from basic hollow core styles for $30 to $90 each up to solid oak and beveled glass for $1,000 to $1,400 or more. Extremely high-end varieties - typically double and wrought iron - range from $3,500 to $6,000. Add sidelights - also known as sidelites - and transoms for an added $600 to $2,000.
Doors can be made of wood, wood veneer, steel, aluminum or fiberglass - to name just some of the options. Exterior types will be sturdier than interior varieties and will have a higher installation price. Steel units are the most affordable option, and there are a range of options for each kind of material. Though style and application play a significant role, material type is one of the largest factors impacting budget.
Each material can come in variety of styles including:
Flushed: no designs, good for garages, back and side entries.
Paneled: can have panels made of fiberglass or wood.
Arched: has an arch-shaped design.
Glass: has glass windows or insets.
Pocket: slides into the wall.
Bifold: folds in half - used mostly in closets.
Bypass or sliding: slides past an adjacent door, like sliding closet or patio types.
Decorative: often with wood or metal scrollwork.
Wooden Door Cost
Wood is popular choice with an extremely wide variety of styles.
Interior: $40 to $200 - come in hollow and solid
Engineered solid wood: $150 to $500 - for exterior applications
Exterior solid: $500 to $3,000 - unit prices depend on whether it is a single or double, has sidelights, a transom, glass, or internal miniblinds.
Steel Door Prices
Homeowners can expect to pay between $500 and $1,230 to install or replace a steel entry. The cost of a standard steel types ranges between $150 and $300. Add glass and that cost increases to $300 to $1,200. Double or those with sidelights can range anywhere from $500 to $2,500 with an average range of $1,000 to $1,500.
Steel is cheap and long-lasting. It can handle weather and security almost as good as the pricier fiberglass and wood. It does require some maintenance if it's dented or scratched. Steel is especially prone to rust if scratches and dents aren't addressed quickly. Consult with a door professional before replacing or installing.
Wrought Iron
Wrought iron doors are high-end variety that runs anywhere from $1,500 to $7,000. Most often, these use a steel base, though wood with wrought details, usually in the glass, is common.
Fiberglass
Fiberglass doors cost anywhere from $150 to $5,000 and more though most fall in the $250 to $2,000 range. It comes in both smooth and wood grain textures. It's maintenance free and one of the best options for energy efficiency.
Composite Wood
One of the most economical varieties, composite and engineered doors cost between $40 and $500 on average. Some run as much as $1,000 or more. Composite is a manufactured wood made using heat, pressure, glue and wood particles.
Aluminum Metal
Most aluminum doors range from $100 to $2,000. This type is popular in both interior and exterior applications such as screen, entry and wardrobes. Sliding styles price at the high end of this range.
Solid Core vs Hollow Core Door Costs
Solid cores average about $50 to $200 more than their hollow counterparts. Labor costs for both remain about the same at $100 to $300 per installation. Solid doors are typically made from wood particles or foam. "Solid Core" is not to be confused with solid wood. Hollow core typically has a honeycomb of cardboard slats with thin veneer faces.
Get a Quote for Your Door Installation
Average Cost to Install a Door
New installations have a variety of costs including labor, materials and supplies. Combined they average between $400 to $900. Some contractors discount larger projects with multiple installations. Contractors only supply the tools necessary for the job. The homeowner is responsible for the price of all supplies and materials. These include all mounting hardware, hinges, screws and threshold. This chart doesn't include specifics for exterior types like sidelights or a transom.
Average Door Installation Costs including Framing

| Line Items | Average Cost Range |
| --- | --- |
| Labor | $150-$300 |
| Slab | $50-$400 |
| Supplies | $100-$300 |
| Jamb & Stop | $150-$300 |
| Frame Construction | $200-$650 |
| Total Cost | $750 to $2,000 |
New Door Frame Prices
A new rough frame costs anywhere from $200 to $650 depending on a variety of factors. Factors include if it's located in a load-bearing wall or not and if plumbing or electrical wiring needs rerouting. The finished frame or jamb will average $200. More contractors can add $300 to $1,000 to the project total.
Door Installation Labor Costs
Labor runs between $40 to $90 per hour or more with an average about $70 per hour for a licensed contractor. Handyman rates are slightly less on average or about $30 to 40 per hour. However, your location will dictate final hourly costs. Contractors in areas with higher costs of living charge as much as $120 per hour or more.
Interior versus Exterior
A standard interior door costs about $75 to $125. An exterior doors cost an average of $500 to $2,000 with some installations exceeding $10,000. Exterior types take a beating from use and weather while also holding in heat and looking good doing it. Because of this, they require special framing considerations. These include flashing to keep water out and load-bearing headers with additional framing. This all adds to a more product and install expense.
Exterior vs. Interior Doors

| Item | Exterior | Interior |
| --- | --- | --- |
| Average Cost | $300 to $2,000+ | $30 to $400 |
| Sidelights | Add $500 to $2,500+ | Rare |
| Transom | $200 to $800 | Rare |
| Insulation | Required | Rare |
| Security | Often Preferred | No |
| Weather Resistance | Required | No |
| Fire Resistance | Often Preferred | No |
| Framing | Requires flashing for weather and headers in load bearing wall | Nothing exceptional required |
*Solid wood uses the wood as natural insulation. It doesn't insulate as well as most steel and fiberglass varieties.
Basic vs. Custom Doors
A basic installation costs $250 to $550. It takes about 3 hours. It includes removing the old door and trim then installing all new trim, hinges, knobs and hardware. Custom jobs range from $500 to $10,000+ but the only real limit is your budget. Custom work includes security systems, transoms and sidelights.
Wall Material & Considerations
Installing a door in a new location often requires drywall work, electrical and sometimes plumbing. Rerouting plumbing or electrical averages $50 to $100 an hour. It can also add the cost of removing and replacing drywall. Drywall installation averages $1.50 a square foot. While electrical work is common with new installations, plumbing isn't. Some electrical work won't require drywall removal. Consult with a contractor for details on your project.
Jamb, Hinges, Knobs & Locks
Pre-hung prices include some hardware. Regardless of the type, you'll need to supply knobs and locks. For slab types, you'll need to include the cost of the jambs and hinges.
Jambs: $150 to $250 - including all labor and materials. Created on-site, custom jambs include the stop, routering and holes drilled for hardware.
Hinges: $2.50 to $30 - two or three depending on the type. Solid core and entry varieties typically need three hinges. This is due to weight while lighter hollow varieties only require two.
Knobs & Locks: $10 to $300 - often sold in sets. Simple exterior keyed knobs run as little as $30. Interior knobs with no locks are even cheaper at $10 to $30. Entry kits with electric codes and Smart-locks can run as high as $300 or more.
Cost to Hang Doors by Type
| Type | Material | Labor | Total* |
| --- | --- | --- | --- |
| French | $400-$4,800 | $200-$1,000 | $600-$5,800 |
| Double | $250-$4,000 | $500-$1,000 | $750-$5,000 |
| Single Entry | $300-$1,500 | $200-$500 | $500-$2,000 |
| Entry w/ Sidelites | $1,200-$5,000 | $800-$1,500 | $2,000-$6,500 |
| Patio | $300-$4,000 | $200-$500 | $500-$4,500 |
| Bifold | $50-$200 | $100-$300 | $150-$500 |
| Fire-rated | $100-$500 | $300-$800 | $400-$1,300 |
| Bilco/Basement | $100-$1,000 | $1,000-$5,000+ | $1,100-$6,000 |
*These prices represent average costs. Some extreme examples and custom work may fall outside these ranges. Labor will vary by market.
The kind you choose will affect installation price. With thousands of door choices, prices will vary greatly from project to project. Despite the type you go with, labor costs will remain fixed at about $200 to $800 for most projects - more for custom work.
From single to French, sliding to bi-fold, and barn or pocket doors, there are a lot of choices. Some of these are larger than standard and will require specialized wall framing for a perfect fit. Increased specialization increases the price.
Cost to Install French Doors into a Wall
French doors cost $600 to $5,800 to install. French refers to any type with full-view windows. Inside the home, they are often singles with a window from top to bottom. Homeowners often use this style as double exterior throughways at patios and porches.
Entry Doors with Sidelights
Entry doors with sidelights run anywhere from $2,000 to $6,500 though some installations can reach $20,000. Sidelights (or sidelites) can double or triple the price of an entry installation. Add a transom window and you should budget for triple the price.
Fire-Rated
Steel fire-rated doors run between $400 and $1,300 to install. Building code requires a fire-rated door between any garage and living space. Ratings run from 45 minutes to 3 hours of fire resistance.
Sliding Patio
Patio door installation costs between $500 to $4,500 with an average price of $2,000 though projects of up to $10,000 are common. In general, sliding glass door costs range between $1,000 and $2,700 including interior ones.
Installing Bifold
Bifold doors run from $150 to $500. Most often installed in closets, larger ones that use multiple bifolds can run upwards of $2,000.
Double Doors
Double doors run $750 to $5,000 or more for installation. Price varies due to the style and material rather than labor. However, exterior installation in load bearing walls increase project time and labor rates.
Bilco or Bulkhead Basement or Cellar Doors
Bilco, a type of basement bulkhead door, runs anywhere from $1,100 to $6,000 or more for a complete installation. It's usually best to install these during the homes initial construction. Hire a professional to install this type. They require careful installation to avoid basement water damage costs of $1,000 to $4,000.
Standard Entry or Garage Side Door
Entry doors for both a home and garage are going to run $500 to $2,000. All doors leading from a garage to a home must also be fire-rated.
Find the Best Door Installers Near You
Door Replacement Costs
Removing and replacing an existing door requires a bit more work than new construction and costs a little more. Though the type and materials you choose make the largest impact on project pricing, take these factors into consideration when budgeting.
Removing Interior & Exterior Doors
Removing a door takes a professional 1 hour at $70 on average. Disposal fees will vary by location but expect at least $25. Exterior varieties are much more expensive than interior. The same idea goes for removal. Exterior installs deal with weather, layers of material and homeowner traffic. The main interior concerns are dust and debris.
Cost to Replace a Door Frame
Frames will cost you $150 to $250 if it's created on-site. Many replacements come as pre-hung units with the jamb already installed. If you need the wall reframed, that will cost about $7 to $16 per square foot.
If an existing frame has succumbed to rot, you'll need repairs or replacement before installing a door. If there's any other maintenance, that will add to the price.
Reframing Front, Back & Other Exterior Doors
Enlarging or modifying an entryway requires reframing at a rate of $7 to $16 per square foot or more. It also entails working with siding, house wrap, insulation and electrical rewiring. Expect to pay an average of $75 per hour or more for an electrician.
Fitting it in an Existing Opening
Fitting a door to an existing opening averages $900 for installation. An existing opening means there is already a fitted hole. However, even with an existing hole, a door needs about 1 inch of space between the rough-in and frame for proper alignment on pre-hung types. Get at least three professional quotes before proceeding with any projects that include framing.
Older homes or homes with unusually sizes may need the hole re-cut to allow for custom and modern sizes. This is also true when you decide to enlarge any opening. This can increase the cost of installation significantly from a simple replacement. If you're putting in a new door where there was none, then cutting the space will bring the installation price to the highest end of the spectrum.
Replacing a Door in an Existing Jamb or Frame
If it's just a matter of hanging the same size in an existing jamb, it'll cost the price of the door. In the home, that's between $30 and $150 typically while exterior ones run anywhere from $300 to $1,500 or more. This is suitable for a DIY install with minimal tools needed.
Price to Move a Door
Moving a door costs the same as installing a new one with one exception: filling in the hole the old door left. It'll cost an average of $1,800 to close up the old opening. This means framing the opening and hanging drywall. Framing costs about $10 per square foot while drywall runs an additional $1.50 per square foot. Exterior work will be much higher due to siding and waterproofing requirements.
Replacing the Jamb
Replacing a door frame or jamb runs $250 plus any disposal fees. Jambs often need replacement due to rot and damage from use.
Get Door Installation Quotes From Top Pros
DIY vs. Hiring a Professional
Even experienced DIYers will find installing a door difficult. The simplest pre-hung types require skill to install correctly so it swings properly and lines up flush with the frame and stop.
You should use a professional to avoid the headache of redoing the job and possibly needing to purchase additional replacement materials. But interior installs can make excellent DIY projects for those with the patience and discipline to line up every angle and check every corner.
For almost all exterior installs, hire a professional. Exterior units need to be weather tight and provide proper security. Improper installations can lead to expensive water damage to the walls, floors and basement.
FAQs
How Much Does Commercial Steel Door Installation Cost?
You can spend anywhere from $1,500 to $15,000 or more installing a commercial steel door. Material prices start at $600. Hinges alone cost upwards of $100 each.
There are many differences between a residential and commercial steel entry. First, the jambs are steel. They are usually a thicker gauge making them heavier but better for security. Commercial costs depend on the location, the size, if the jamb is knock down or slab, and if it's during initial construction or a later addition.
How Much Does It Cost to Turn a Window into a Door?
Turning a window into a door will cost the same amount as replacing one, or $300 to $1,500. Higher-end fiberglass and wood varieties add an additional $1,000 to $4,000 to that figure.
What Does It Cost to Convert a Window into French Doors?
It runs $750 to $5,000 or more to convert a window to a French door. It depends on the size of the window and if you're installing a single or double.
How Much Does it Cost to Cut a Doorway into a Brick Wall?
Cutting a door into a brick wall runs from $300 to $2,200 not including materials. It'll be even higher for double or custom work. Exterior wall work falls on the higher end of the spectrum.
What's the Estimated Price of Removing a Door & Replacing with a Wall?
To wall up an interior doorway it would cost between $250 to $800 depending on the size of the opening. It would require removal, re-framing, hanging drywall, mudding and taping, and painting.
Talk to a Door Installation Pro Near You
Thank you for submitting your feedback.