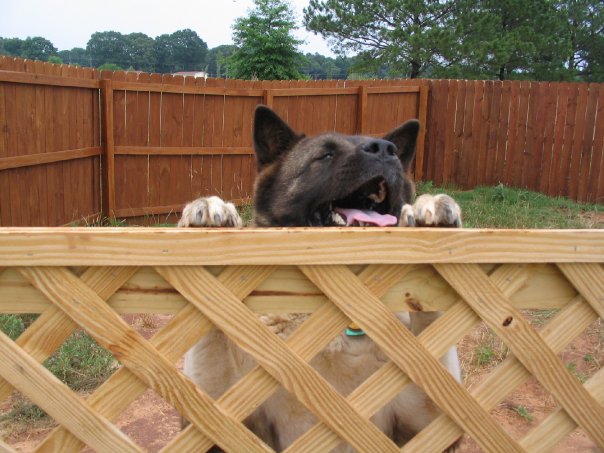 A dog run is an excellent solution if you're looking to give your pooch the space it needs to exercise but don't want to sacrifice your entire yard in the process. By using the right materials and a little know how, you can easily build an area that both you and your dog will be able to appreciate.
The Basics
Building a good dog run might seem simple, but there's several things you'll want to consider. Most are a matter of preference, though you'll want to take into account your dog's personality and habits in order to create the safest and most enjoyable space possible for your canine.
Size—A good rule of thumb is to make your new pet enclosure at least 10 feet wide and a full yard's length long. This is sufficient space for even the largest dog to stretch his legs, but small enough that it won't swallow up the majority of your yard either.
Flooring Material—Another big decision you'll need to make is what you want the floor of your run to be made of. Gravel, wood chips, sand and concrete are all popular choices. Gravel, wood chips and sand all make for easy poop scooping and create a more natural feel than concrete, but you need to think about doggy vices before you commit to any of these for your project. If your dog is a digger, these materials make for easy tunneling. And if your pooch is prone to chewing, stay away from the wood chips. Your dog will likely end up chewing on them to pass the time and could be injured by splinters that get lodged in his throat and mouth. Concrete runs or slabs don't look as comfortable, but from a sanitation standpoint they are tough to beat. Just hose it off with a high pressure nozzle and your run will be squeaky clean in a matter of minutes.
Location, Covers and Dog Houses—Deciding where to put your new run is almost as important as what you build it out of. Try to find a shady place in your yard for your enclosure, so your pooch won't end up sweltering on hot summer days. And if your hammock has already claimed the prime spot under the trees, think about adding a mesh cover to all or part of your dog run so your dog has a place to escape the heat. Also, buy a good dog house for your run so your dog has sufficient shelter from inclement weather.
Fencing—Choosing the right fencing is perhaps the most important decision you'll make when it comes to your dog run, and where most homeowners suffer from limited vision. Don't think a chain fence is your only option, though it is an excellent choice from the standpoints of price, appearance and functionality. Other ideas for dog run fence include wrought iron, split rail, even a brick or stone wall with iron railings incorporated in so your dog can see out. Really the sky is the limit here. The important thing is that your run looks good and fits the rest of your landscaping, all while keeping your pooch at bay.
Talk to fence supply companies about materials and installation, and talk to a contractor or handyman about getting your new dog run up and running. Your dog will appreciate having a space all its own and your yard will thank you for it. You'll wonder why you didn't have one built earlier.
No Comments Yet