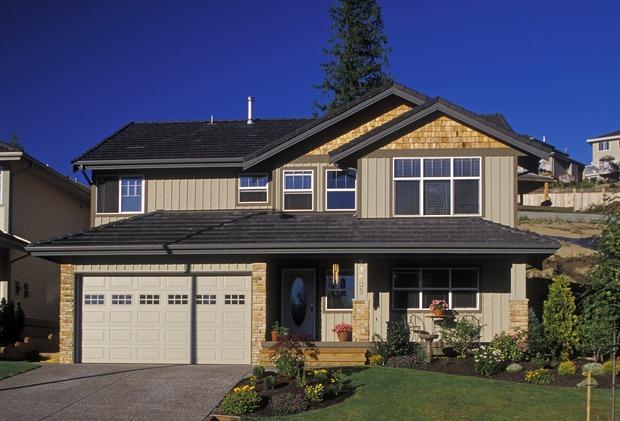 What the heck is hardie board siding?
You may not even know when a house is covered in it because it so effortlessly creates the look of wood or vinyl siding. However, this material is in fact constructed of cement fibers. This kind of cement board siding was invented over a century ago by James Hardie, who wanted to develop an exterior product that could endure extreme climates while still retaining the beauty of wood siding.
It was originally used in Australia, but over the years it has become common place in all regions of the world, especially in areas of intense weather.
Beautiful Protection
Hardie plank comes in many different colors and shades and closely resembles the look, texture, and grain of wood siding. However, unlike wood, hardie board siding is impenetrable to any kind of climate-related damage or injury.
Weather: Due its concrete fibers, hardie plank is impervious to any external elements, such as rain, hail, wind, flying debris, and humidity. Not only will cement board siding not chip because of its strength, it doesn't retain moisture either; therefore it never rots or swells.
Pests: This type of siding defends against most insects, such as termites, that can eat away at wood siding. This is especially helpful in southern climates where moist air and pests thrive all year long.
Fire Prevention: Because it is made of concrete fibers, hardie board is even fire-resistant, protecting your home from any exterior threat.
Saves Time and Money
Hardie siding isn't more or less expensive than other forms of siding and it requires almost no maintenance. Since cement board siding is so durable to pests and rot, repair is rarely needed and unlike other siding, hardie plank will never deteriorate.
Painting: Hardie board siding is known to retain paint longer than wood. Because it is moisture-resistant, it never swells or rots so the paint never peels, chips or cracks. Since you don't have to invest in future re-painting, this product not only saves you money in the long run, it also saves you time and energy.
Selection: If you want to select your own personal paint color, hardie plank can come pre-primed for easy application. It also comes in a variety of pre-painted colors from which to choose, allowing you to select the proper shade without lifting a finger.
Less Upkeep: Maintaining wood siding is troublesome, but what about the convenience of vinyl siding? Sure, vinyl siding is durable but it is far from impenetrable. It dents, sags, bends and fades. Hardie siding avoids all these troubles.
Get It Right the First Time
When you select the type you want, it is best to leave the installation to the professionals. You could do it yourself, but unlike conventional siding, hardie board requires a special technique. It's a bit heavier and can be brittle if handled improperly. So when it comes to the nailing and hammering, allow the trained siding experts to take care of it.
Ready to start your
Hardie Board Installation

?Find Pros
16 Comments