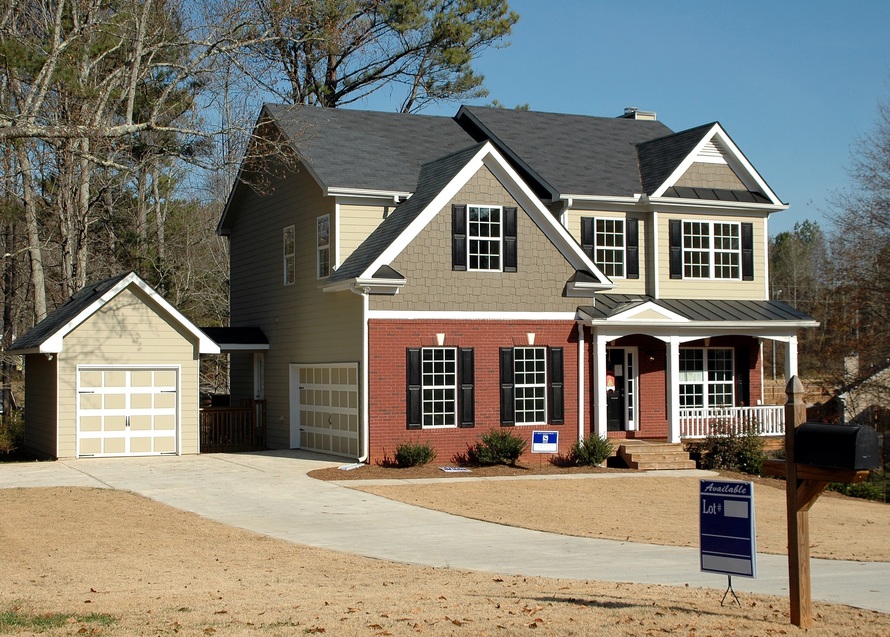 Painting the home, adding new windows and updating the landscape aren't the only ways to improve a home's exterior. An often overlooked home improvement, installing new siding dramatically changes your home's appearance.
In the past there weren't many siding options to choose from, leaving homeowners few choices besides the often unattractive vinyl siding. But today there are a wide variety of options available, including much improved vinyl options, not to mention metal, wood, and stucco.
Below is a comparison of the today's available options and the benefits and disadvantages of each.
Vinyl Siding
More than 90 percent of prefinished siding installed these days is made of vinyl because the product has steadily improved over the years and is available in a wide variety of qualities, styles and colors.
Vinyl siding looks similar to horizontal wood siding but doesn't require as much maintenance. These systems can be applied right over old siding but are easier to apply over solid sheathing. It doesn't rust or corrode, but vinyl, which is actually polyvinyl chloride (PVC), does become more brittle as it gets older.
Some vinyl siding manufacturers also offer a range of decorative classic millwork that coordinates with their systems. These include door and window surrounds, shutters, corner posts, dentil moldings, and more.
There are many attractive homes in varying colors and styles of vinyl siding which looks like freshly painted wood. Vinyl siding never needs painting because its color goes all the way through the material and won't peel, flake or show scratches like painted surfaces. This can save you either hundreds of dollars on professional painting or a lot of aggravation and sore muscles if you do your own painting.
Vinyl siding also will not dent like aluminum siding, even if hit with a stray baseball. Nor will it warp, rot or chip like wood. Other advantages of vinyl siding include:
Vinyl siding resists rain, sun, wind, air pollution and high humidity.
Vinyl siding does not attract termites like wood siding.
Vinyl doesn't conduct electricity.
Vinyl siding holds up well over time and can retain its qualities for 40 years or more.
When used with a suitable backing material, vinyl siding is an excellent insulator that protects your home from extreme temperatures, which can save you money on your heating and cooling bills.
Vinyl is attractive. Manufacturers offer a broad range of colors in various shades.
Because it comes in different clapboard widths, horizontal and vertical styles and even different textures, from smooth to wood grain, the flexibility of vinyl siding allows you to achieve the look that's just right for your house.
Metal Siding
Aluminum and steel siding systems look similar to horizontal wood siding but don't require as much maintenance. These systems can be applied right over old siding but are easier to apply over solid sheathing.
Steel siding is the most durable in snow country, or in areas of severe cold. Both steel and aluminum siding are more expensive than vinyl siding, but they offer greater energy efficiency than vinyl, which translates into lower heating and cooling costs for years to come. Metal siding can also withstand more heat than vinyl, as in the case of fire.
If your home is sided with aluminum, you may be able to use some vinyl specialty parts. Otherwise, you can get custom-bent aluminum pieces for some architectural features, but these tend to be expensive and not very authentic looking. Sometimes it is necessary to paint aluminum siding just like wood. But, a paint job similar to one used for cars ensures a long life.
Wood Siding
Wood siding is milled in various patterns for both horizontal and vertical application. Wood siding is usually, but not always, applied over solid sheathing and a layer of building paper. Horizontal patterns are nailed through sheathing into studs; vertical patterns generally are nailed to horizontal nailing or furring strips. Horizontal sidings are always applied so that each board overlaps the one below it. In some cases, the edges are milled to interlock, as they are all vertical patterns.
Manufactured in sheet form, wood panel hardboard and plywood sidings are available in a standard width of four feet and standard lengths of eight, nine, and 10 feet. Made in a variety of thickness and patterns, sheet sidings are often applied directly to wall studs, without sheathing.
One benefit to choosing wood siding is that there are many options to choose from today. Some of the more popular choices include wooden lap board, tongue and groove siding, and split log siding, which resembles the interior of a log cabin.
With the many different types of wood siding available, it's easy to create a very unique exterior for your home. And, with proper maintenance wood siding will last you for many years to come.
Disadvantages of wood siding include possible mold growth, wood rot, or pest infestation. Proper maintenance, however, can prevent these.
Stucco Siding
Stucco is a siding material made of Portland cement, sand, lime and water. Applied in three coats over a lath base, it provides a solid, durable and seamless home exterior. Some advantages of stucco siding include a natural resistance to fire as well as being long lasting and requiring little maintenance.
Installing stucco over mesh is the traditional and most common method, which involves using a type of concrete over a wire or wood lath. It usually has an expansive acrylic-polymer finish which will expand and contract with the weather. This keeps cracks to a minimum and means the siding can last up to 50 years.
Stucco over styrofoam, also called Exterior Insulation and Finish System (EIFS), is a popular alternative to installing stucco over mesh. An acrylic-polymer coat is sprayed or applied onto a base of fiberglass mesh and foam board insulation. This virtually never cracks and gives your home extra insulation. Moderately more expensive than the traditional stucco finish, EIFS can be vulnerable to high impact, such as hail or woodpecker damage.
No Comments Yet