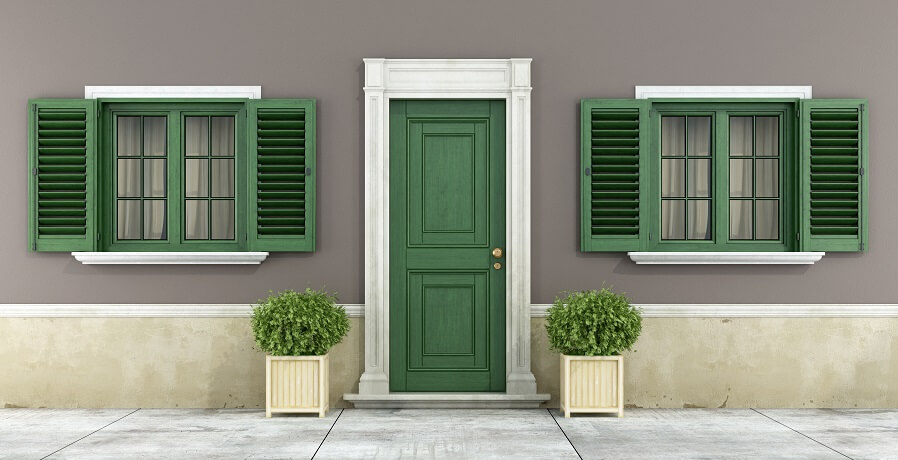 Whether to do it yourself or hire a pro to install is one of the most common questions related to window shutters. Too often what should be a relatively painless process creates huge back-end problems for homeowners who don't respect the precision needed for shutter installation. After taking a look at some basic tips for selecting your design, consider how difficult your shutters may be to install and whether you need the services of a professional window shutter contractor.
Resilient Fashion Tips for Today's Window Shutters
Most exterior shutters are fixed and used primarily as decoration. Redwood, pine, and cedar are popular woods, although some homeowners prefer the low maintenance of vinyl and plastic. If you want the wood grain to show through on wooden shutters, choose a stain finish. Otherwise stick with a painted finish. In either case, you can have a wide selection of colors. Not a given, but you're more likely to be able to install these shutters yourself.
For interior applications, hybrid shutter/blinds are quickly becoming all the rage. These windows treatments, again often made from wood, combine the reliable, easy-to-use hardware of window shutters with the flexible light filtering features of window blinds. Truly, a can't-miss proposition for your interior windows, although professional installation may be necessary.
Don't dismiss the classic louvered window shutter. These are designed to closed when additional weather protection is needed. But, as functional as these shutters may be, they also add to the exterior elegance of the home. Leave this type of installation to the pros.
DIY: How to Install Shutters
Installing Interior Shutters: The good news is you may be able to give interior shutter installation a try without risking serious harm to your home, especially if your window is still square with a solid window jamb. The bad news is that most interior shutters require adjustable hinges and more complicated window hardware. With precise measurements, you should be able to find a manufacturer who will deliver your products with user-friendly instructions on installation. Yet, keep in mind that even if you can manage to install a passable assembly, professional installation will probably result in a longer lifetime for the shutter and, in some cases, greater energy-efficiency associated with daylighting.
Ready to start your
Window Covering Installation

?Find Pros
Installing Exterior Shutters: It may not seem like it, but exterior shutter installation tends to be easier than interior for one simple reason: you typically don't need window hardware as most exterior shutters remain stationary. In fact, "direct set" installation, as it's called, is essentially a glorified version of installing wall shelves with wall anchors and long screws. But the stakes are a lot higher if you screw up. You're going to be drilling directly into your siding. If you own brick, stone, metal, or fiber-cement siding, you might want to leave the job to the pros. Even vinyl or wood siding can be dicey, if you improperly pre-drill the holes. At the very least, if you don't know what you're doing, ask your local hardware store and ask about the right screws, drill size, and placement before you risk siding damage.
(Of course, some people want or need adjustable exterior shutters, like the louvred shutter. In this case, you'll need shutter pintles to mount the hinges to the window frame. Precise measurements and carpentry work is needed to ensure the shutter stays flush to the window frame.)
Contractors for Installation
To install shutters professionally, you must first find the right type of contractor to call. Fixed, exterior shutters are typically installed by a carpenter. Interior shutters can be installed by a carpenter or a general window treatment professional. Installation of high-performance storm or security shutters may be handled by specialized home protection companies.
No Comments Yet