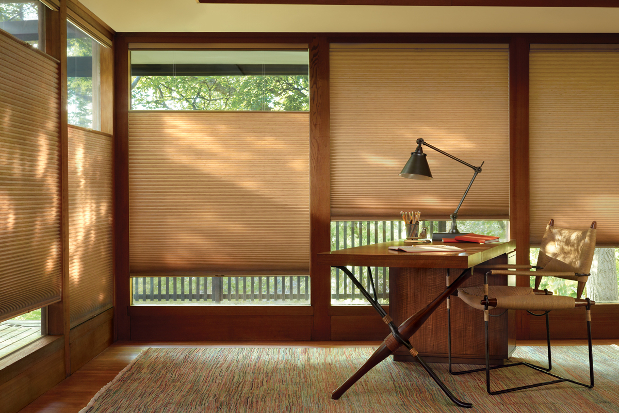 All modern conveniences, at one time or another, felt silly and over-the-top. A machine to open your tin cans? A remote control for your garage door? A propane tank for your grill? However, these futuristic inventions soon became part of the culture, and now, it's strange when people don't have them. So welcome to the next automated upgrade to your home: electronic blinds. Window treatments are essential to any house since they not only look good, they also control the level of light, heat, and glare entering the interior. Plus, they stop the sun from fading carpets and furniture. But if you're tired of tangled cords or bent blinds, programmed window treatments may be in your future.
What Are They, Exactly?
Electronic blinds are simply window treatments that run on tracks and are controlled by the flip of a switch. Instead of opening and closing them by hand, these mechanized devices can run on batteries, plug into an outlet, or be managed by remote control, timers, solar sensors (electric eyes installed in the walls), or a touch-screen keypad. They still come in all shapes and sizes, colors and designs (Venetian blinds or cellular/pleated shades, Roman or Austrian screens, drapes or curtains, etc.); they're simply upgraded to fit any type of automated technology. Even your shutters (both interior and exterior) can be enhanced to automatically open and shut in cases of inclement weather, which is especially smart in areas of the country that sustain high winds, rains, or hurricanes.
Why Electronic Blinds?
They may seem a bit frivolous, but there are many incentives to install them. First, they're convenient for people unable to operate standard window treatments, such as the elderly or disabled. Cords can be hard to manipulate with arthritis. If you're on crutches or in a wheelchair, these computerized inventions are a perfect addition for a handicap-accessible home. Also, they're a great safety feature since they can be integrated with a security system: they can open and close on a timer when you're out of town or if the alarm is triggered by intrusion or fire. Plus, if you're a precise person, you'll never again see a mini-blind out of sync since electronic blinds routinely tilt slats in a uniform fashion. Or, if you're simply feeling sluggish, you'll never have to get out of bed again.
Ready to start your
Electronic Blinds

?Find Pros
The Ultimate Sun Block
Window treatments are a great way to spruce up and finish off a room, but if you're looking for something a bit stronger, you may want to think about automatic shades as well. Blackout screens are a great way to filter out the sun in order to control heat loss and gain, which makes your home very energy efficient. This not only saves you on your utility bill, it also protects your upholstery. Plus, these automated solar screens can be put anywhere in the home, such as those hard to reach skylights and dormers. Or if you have a large glass porch enclosure, they can act as interior awnings. But most of all, these automatic shades are great for home theaters: everything else can be controlled from a remote, so why not your window treatments as well? There's nothing worse than glare on your projection television, and actually some additional padding on the windows helps to absorb unintended sound deflections. In fact, many people invest in electronic drape installation over the TV itself so as to hide the screen when it's not in use.
Electronic Drape Installation
Like any new technology, they're not cheap. Often these units run anywhere between $200 and $500 but range widely depending on the size and complexity of the model. But they can also save money, energy, and inconvenience in the long run. Before you invest though, hire an experienced contractor who knows how to install this state-of-the-art equipment. And make sure you inform them of the location and capabilities of your home so they'll know if pre-wiring services are required. Plus, these trained professionals not only involve themselves in electronic drape installation, they can also help you select from a variety of design choices beforehand and can show you how to operate any options afterwards.
No Comments Yet