Menu
Bathroom Remodelers in Cleveland, OH (Ohio)
Prescreened Bathroom Remodelers in Cleveland, OH
---
Reviews of Cleveland Bathroom Remodelers
Project: Remodel a Bathroom
Rocky River, OH
Amazing! Very professional crew! Great Price!
Project: Remodel a Bathroom
Solon, OH
Tim and his team worked on Complete Bathroom remodel at our house last 2 weeks. we were very impressed with his work from start to end of the project, Time provided very good estimate and ideas before even our project being, so we can plan on buy things materials, also he provided very good suggestion on Design of remodel which helped us a lot, as we were doing this kind of remodel work first time. Even time went extra mile in setup our sink's which had issues to fit granite counter top, We felt comfortable with Time and his team for 2 weeks. Complete project completed as planned in time and the final look of bathroom was Woow factor. I strongly recommend A Perfect Coverage (Time and his team) for any remodel work, they are great.
Project: Remodel a Bathroom
Maple Heights, OH
This was my first semi remodeled job so I have nothing to compare my evaluation to. However, AJk was very accommodating to changes in the original design and meticulous which I appreciate. They did show up for the job everyday until finished which is a big plus as many remodelers don't and don't call. I didn't give them the highest rating for their work quality because there were some minor flaws in the tile work and other installations which nobody else would probably notice but me. Very reasonable with labor cost - I would use their services again.
---
Unscreened Addition & Remodeling Contractors in Cleveland, Ohio
---
Things to Consider Before You Remodel a Bathroom in Cleveland, Ohio:
How extensively do you want to remodel your bathroom?
Ideas & Inspiration from Cleveland Addition & Remodeling Contractors

Here are some ideas for your bathroom remodeling project. ...


compete bathroom remodel ...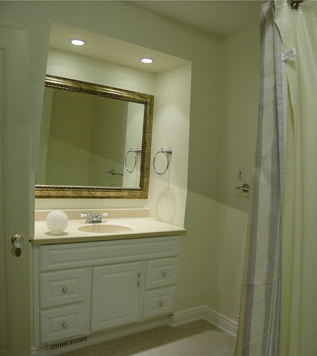 This bathroom was part of a whole house renovation, and was completely demolished and rebuilt. Quite a transformation! ...

---

Recent Job Requests for Remodel a Bathroom Contractors in Cleveland, Ohio:
---

Project Location:
Cleveland
,
OH
44119
Date: 12/16/2014
Desired Completion Date: Timing is flexible
Request Stage: Ready to Hire
---

Project Location:
Cleveland
,
OH
44112
Date: 12/14/2014
Desired Completion Date: Timing is flexible
Request Stage: Planning & Budgeting
---
Project Location:
Cleveland
,
OH
44118
Date: 12/09/2014
Desired Completion Date: Timing is flexible
Request Stage: Ready to Hire
---
Project Location:
Cleveland
,
OH
44128
Date: 12/08/2014
Desired Completion Date: Timing is flexible
Request Stage: Planning & Budgeting
---
Project Location:
Cleveland
,
OH
44112
Date: 12/07/2014
Desired Completion Date: Timing is flexible
Request Stage: Ready to Hire
---
Project Location:
Cleveland
,
OH
44119
Date: 12/06/2014
Desired Completion Date: Timing is flexible
Request Stage: Ready to Hire
---
Project Location:
Cleveland
,
OH
44126
Date: 12/05/2014
Shower / Bath: No - I will keep the existing shower or bath as is
Toilet: No - I will keep the existing toilet as is
Cabinets / Vanity: No - I do not plan to update the cabinets / vanity
Countertops: Yes - I plan to update the countertops
Sinks: No - I do not plan to update the sinks
Flooring: Yes - I plan to update the flooring
Extensiveness of Remodel: I plan to maintain existing bathroom floorplan
Desired Completion Date: Timing is flexible
Request Stage: Planning & Budgeting
Comment: Replace drywall vinyl flooring and laminate countertop
---
Project Location:
Cleveland
,
OH
44109
Date: 12/03/2014
Desired Completion Date: Timing is flexible
Request Stage: Planning & Budgeting
---
Project Location:
Cleveland
,
OH
44126
Date: 12/01/2014
Shower / Bath: Yes - I want to move or install a new shower or bath
Toilet: No - I will keep the existing toilet as is
Cabinets / Vanity: Yes - I plan to update the cabinets / vanity
Countertops: No - I do not plan to update the countertops
Sinks: Yes - I plan to update the sinks
Flooring: Yes - I plan to update the flooring
Extensiveness of Remodel: I am considering changes to bathroom floorplan
Desired Completion Date: More than 2 months
Request Stage: Planning & Budgeting
---
Project Location:
Cleveland
,
OH
44121
Date: 11/2014
Shower / Bath: Yes - I want to move or install a new shower or bath
Toilet: Yes - I will be replacing or moving the toilet
Cabinets / Vanity: Yes - I plan to update the cabinets / vanity
Countertops: No - I do not plan to update the countertops
Sinks: Yes - I plan to update the sinks
Flooring: Yes - I plan to update the flooring
Extensiveness of Remodel: I plan to maintain existing bathroom floorplan
Desired Completion Date: More than 2 months
Request Stage: Planning & Budgeting
Requires Work on Historical Structure: No
---
Project Location:
Cleveland
,
OH
44108
Date: 11/2014
Shower / Bath: No - I will keep the existing shower or bath as is
Toilet: Yes - I will be replacing or moving the toilet
Cabinets / Vanity: No - I do not plan to update the cabinets / vanity
Countertops: Yes - I plan to update the countertops
Sinks: Yes - I plan to update the sinks
Flooring: Yes - I plan to update the flooring
Extensiveness of Remodel: I plan to maintain existing bathroom floorplan
Desired Completion Date: More than 2 months
Request Stage: Planning & Budgeting
Comment: New shower, countertop, sink, lighting
---
Project Location:
Cleveland
,
OH
44101
Date: 11/2014
Shower / Bath: Yes - I want to move or install a new shower or bath
Toilet: Yes - I will be replacing or moving the toilet
Cabinets / Vanity: Yes - I plan to update the cabinets / vanity
Countertops: No - I do not plan to update the countertops
Sinks: Yes - I plan to update the sinks
Flooring: Yes - I plan to update the flooring
Extensiveness of Remodel: I am considering changes to bathroom floorplan
Desired Completion Date: Timing is flexible
Request Stage: Planning & Budgeting
Requires Work on Historical Structure: No
Comment: Needs to be remodeled
---
Project Location:
Cleveland
,
OH
44130
Date: 11/2014
Shower / Bath: Yes - I want to move or install a new shower or bath
Toilet: Yes - I will be replacing or moving the toilet
Cabinets / Vanity: Yes - I plan to update the cabinets / vanity
Countertops: Yes - I plan to update the countertops
Sinks: Yes - I plan to update the sinks
Flooring: Yes - I plan to update the flooring
Extensiveness of Remodel: I am considering changes to bathroom floorplan
Desired Completion Date: Less than 2 months
Request Stage: Planning & Budgeting
Requires Work on Historical Structure: No
Comment: Want to update original bathroom in older bungalow. Would like to steal adjacent closet space to increase bathroom floor plan. Full gut/remodel. Interested in design ideas & estimates