Home Construction Financing
See if We Have Top-Rated
Home Contractors in Your Area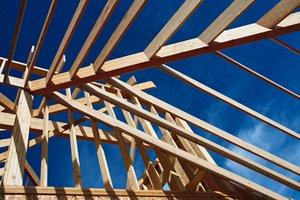 Home construction lending is a little different than regular mortgage financing.
First, you will be given a construction line that will be used to pay subcontractors and suppliers who perform work and provide supplies.
And then at the end of the construction project, you will use a residential mortgage to pay off the construction line.
Construction Line
You will ask the lender to open a home construction line that will be used to pay subcontractors and suppliers during the construction phase of the project. Generally, these players require payment within 30 to 60 days following work completion.
Change the look and feel of your home! Use this link for a
Home Remodel
Once each month, or after each stage of the home construction, your builder will submit a request for funds to pay for subcontracting work and supplies that were used during the construction phase. The lender will release funds after they have verified that the amount requested will be used for the construction phase that has been completed.
Let's run through a simple illustration: Say that your construction project is estimated to cost $100,000. The project will be completed in five phases.
At the end of the first phase, you will request a release of funds ($20,000) from the bank to pay subcontractors and suppliers who completed work during this phase.
Typically, the lender will send out a home inspector to verify that the work has been completed. If passed, funds will be released to line the next day.
(This example was a simple illustration on how the construction line may work. The actual procedure may differ by lender.)
Lenders normally have a fixed draw schedule tied to each major phase of the construction. If you request more draws than allowed per project, you may be charged a nominal fee per draw.
Don't underestimate your need for up-front cash. You will normally spend more money during the first construction phase than what you can draw up front.
The construction line generally carries a higher interest rate than residential home mortgages.
Residential Mortgage
You will need to apply for a residential mortgage to pay off the construction line when you finish the construction project. In most cases, this will be required prior to obtaining the construction line. The residential mortgage is like any other single-family home mortgage loan. These include conventional and non-conventional loans, fixed, adjustable rates, etc.
Construction/Perm Loans
Some lenders offer both the construction line and residential mortgage as one loan.
The Construction/Perm loan is a combined loan made directly by the lender to the borrower. It functions as a construction line for financing the construction of the home, and then it serves as a permanent mortgage by paying off the construction line after you complete the construction project.
The Construction/Perm loan has some advantages, namely:
The borrower can save money by paying for only one set of closing costs, attorney's fees, appraisal cost and taxes.
Since the construction line is contingent upon approval of the residential mortgage, obtaining a construction/perm loan allows the borrower to submit and provide documentation for one loan application and work through one lending institution. The borrower will work with one loan and one lender.
Because the loan is made directly to the homeowner, the borrower can take full tax advantage of the interest rate charges.
The Construction/Perm loan may also carry some disadvantages:
Obtaining the best rate and terms. Some Construction/Perm loans carry higher than prevailing market rates.
Even though you may be working with one lender, usually the loan is managed by two separate departments. You may need to provide duplicate documentation.
It is best to shop around to determine your best options.
What Will You Need for Home Construction Financing?
Start-up Construction Budget
A start-up construction budget is a cash budget prior to obtaining your construction financing. Builders suggest anywhere from $5,000 to $10,000, depending on the size and scope of the construction.

This up-front expense is considered part of the overall project cost and is often part of the down payment or "reimbursed" as part of the construction loan.


Down Payment
Generally a down payment of 20 percent or more is needed. The down payment may be cash, equitable securities, or the equity in an existing home or land purchase.

If you are using your home equity, make sure you obtain a true market value of your home and anticipated time to sell your home.


Planned Budget
Know your limits. It can become tempting to add additional items to the home that will place the entire project out of budget. Some buyers have a budget cushion for upgrades and other changes


Documentation
Your submission of an application will require documentation of income and employment similar to a home resale mortgage application.


This will include verification of employment (e.g., W-2s, pay stubs), or if self-employed, documentation of income, savings and investment account statements. In addition, the lender will require construction specifications and cost breakdown for building your home. You will also need to provide the purchase contract or title to the construction site.
More Tips & Advice For Your Home
Related Articles
Recent Articles