Specialty Glass has Dense Benefits
See if We Have Top-Rated
Window Contractors in Your Area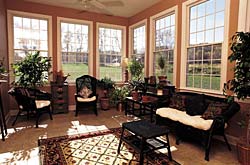 Windows are a major selling point in any house. They open up a home to a surrounding view of the neighborhood or natural vistas; they let in significant amounts of natural light, which not only makes a space feel bigger but helps to save on your utility bills. Plus, the objects themselves simply create value. We covet the corner office because it has more windows. We want our cars to be so airy we'll even put a window in the roof. In a house, windows are an important asset, so when purchasing them you may want to spruce things up a bit by installing specialty window glass which can give you an edge in adding value to the home.
Specialty Window Glass: Stained and Etched Glass Windows
When people hear the words "specialty window glass", the first thing that comes to mind is usually either stained or etched glass. Windows are focal points in any room, and making that focal point even more attractive can quickly be done by using one of these classic techniques. Both stained and etched glass windows are available for purchase already created, but the most unique forms of either are definitely custom-made jobs.
Custom stained or etched glass windows are created individually to fit your specific tastes, typically by artists who have spent years of time honing their craft. While this makes for some very beautiful pieces, it also adds up to some very high purchase prices, as well. Because these pieces are pricey, it is well worth the time it takes to view portfolios, contact references, and get several estimates before you decide on who will create your piece.
Stained Glass vs. Fused Glass Windows
Both stained glass and fused glass windows are full of color and energy, and each can give a room a unique and beautiful focal point; what separates the two is the techniques used to create them. While stained glass windows are made of individual pieces of colored glass that are put together to form a picture or pattern, fused window glass is a flat piece of clear glass adorned with colored glass and put into a kiln, where both types of glass are allowed to melt (fuse) together. From a practical standpoint, it is impossible to say whether stained or fused window glass is "better"; the right fit for your home is more up to personal preference than it is to the performance of either product!
The "Unseen" Advantages of Specialty Window Glass
Unlike normal windows, specialty window glass is typically intended to obstruct, impede, or hinder what would otherwise be transparent. This opaqueness can be used to your advantage in several differing settings. Since much specialty window glass inhibits peeping, it is especially popular for front doors and bedroom/bathroom windows. For larger picture windows, these panes can block large amounts of sunlight in order to conserve the air conditioning as well as reduce the chances of furniture or carpet fading.
Positioning and Placement of Specialty Glass Windows
In order for it to work to its fullest potential, specialty window glass must be located in the correct areas of the home. Of course front doors are excellent places for such panes, but there's no reason to limit specialty glass to this single spot! Etched and frosted glass are great for shower doors or closets; stained and fused window glass are great choices for larger installations like south-facing picture windows. You can use specialty glass on kitchen or china cabinets, or even on coffee or end tables. Some folks have even placed specialty glass in skylights, creating an effect that is as unique as it is stunning!
Specialty Glass Installation
While specialty window glass that is mass produced may be installed by any window company you choose, custom glass has special needs when it comes to installation. Don't imagine that your local window company will jump at the chance of tackling this type of project! Often, the artisans that create specialty window glass will also perform the installation. This, again, is often a costly project (particularly for larger installations), but it also means that everything from start to finish can be altered to fit your specific tastes and needs.
When dealing with custom work of any kind, the higher price tag brings you more than just a product; if you have a specific design in mind, a peculiar space to contend with, and/or are looking for something that will set your home apart, specialty window glass crafters can give you exactly what you want. Just make sure that the person you are working with has produced pieces of a caliber you are expecting in your window, and keep the lines of communication open. You are basically commissioning a piece of artwork, and getting what you want from the project will be highly dependant on how well you communicate what you are looking for!
Jon Nunan is a freelance writer who draws on his experience in construction, ranging from landscaping to log home building, for his articles on home improvement.
More Tips & Advice For Your Home
Related Articles
Recent Articles
Galleries