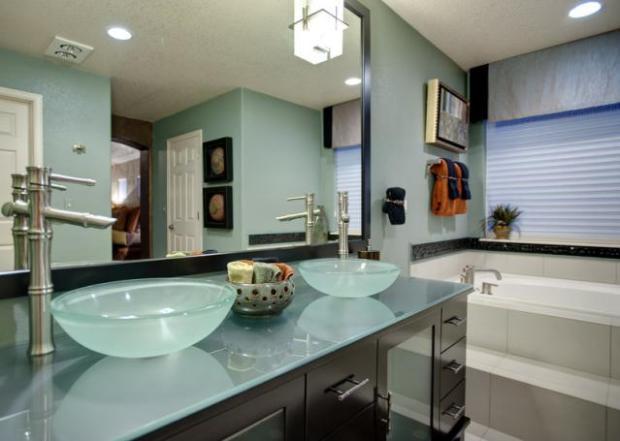 Reviewed by Bob Tschudi, Home Building and Remodeling Expert.
Need a Bathroom Remodel? – DIY vs. Hire a Pro
Bathroom remodels and additions have one of the highest returns on investment among all home projects. When shopping for homes, buyers look for how many bedrooms and baths a home has, not kitchens or laundry rooms.
Bathroom remodel costs can add up quickly once you consider the cost of new plumbing, a new bathtub, a new toilet, new flooring, new paint, a new sink and sink basin, and more. Even though you know you'll make all this money back at closing, it's hard not to want to do this work yourself.
On This Page:
How Hard Is It to Remodel a Bathroom?
If you can manage the work yourself, can you manage to make it look professional? We have all been in bathrooms where the tiles are uneven, the toilet isn't level, or some other noticeable oddity catches our attention. Ask yourself if you can live with a job that looks less than professional.
Living With the Remodel
If you have ever done a project yourself before, you know that your eyes always return to the places where you made a mistake. This can bother many people. If you can't stand imperfections or don't want to look at those mistakes every day, consider hiring a contractor.
How Much Do You Value Your Time?
Don't forget that your time is valuable. Committing your free hours to this job can mean that you don't get to spend as much time with your children or your spouse.
How Much Do You Need the Space?
Even a professional bathroom remodel takes between four and five weeks. That can extend to multiple months if you take on the project yourself. Can you live with turning the space into a construction zone for that long? Especially if you're remodeling your only bathroom or a second bath your family uses frequently, that's an important consideration.
Leave Bathroom Remodels to the Pros
A full remodel is comprehensive and best done by professionals. You can save money by taking on some smaller renovations yourself, such as installing new faucets or adding a new coat of paint. Leave flooring and plumbing work to the experts.
Even if you save money initially, the investment of a full remodel might not be wise if the space looks unprofessional. Time is also important to consider. Some jobs take more than a month even when done by a team of experienced professionals working ten-hour days. Taking on this project yourself can easily take six months or more.
Bathrooms are high-value rooms that make an impact on buyers and home evaluators. The high-quality work done by experts can make a big impact in increasing your home's value. To save some money in the process, check out our budget tips below.
Compare Quotes From Remodelers
Who Remodels Bathrooms?
Bathroom remodelers can range from general contractors to full-scale firms with in-house plumbers, electricians, and designers. Most frequently, you'll work with a contractor who can plan out the space and subcontract specialized jobs like plumbing and electrical.
Benefits of Professional Bathroom Remodeling & Renovating
Bathroom remodelers know many people in their industry. They have experience in finding retailers who sell fixtures and other materials for the best price. As a homeowner, you may be paying more just for the material than what the contractor is charging, even after his or her markup.
Not everyone is a handyman. If you don't get a project just right, you may discover that the look and quality will not be up to your standards. If repairs down the road are minimal, you can save a lot of money long-term for quality work.
Compare Quotes From Bathroom Pros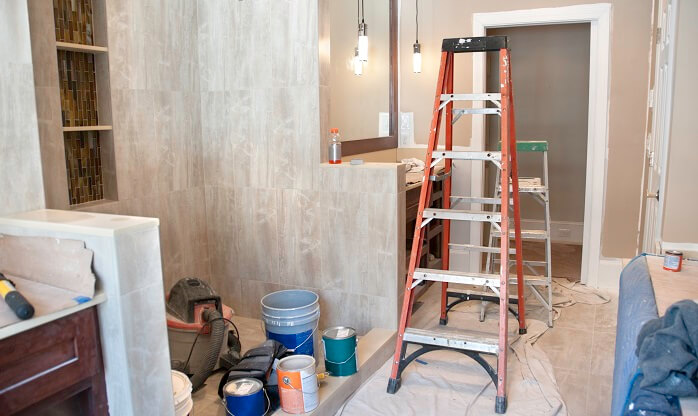 How Remodel or Renovate Your Own Bathroom on a Budget
If you are not doing a total remodel, or even if you are, there are still a few places where you can save a little money on your project. Inexpensive bathroom remodels can still provide excellent ROI for a smaller investment.
Keep Existing Footprint
Moving fixtures such as a toilet, sink or bathtub requires expensive re-routing of water supply and waste lines, electrical outlets, and even structural components. This is where a decorator or interior designer can really help you.
Buy Your Own Fixtures
If you are not using standard fixtures in your bathroom, ask your contractor if it is okay to purchase them yourself. Experts usually mark the items up 10% over retail for their time to find and retrieve the fixtures. You can save this money by getting them yourself.
You might not be on the same page as your contractor on the exact fixtures you want. Buying them yourself ensures you get the right items.Consider searching thrift stores to find fixtures (make sure that faucets have all the parts).
Bathtub prices
, for example, can be very affordable with a second-hand item.
Remove the Tiles
If you are replacing the floor, ask your contractor if you can save some money by tearing out the floor yourself. Pros are happy to comply because it saves them time and allows them to do more jobs.
Always check with your contractor first. Your project may be different, and the pro you hire might want assurances to make sure you will do a good and thorough job as part of their project.
Laying Bathroom Tiling
Professional tiling costs between $860 and $2,600 for porcelain. You can expect a $900 to $2,800 natural stone tile budget.
Even if you are working with a contractor on a total bathroom remodel, you can arrange a deal where you take care of this work. Tiling can drive you crazy, but if you start by practicing on an old table, you can get pretty good before you do your floor. Take into consideration the cost of buying or renting a tile saw and the tools needed to mix and apply mastic, thin-set mortar and grout.
Consult with a Pro Before Staring
Painting Your Bathroom
You can save on the $380 to $800 cost to paint your bathroom by taking this part of the project on yourself. If you are not a good painter, there will be a lot of cleanup, but you can get there. Make sure you talk to your contractor about the best time to paint in the overall project timeline.
Install Your Own Mirror
Save on the cost to install a mirror, about $150 to $460, by hanging up the fixture yourself. You will need hardware, which is typically below $50. Look for a professional only if the mirror is too heavy or too large to take on yourself.
Refinish Your Bathtub
A kit to refinish your tub costs about $60 to $100. Compare that to the price of professional bathtub refinishing, which ranges between $330 and $600. It's a relatively simple process with the right kit but be sure to wear the right safety equipment and protect the surfaces in the room.
Install a New Tub
A professional will charge a $1,000 to $5,200 rate to install a new bathtub. When you do it yourself, you only have to pay $200 to $2,000 for the tub itself, and less than $150 for piping and other plumbing materials. Most bathroom remodelers suggest changing the shower valve, so budget $50 to $150 for that.
This is a complex process and requires expertise in both plumbing and contracting to fit the tub in the space. Only take it on yourself if you feel comfortable with this type of work.
Install a New Toilet
If you know how to install your own toilet, you can save between $210 and $520 compared to the cost of professional toilet installation. In most cases, you'll only need minimal experience. Look for expert help if you want to install the fixture in a spot that requires new plumbing.
Install a Shower
Installing a shower costs between $1,200 and $5,800 when done professionally. Do it yourself, and you can save thousands as you pay for materials only. The complexity of this project means you need plumbing, contracting, and potential tiling experience to achieve those savings.
Install Your Own Faucet or Sink
A new faucet installation costs between $150 and $340. However, many pros build this task into the project, and will charge much less or nothing at all during a full bathroom remodel. Check with your contractor to see how much the installation would cost before deciding whether you should do it yourself.
Expect to pay a $200 to $550 new sink installation rate when a pro does the work. If you know how to connect the pipes, and how your sink will fit into the vanity, this is another project you can take on yourself.
Consult with a Pro Before Staring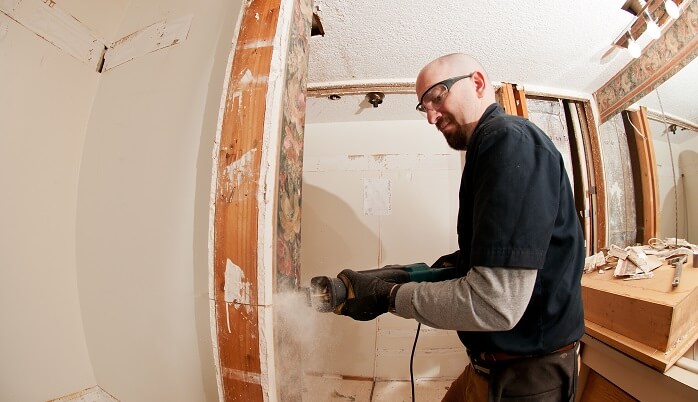 How to Find & Hire a Bathroom Remodel Contractor
If you want to find the right bathroom remodel contractor near you, take these steps to hire the right pro:
Read ratings & reviews, and compare potential contractors based on average ratings on sites like HomeAdvisor.
Check work guarantees and licensing, especially for anyone who works on your plumbing or electric.
Get a quote from multiple pros to arrive at a more reliable estimate and avoid overpricing.
Ask the right questions to your bathroom remodeler, from formal training/years of experience to references and written warranties.
Hire a Pro For Your Bathroom Remodel
FAQs
Do I need a permit to remodel my bathroom?
You might need a permit depending on where you live and the extent of your project. Many states require a building permit for tasks that significantly change the footprint, plumbing, HVAC (heating, ventilation and air conditioning) or electric of the house. Your contractor should know the answer, and finding out is one of the steps you need to prepare for a bathroom remodel.
Do I tip a bathroom remodeler?
You don't need to tip your remodeling pros. Some homeowners provide food and drinks as a show of gratitude. If you want to give a financial reward for exceptional work, check with the renovation company first to make sure tipping is allowed in their policy.
What's the difference between renovating and remodeling a bathroom?
A remodel affects your entire bathroom, and often includes all-new fixtures and appliances. A renovation touches on specific parts that are easy to change, like paint or a new floor. Remodels are typically more expensive and require more expertise than a simple renovation.
Can I renovate my own bathroom?
You can renovate your own bathroom only if you have the necessary expertise. Surface-level fixes tend to be simple and can be easy DIY projects. Any tasks that require plumbing, HVAC or electrical work might be best left for a pro. For a full remodel, working with a pro is almost always the better choice.
Some projects, like hanging shelves, won't affect the function of your home. These are better DIY jobs. Bathroom remodels are crucial to your home's appearance and function. Leave any full remodels to the pros. Do the work yourself in areas where the remodel can be a little less than perfect to maximize your ROI.
Hire a Pro For Your Bathroom Remodel
2 Comments