Reviewed & Approved on August 20, 2020 by Reid Gravitte, Certified Electrician, Plumber and HVAC Specialist. Owner of After Hours Home Improvement, LLC, Springfield, VA.
Written by HomeAdvisor.
Toilet Installation Cost
Toilet installation costs around $373, with most people paying between $224 and $532 for a full toilet replacement, depending on the type of toilet and the difficulty of the job. This includes the cost of the toilet, labor and equipment needed for the installation.
On This Page:
Find Local Toilet Installers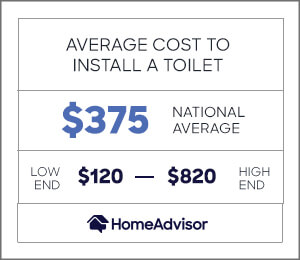 Installing a toilet in your basement costs on average $1,695. Most homeowners pay between $1,070 and $2,370. Most of the cost is from the cost of installing new plumbing. If you already have plumbing in your basement, expect to pay closer to $373.
Moving a toilet costs $3,000, with most homeowners spending between $2,500 and $3,500. The cost of a plumber is often a major consideration when altering a bathroom floor plan, as he or she might need to relocate the drain and vent lines.
The cost to install a toilet can increase if you have to do additional work after the job starts. Extra labor can increase the cost by as much as $800. Problems that may arise include:
Unexpected leaks
A cracked flange causing a wobbling toilet
Improper wax ring seal replacement or compression
Poor caulking causing leaks
Failure to replace a leaky flush valve
Contractors often charge extra for hauling heavy toilets upstairs or away for disposal — anywhere between $50 and $200. Keep this in mind if you live in a home with a second-story bathroom, as it will factor into the total cost of toilet installation or replacement.
Cost of Toilet by Type
The cost of a new toilet ranges from $90 to $1,500 or more, depending on the brand and type of toilet you choose, as well as the extra features you want. Models range from a basic two-piece toilet with a round bowl to a high-end, square toilet with bidet technology, as well as lighting and music.
| Type of Toilet | Average Cost* | Typical Range |
| --- | --- | --- |
| Low Flow Toilet | $510 | $380 - $620 |
| Upflush Toilet | $950 | $600 - $1,300 |
| Wall Mounted Toilet Installation | $675 | $150 - $1,200 |
| Dual Flush Toilet | $350 | $200 - $500 |
*Prices include parts and labor
Some cities offer credits to homeowners who buy and install low flow, dual flush or other types of eco-friendly toilets. Check with your city to find out if a credit could lower your final cost.
Compare Toilet Installation Quotes
Whether you choose a round or an elongated bowl is a significant cost factor. A basic, round-bowl toilet with a two-piece design costs around $280. A toilet with an elongated bowl cost $290 on average. This type of toilet is gaining in popularity because it's ADA compliant and easier for some disabled and elderly people to use.
Keep in mind that you'll still have to add labor costs to these prices. Most plumbers charge $65 per hour and need between two and four hours to install a toilet.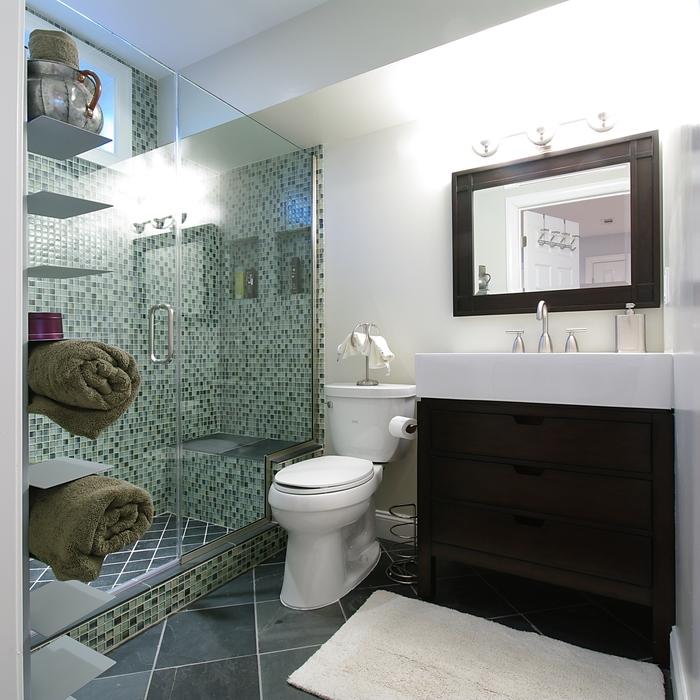 Toilets vary greatly in quality, performance, comfort and efficiency. It's advisable to do your research before deciding which one is best for you.
Some of the most popular brands include:
Kohler: Kohler toilets come in a variety of colors, styles and technologies. They range from a classic two-piece that retails for $270 to the Numi — a one-piece with integrated bidet technology, colored lighting and wireless Bluetooth music sync that costs $9,000.
American Standard: American Standard offers economic models from around $170. At the higher end is the adjustable, two-piece, high-efficiency, self-cleaning AccessPRO toilet, which sells for $1,600.
TOTO: TOTO offers the same level of technology as Koehler but fewer color options. TOTO toilets range from the $250 Entrada™ Close Coupled Round Toilet to the Neorest® NX2 Dual Flush one-piece, which sells for $17,300.
Saniflo: Saniflo offers a collection of compact and self-contained toilets. Options include the $950 Sanicompact — a self-contained macerating toilet — and the $965 Sanibest Pro with grinder system.
Installing a toilet yourself is more affordable than hiring a contractor. However, it requires physical strength, as well as significant knowledge of plumbing.
It costs more to hire a local plumber to install a toilet, but it takes less time and you get a warranty that the job's done well. Note that a different type of contractor — like a handyman — can't install a toilet unless he or she is a licensed plumber.
How much does a toilet weigh?
A two-piece toilet weighs 55 pounds and a one-piece toilet weighs around 88 pounds.
Can a handyman install a toilet?
No, a handyman can't install a toilet unless he or she has a plumber's license.
What is the best toilet to buy?
The best toilet to buy depends on your situation and preferences. Consider factors such as bowl shape, height, flushing technology, style, color and price.
How often should you replace your toilet?
You should replace your toilet after 25 years. However, if it's damaged beyond repair, you should replace it sooner.
How much does a plumber charge to replace a toilet?
A plumber charges around $375 to replace a toilet. Most charge between $275 and $480. This includes the cost of removing and disposing of your old toilet. Note that the actual cost to replace a toilet depends on your location, the type of toilet and the difficulty of the installation. A high-end, eco-friendly toilet with additional features can cost between $850 and $1,550 to install.
Still Have Questions about Toilet Installation?
Thank you for submitting your feedback.