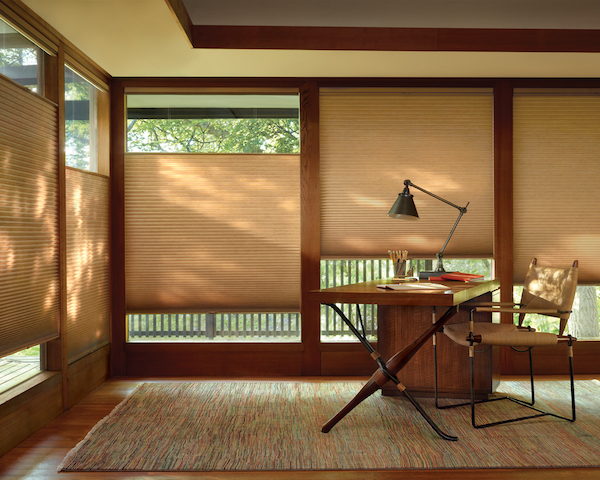 Window treatments always spruce up a room's interior design. They add a little style and décor to an otherwise drab area of the home. Windows aren't typically exciting and they only provide one clear function: to let the light in. Not only does this look boring (unless you live in a very scenic area), it isn't very energy efficient either. So no matter how much you like the view, it's always important to invest in some kind of window covering.
Layered Savings
Window coverings add elegance and privacy to a home, but they also create big energy savings. Just like bundling up the kids for school, your home wears its own layers: siding, insulation, drywall, etc. But since glass isn't the best insulator and any opening can become drafty, windows are particularly vulnerable. Therefore, they need their own kind of layering: window treatments. During the winter, these decorative items also add an extra barrier of insulation to protect your home's thermostat. And they can also help cut out the harsh summer sun, which prevents furniture fading and rising temperatures.
From the Inside Out
Like layering your clothes in winter, while selecting your window coverings it's best to start from the inside out. Begin with the layer closest to the glass and work outward:
Get Vertical: Your first line of defense from the outdoor elements is shades. Whether it is a vinyl pull-down or a thermal solar screen, these items can easily be customized to fit any size or style of window (porch door, skylight, arched cornice, etc.). But it's important to put this closest to the glass so as to block any residual light from passing through Tip: This means that as you install, the brackets will be screwed on the inside of the frame).
Go Horizontal: But you don't always want to completely block the natural light, so the next layer provides options. Blinds are the best of both worlds because of their adjustable slats. Aluminum mini-blinds, or Venetian blinds, are popular because of their inexpensive price tag and horizontal design, but they can also get bent, sun damaged, and dealing with the string can become a hassle. Therefore, you may want to consider other materials on the market, such as wooden or bamboo shutters.
The Dressing: Draperies and curtains create exterior drama. Plus, they clean up a space by hiding the more practical layers you've just installed. Though they're usually made from fabrics, which can run the gamut in terms of price, you may want to think about sliding panels, sheer vertical blinds, or pleated shades. These combine the function of previous layers with the style of chic drapes, while avoiding all the extra expense.
The Outside: If you really want to get secure, you could even add exterior shutters, grills, or louver vents. These dampers can add a stylish accent to the outside of your home, while protecting your windows from rain and moisture. Though they're often placed on commercial buildings, they can still work on any residential door or window.
Ready to start your
window coverings

?Find Pros
Professional Advice
Though window coverings can easily be bought and installed on your own, it doesn't hurt to hire a professional interior designer for some advice. Since there are an infinite number of décor options out there, it can sometimes feel like the blind leading the blind (no pun intended). But these interior experts are better able to identify your décor needs and can help lead you through the design maze. They have the ability to assess a space in terms of its size, style, and necessity. Plus, they can open your eyes to the newest products on the market (such as motorized and remote control shades), allowing you complete access to all the available options.
No Comments Yet