Protecting your home's exterior needs a sturdy material that resists common outdoor threats like pests, extreme temperatures and harsh weather. Two popular materials for siding are fiber cement, also called HardiePlank, and vinyl. Which one is right for your next project, and how do they compare to each other?
On This Page:
What is Fiber Cement?
Fiber cement is a blend of cellulose fibers, sand and cement. When it's manufactured for siding, it resembles natural materials like wood and stone. It's known for durability, affordability and for being available in a variety of forms.
HardiePlank / Hardie Board vs. Fiber Cement
The James Hardie brand produces high-quality fiber cement siding products, often called Hardie Board or HardiePlank. These terms are often interchanged with fiber cement. However, these brand name James Hardie products typically cost more than lower grade siding. To find out more, check out the pros, cons & cost of Hardie Board.
What is Vinyl Siding?
Vinyl is made of PVC, or polyvinyl chloride, which is the same material used in luxury vinyl floors. It can look like cedar, stone or tile without the added costs and maintenance associated with organic materials.
It can come in shingles, vertical or horizontal planks, and faux log. Horizontal siding is popular. An insulated version is available and can guard your home against extreme temperatures to make it more energy-efficient. To learn more about this material, explore the pros and cons of vinyl siding.
Siding Comparison – Which Is Better for Your Home?
Fiber cement and vinyl are both synthetic materials and easier to manage than organic options like wood, shingles or logs. Here's how they compare.
Colors & Painting
Both materials come in an endless variety of colors like light blues, dark ash, bright greens and bold reds.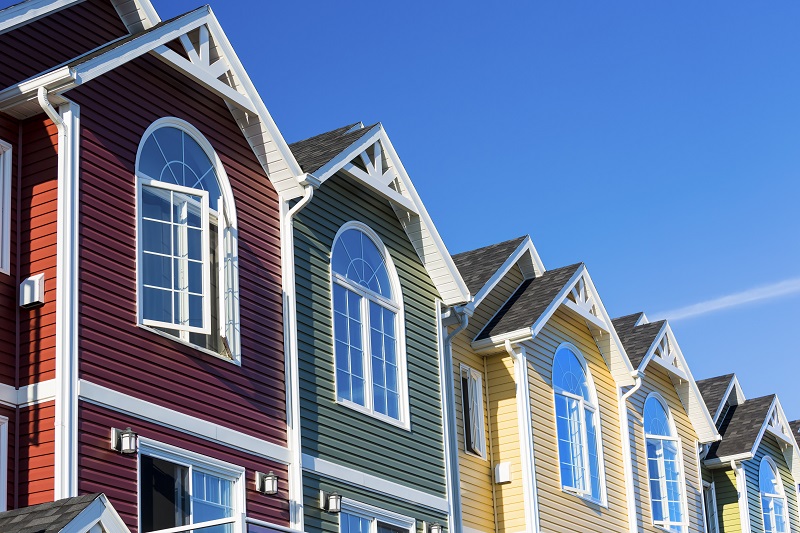 If the product doesn't initially come in the color you're looking for, you can paint both. The cost of painting falls between $1,700-$4,000. Select a siding that's already the color you want to save money.
Fiber Cement needs a coat of paint every 5-10 years to keep its luster. To save you time for the first few years, you can buy pre-painted products.
Vinyl doesn't need paint unless you want to change the color. If you bought pre-painted material, repaint it every 5 to 10 years in fair weather and with acrylic and/or urethane paints. One important thing to keep in mind is that the paint's color should be lighter than the current color. Darker paints can absorb the sun's heat and trap it into the siding, causing it to warp.
The Lowest Maintenance for Paint: Vinyl
Installation & DIY
Which is easier to install on your own and which one needs the help of a professional?
Fiber Cement: It's heavy, which makes it difficult to handle and transport. The material is easy to break if not handled well. Its weight and initial fragility need a team of professionals to install it correctly. Even with the right tools and know-how, the job will take more planning and time. One hundred square feet weighs 300 pounds, while the same amount of vinyl weighs between 60-70 pounds.
Vinyl: This is light and easier to install. There are not as many opportunities to damage the material or have errors during installation.
The Best For DIY: Vinyl
Return to Top
Insulation/R-Value
Installing some extra insulation around your house can keep the interior temperature more stable and your utility costs low. The R-Value is a score which measures how effective your insulation performs. Which material offers a better R-value and a more energy-efficient home?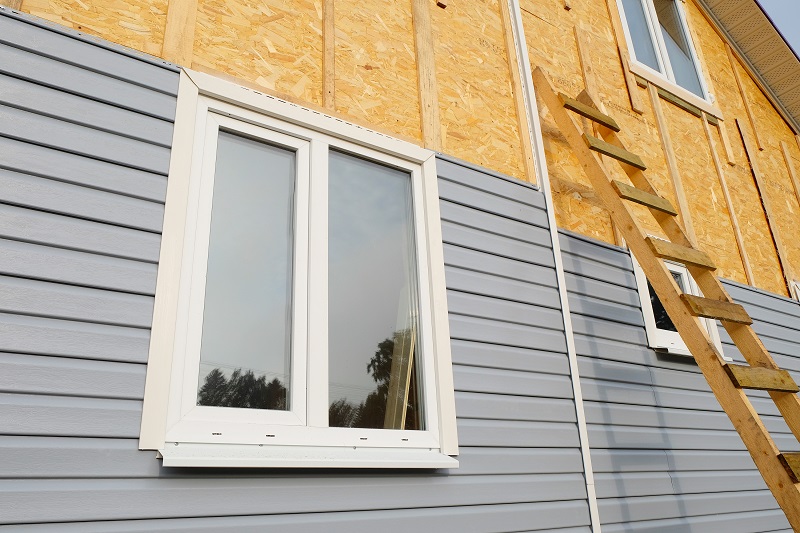 Fiber Cement: It has an R-value of only 0.5, which means that it's a pretty poor insulator on its own. However, you can install a house wrap to insulate your home before putting the siding on. You can buy an insulated version to increase the R-value to as high as 4. This higher insulation value can reduce outdoor noises and reduce your energy bills.
Vinyl: Without insulation, it has a weak R-value of 0.61. However, it can come in insulated forms. In fact, it's the most popular insulated siding on the market. Its R-value can go beyond 4, especially when coupled with insulated house wraps. Higher R-values make your home quieter and keep comfortable temperatures year-round.
For a Cozy and Warm Home: Vinyl
Repairs, Removal, & Replacement
Problems are inevitable as a product ages, so which material is easier to repair? For a more comprehensive look at the costs and details of repair, explore our siding repair cost guide.
Fiber Cement: This is heavy, which makes damaged segments difficult to remove and throw away. It takes skill and precision tools to replace boards correctly.
Vinyl: The material is light enough to make removing or replacing easy.
The Easiest to Fix or Replace: Vinyl
Length of Life
How long does each material last, if you keep up with recommended maintenance?
Fiber Cement typically comes with a warranty that lasts 30-50 years. When cared for, it can last for 100 years. Because it's resistant to moisture, rot, and insects, a high-quality brand like Hardie Board can last for generations with the proper upkeep.
Vinyl usually comes with a 25-year warranty, but can last between 20-40 years, depending on the quality and maintenance of the material.
The Longest Life: Fiber Cement
Return to Top
*James Hardie Siding & Stone Home Exterior*
Which is Best?
The right material for you will depend on a variety of factors. For example, if your home has brick or stone accents or in the front, fiber cement siding could complement it better because of its depth. Here are some key things to keep in mind when you're deciding which material is better for you:
Budget
Values (environment, sustainability, etc.)
Climate & weather patterns in your area
How often you expect to perform maintenance and repair tasks
Your home's look and which siding complements it
| Fiber Cement/Hardie Board is Better For… | Vinyl is Better For… |
| --- | --- |
| Durability | Cost |
| Longevity | Maintenance & Cleaning |
| Eco-Friendliness | Repairs |
| Thickness | Insulation |
| Types & Styles | DIY Installation |
| | Painting |
Return to Top
Top Brands & Manufacturers
| Vinyl | Fiber Cement |
| --- | --- |
| CertainTeed | James Hardie |
| Alside | Allura Plycem |
| Royal Building Products | GAF |
| Georgia Pacific | MaxiTile |
| Norandex | Nichiha |
| Kaycan | |
---
No Comments Yet
You can be the first to comment!