Venerala – stock.adobe.com
Fiber cement and vinyl siding both make fine siding options for home exteriors—and they don't chip like brick and stucco. Vinyl costs less to install but isn't permitted on historic homes. Fiber cement looks more natural but tends to fade and requires more maintenance. Read on as we compare the differences between fiber cement and vinyl siding side by side.
On This Page
What's the Difference Between Fiber Cement Siding vs. Vinyl Siding?
Fiber cement and vinyl siding are both popular siding choices that safeguard the exterior of your property from the elements and improve your curb appeal. But knowing the differences between the two can help you make a well-informed decision for your home and budget.
Vinyl Siding
Vinyl siding is made from PVC (polyvinyl chloride) plastic and is available in various colors and styles, including planks, shingles and shakes. Vinyl is a popular siding choice because it's affordable and easy to install and maintain, making it good for DIY installation. Vinyl comes in insulated options, which can improve energy efficiency compared to non-insulated vinyl but is more expensive.
Fiber Cement (Hardie Board)
Fiber cement is a mixture of Portland cement, sand, water, cellulose fiber, and sometimes wood pulp. Its material is highly durable and comes in faux wood or stone finishes. Fiber cement siding is sustainable, environmentally friendly and easy to maintain. Unlike vinyl siding, you can paint and stain fiber cement with the proper application.
Hardie Board and Hardie Plank
Fiber cement siding, also called HardieBoard or HardiePlank, is named after the manufacturer, James Hardie. James Hardie's product is highly durable and made from Portland cement and wood pulp. The material mirrors wood and stone and is fire-resistant, low maintenance, weather-resistant and insect-resistant.
Ready to Start Your Siding Installation?
Fiber Cement or Vinyl Siding: Which Is Better?
When deciding which siding is best for your home, it's important to weigh all the qualities of siding across the board. We're examining the qualities in eight core areas from price to environmental impact to help you decide which is better for your home.
| | Fiber Cement Siding | Vinyl Siding |
| --- | --- | --- |
| Cost | $5 – $25 per square foot for materials and installation | $5 – $11 per square foot for materials and installation |
| Appearance | Looks close to the authentic texture of real wood or stone | Doesn't look like natural wood or stone |
| Durability | Can last 50 years | Can show signs of wear in 10 years |
| Maintenance | Needs more maintenance than vinyl | Low maintenance |
| Energy Efficiency | Not energy efficient | Insulated vinyl offers some energy efficiency |
| Ease of Installation | Easy to install | More difficult to install |
| Environmental Friendliness | Made from environmentally friendly materials but can emit harmful dust when cutting | Manufacturing process requires the use of fossil fuels |
Cost
Best bargain: Vinyl
When comparing siding costs, it's important to know the square footage of your home to allow pros to calculate accurate costs.
Fiber Cement
Fiber cement siding costs $5 to $25 per square foot, including materials and labor. The price for materials equals $1 and $15 per square foot. The labor cost ranges from $4 to $10 per square foot.
Vinyl
Vinyl siding costs range from $3 to $6 per square foot. Labor runs between $2 and $5 per square foot. Expect to pay $5 to $11 per square foot for materials and installation.
Appearance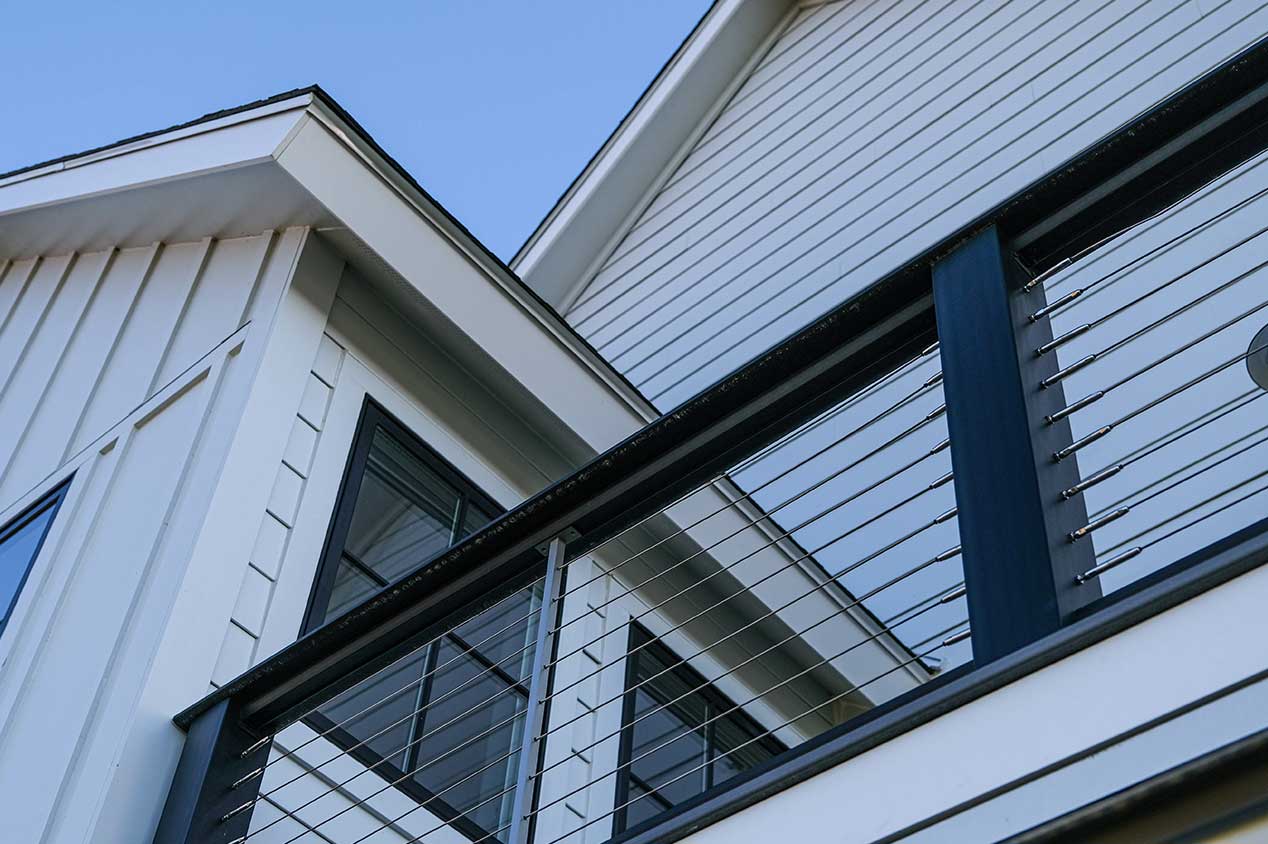 Photo: Ursula Page / Adobe Stock
Best looking: Fiber Cement Siding and Hardie Board
Your siding is one of the most important factors in determining your curb appeal, so choosing the right one is essential.
Fiber Cement
Looks more like original wood or cedar shakes
Comes in thicker planks
Maintains a natural appearance throughout planks and boards
Vinyl Siding
Shows dirt, debris, and dents more quickly
Thinner boards may not be as visually appealing as fiber cement boards
Wears faster, which can diminish the appearance
Durability
Built to last: Fiber Cement
Fiber cement can last up to 50 years, and vinyl, although durable for a time, begins to show signs of wear as soon as 10 years in extreme climates.
Vinyl Siding
Freezing temperatures can make vinyl siding prone to peeling and cracking
Prolonged exposure to heat can warp vinyl
Water can get behind the vinyl siding and damage ceilings and the interior
Exterior walls are resistant to mold and insect resistant, and rot
Fiber Cement
Resistant to mold, insects and rot
Withstands fierce storms, hail and temperature fluctuations
Fire retardant construction makes material fire resistant
Maintenance
Easiest to maintain: Vinyl
After you hire a local pro to install your siding, you likely want a product that's easy to clean and requires little siding maintenance. Although fiber cement siding is low maintenance, vinyl siding practically needs no maintenance.
Vinyl
Cleans up quickly with a garden hose
Doesn't require power washing
Doesn't need painting or caulking
Fiber Cement and Hardie Board
Needs to be repainted every 10 to 15 years
Needs to be cleaned with a garden hose every six to 12 months, depending on trees and the weather
Stubborn stains may require a soft bristle brush and a mild detergent
Energy Efficiency
Best energy efficiency: Insulated Vinyl
When determining energy efficiency in siding, we need to consider R-values, the ability of insulation material to allow heat to enter or escape. A lower R-value number equals less insulation, and a higher number provides more insulation. Neither standard vinyl siding nor fiber cement possesses low R-values.
Hardie Siding
0.5 R-value
For cold climates, it's best to apply an insulated house wrap before siding installation.
You'll see an increase of 4.0 R-value by adding a house wrap, a synthetic material installed over the sheathing and behind the siding.
Standard Vinyl
Standard vinyl has a 0.61 R-value.
When you install and nail down a half-inch vinyl foam board insulation, you'll see an increase to 2.5 to 3.5 R-values.
You'll see an increase to a 4.0 R-value when an insulated house wrap is installed over sheathing and behind the siding.
Start Your Siding Installation Today
Ease of Installation
Best for DIYers: Vinyl
Whether you decide to install fiber cement siding or vinyl siding to your exterior walls, you'll achieve the best results with professional installation. However, if you have construction and siding knowledge, vinyl makes a better DIY installation option than fiber cement. Just note that all siding can have major issues if you don't install it correctly.
Vinyl
Improper installation can lead to cracking, buckling and breaking
Incorrect installation can lead to water damage behind your siding
Lightweight material (30 to 35 pounds per 50 square feet) makes vinyl easier to transport and install
Fiber Cement
Heavy-duty material weighing 150 pounds for every 50 square feet makes it difficult to carry and install
Easy to break material when handled improperly
Requires professional installation
Thicker boards are not recommended for non-professional installation because they contain crystalline silica, a hazardous dust that can lead to silicosis, a deadly lung disease, according to the CDC
Contractors will wear protective gear needed while working
Environmental Friendliness and Safety
Better for the environment: Fiber Cement (when installed by a professional)
When working with construction materials, it's important to know how to handle each with care. Both come with risks when installing. However, professionals can take precautions to keep the hazardous dust from fiber cement out of the air during the cutting and sawing process.
Vinyl
Requires lighter loads and less fuel needed for transport due to vinyl's lighter weight
PVC is not eco-friendly due to the manufacturing process
Releases hazardous, carcinogenic dioxins into the air when burned in landfills
Many facilities will not recycle PVC
Fiber Cement (Hardie Siding)
Made of some natural materials, including wood pulp
Cannot be recycled at this time
Doesn't emit hazardous gasses
Longer lifespan
Hazardous crystalline silica dust can be emitted in the air when sawing and cutting boards and not using the proper gear and method to collect the dust, such as attaching a wet-dry vacuum to saws while working
Which Is Best: Fiber Cement or Vinyl Siding?
To review, when you're looking for a thicker, more durable product that provides an appearance close to the look of real wood and stone––and budget isn't an option––choose fiber cement or Hardie Board.
On the flip side, vinyl is the way to go when you need affordable siding fast that requires little maintenance. By spending a little more on insulating vinyl boards and (or) a house wrap, you can improve your home's energy efficiency, which can cut down your heating bills.
Pros and Cons of Fiber Cement (Hardie Board) vs. Vinyl Siding at a Glance
If you're looking for a quick recap of the benefits and drawbacks of fiber cement and vinyl siding, below is a quick rundown.
Fiber Cement Siding (Hardie Board)
Pros:
Holds up to severe storms and extreme weather conditions
Resists dents and dings
Has waterproof, fire-resistant, weather-resistant, and insect-resistant construction
High-quality fiber cement siding comes with 30- to 50-year warranties
Can last up to 50 years with the proper care
Available in a variety of colors, styles, and textures
Looks like natural wood and stone
Fire retardant material makes planks and boards fire-resistant
Cons:
Difficult to install
More expensive than vinyl
High labor cost
Some maintenance required
Needs repainting and caulking over time
Vinyl Siding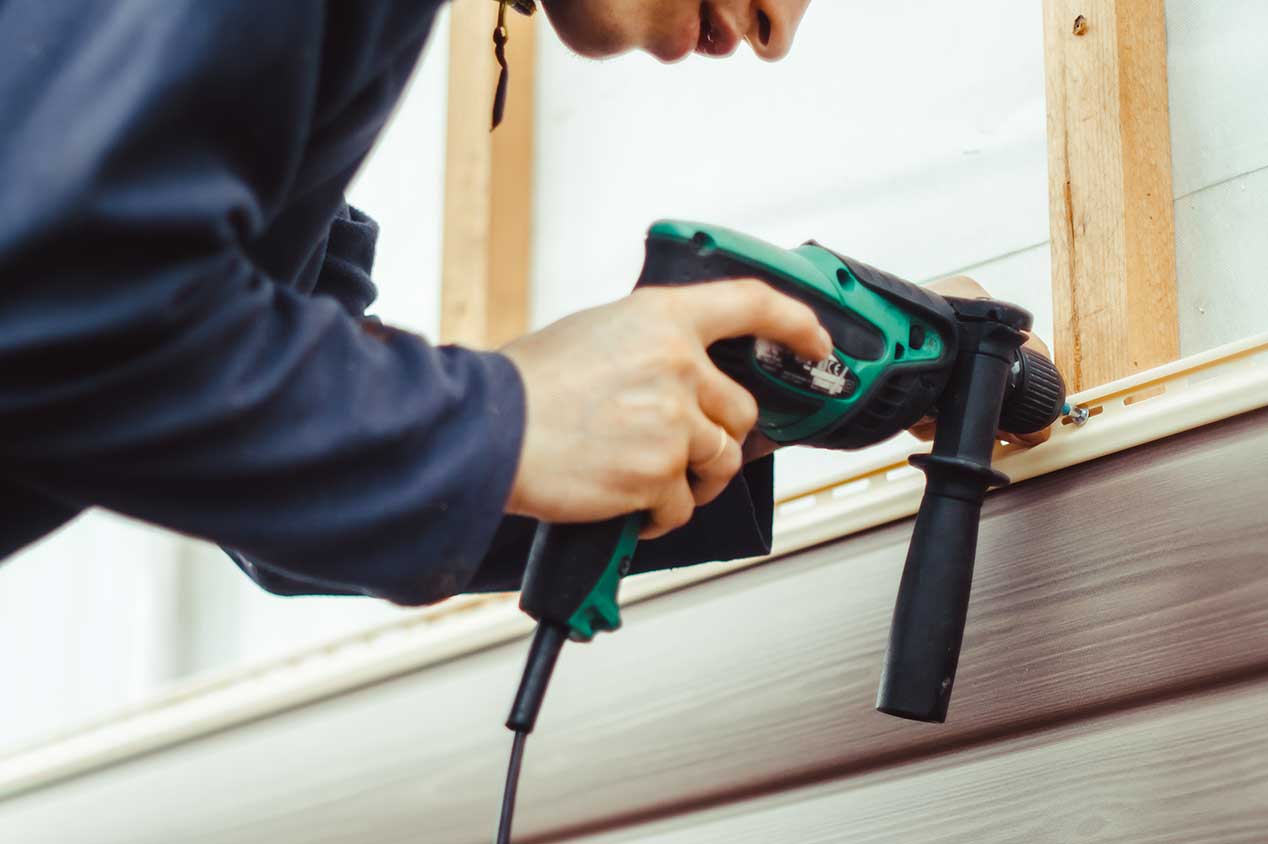 Photo: Venerala / Adobe Stock
Pros:
Inexpensive
Quick to install
Comes in a wide variety of colors
Doesn't require repainting
Insulated vinyl provides better energy efficiency than standard vinyl or fiber cement
Easy to clean with a garden hose
No maintenance needed
Color is homogenous, not coated
Cons:
Shows signs of age and wear in as soon as 10–15 years
Painted and staining are not recommended due to peeling and cracking issues
Damaged planks cannot be repaired and require replacement
Siding fades quickly when frequently exposed to UV rays
Pressure washing can crack siding and cause water damage
Made from fossil fuels
Can lower property value
Temperature changes cause expansion and contraction that can cause planks to split and break
Trapped moisture from clogged gutters and badly caulked windows can damage the polystyrene insulation board and leak into your home during expansion
Releases greenhouse gasses during the manufacturing process
Still Have Questions About Siding Installation?
7 Comments