Getting ready to go on vacation? Whether you're taking a quick trip or a long getaway, there are steps you can take to prepare your home for your time away. These extra measures help you secure the inside and outside of your home from issues including:
Inclement weather
Costly energy bills
Sudden plumbing issues
Unexpected electrical problems
Pests
On This Page:
Preparing the Outside of Your Home
Before you leave, walk around your home and look for some common vulnerabilities. Identifying potential problems now can help you avoid costly repairs down the road.
Secure or put away outdoor furniture, lawn ornaments, and grills.
Sweep leaves or debris away from the patio drain.
Latch and lock screen or swinging porch doors.
If applicable, bring pool supplies or toys inside.
You should also keep an eye out for other issues that may require professional assistance. For example, a surprise rain shower can turn a broken roof shingle into a leak. The cost to repair a damaged shingle usually ranges between $45 and $65 per hour, which is significantly less than the cost to repair and clean up water damage. Other small issues, like a broken fence post, can invite pests onto your property. Call in a fence repair company near you for help.
Winter Weather Prep
If you're leaving in the winter, there are some additional ways you should prep your home before you go.
Insulate exposed pipes to prevent them from freezing.
Clean your gutters to prevent ice buildup.
Tree management and removal is important if you have dead trees on your property.
There are parts of your home's exterior that need extra care during a winter vacation. If you live in an area prone to heavy snowfall, a roof inspector near you can help make sure your roof is in good shape. This is also an opportunity to get an HVAC inspection – the cost to install or replace an HVAC system averages $7,000, while HVAC repair costs about $350. Stay on top of maintenance to delay or avoid significant repairs.
Additional All-Weather Prep
If you have a pool or spa, there are a few things to do before you head out.
Turn off the heater.
Leave the pump running to avoid algae buildup.
Use a cover to keep leaves and debris away.
For trips longer than a week, consider asking a neighbor to check in periodically and make sure there aren't any issues. A sturdy pool cover prevents animals from falling in and drowning.
If you have a garage, keep your car there to keep it safe from bad weather and critters. This is also a convenient way for a neighbor or family friend to get access to your home – garage door opener installation costs $350, and can serve as a key. For street parking, leave a spare with a trusted friend so they can move your vehicle in case of an emergency.
Ready to start your
home security installation

?Find Pros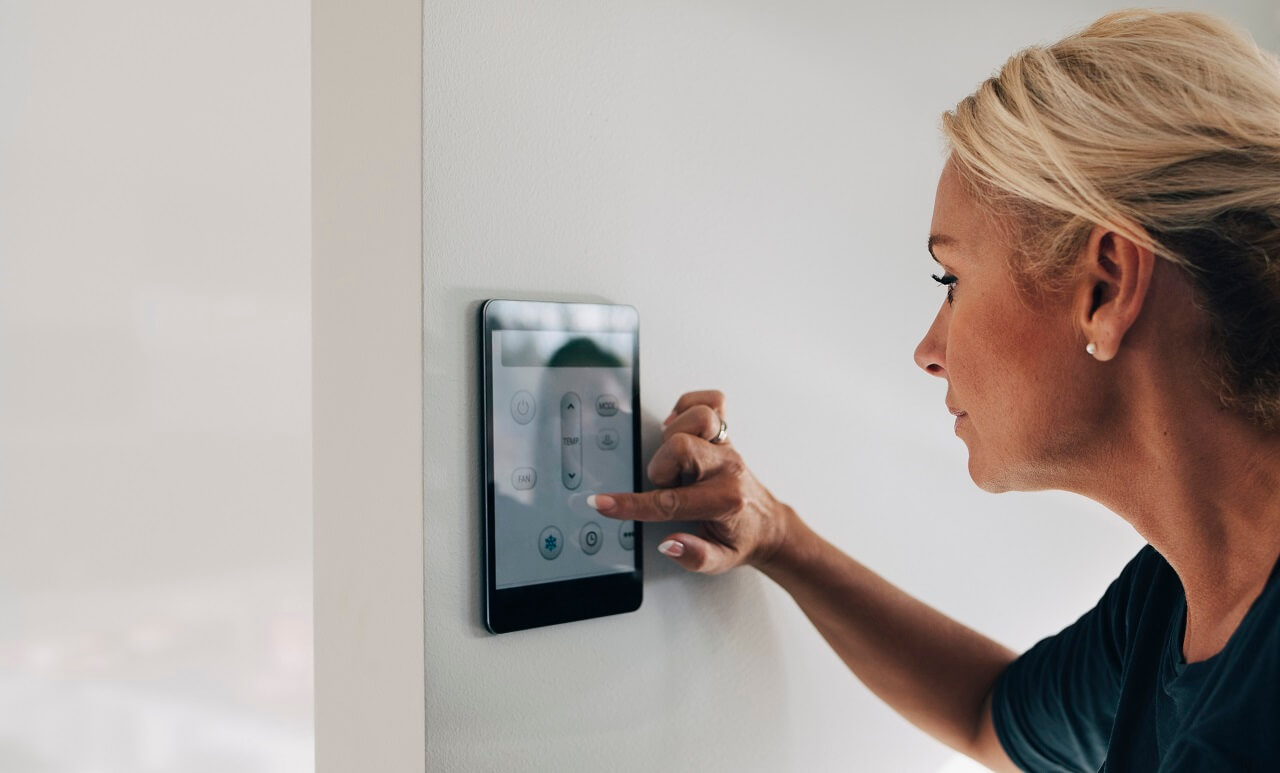 Preparing the Inside of Your Home
An interior walkthrough of your home should include the following:
Make sure exterior doors and windows are closed and locked, including pet doors.
Know fire safety, and put fresh batteries in your fire alarms.
Unplug appliances and electronics, including microwaves and lamps.
Disconnect the receiver of your electric garage door opener.
Set your thermostat at an appropriate degree, depending on the season.
Unplugging your home can help you save on utility bills. It also protects your appliances and electronics from any power surges that could occur while you're away. Power surges can cause a garage door to open on its own, turn on televisions or stereos, or create disturbances to your neighbors and pets. If you live in a lightning-prone area and you're concerned about surging, there are options. The cost to install a home lightning protection system typically runs between $450 and $2,500, with surge protectors starting around $100.
Pets and Plants
Depending on how long you'll be away, you may need a neighbor or family friend to help take care of your plants.
Leave a detailed list of plant types and necessary care.
Move plants away from where animals can reach them.
Put plants in the right positions before you leave.
If you have low-maintenance house plants in every room, you may not need an extra hand, but a self-watering system may be a good option for you.
Considerations for Long Trips
For long trips, you may want to turn off your water supply. If your home uses a boiler system, you'll want to have a professional take a look or help before you turn the water off. For reference, homeowners report that boiler inspections cost between $100 and $300.
Once your water is off, you'll need to flush the pipes of the remaining water.
Turn on your faucets until they run dry.
Flush the toilets to clear water from tanks and bowls.
In winter, put non-toxic plumbing antifreeze in tanks and bowls.
In warmer seasons, avoid toilet scum rings with half a cup of bleach in the bowl.
You can also turn your water heater off completely, or simply flush it out upon your return by running it until it's empty and then letting it refill itself.
Security
There are several ways you can keep your home safe while you're away. A home security system can help ease your anxiety. Hiring an alarm monitoring service typically starts at $120, while the cost to install a security safe usually ranges from $300 to $800.
You can also take it a step further: if you're interested in a gated property, automatic driveway gate installation costs about $2,000.
Ready to start your
home security installation

?Find Pros
No Comments Yet