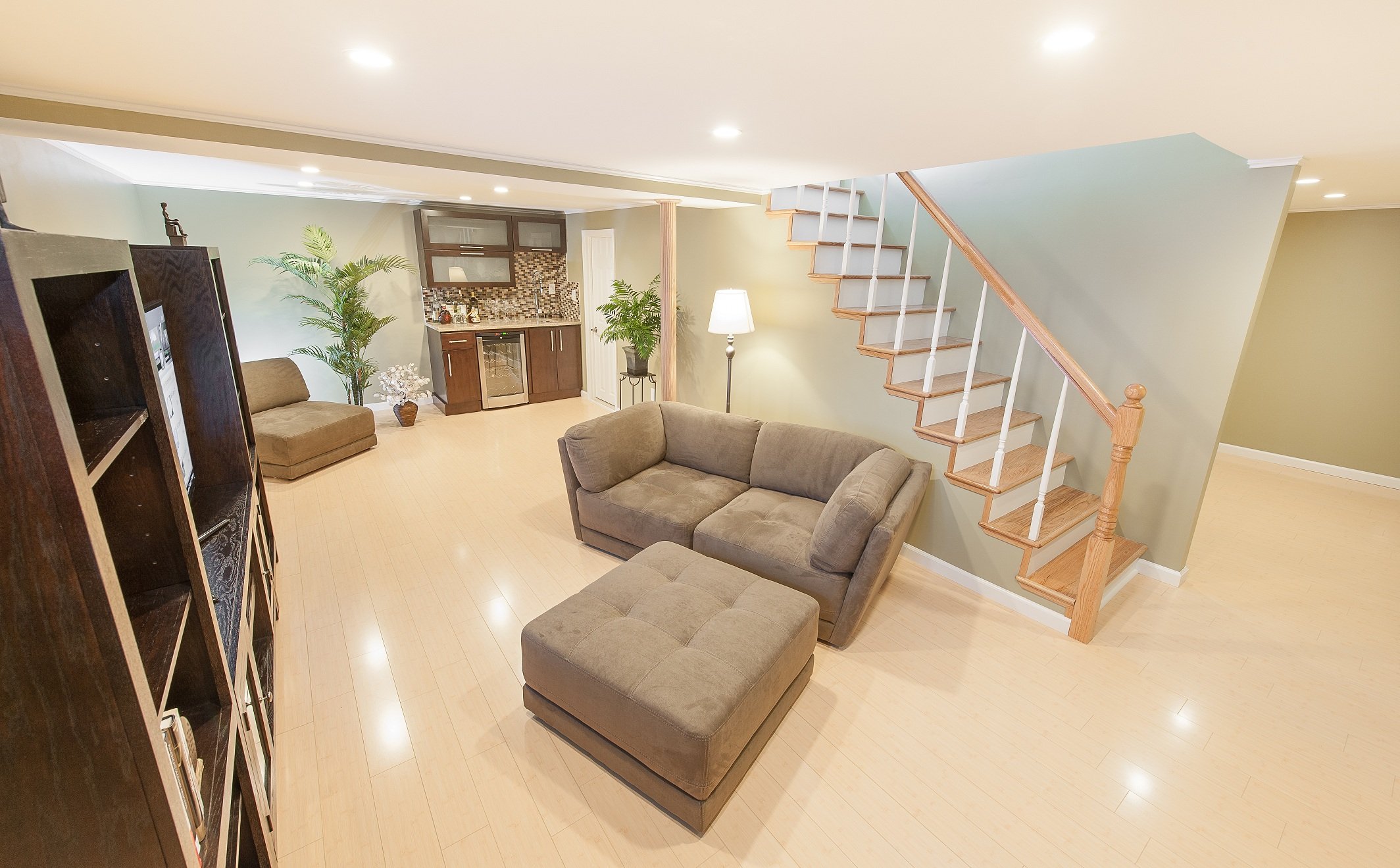 With all the options available, choosing a floor is already a difficult process. Basement flooring is even worse because a basement more often than not presents a moisture problem that may render some flooring options nonviable. Even the driest of basements often have more humidity than the rest of the house. If you have a serious moisture problem, you may need to address this before any flooring is laid. The easiest way to check on the moisture level of your basement floor is to take a non-porous material — a trash bag works well — and seal the material with tape to a couple different places around your basement floor. Wait for 24 hours and then check underneath the material. If you can feel any condensation build up, you should get your moisture problem taken care of first.
Recommended Flooring
These are the flooring options that are best suited for basement floors:
Concrete Flooring — This should be, by far, your first option. Concrete floors can be stained and or painted to almost any design and look. In almost all circumstances, concrete floors are the cheapest choice you can make. Good insulation can make concrete nearly as warm as any other flooring option.
Stone Tiling — Not every stone material is a natural for basement flooring, but more durable stones such as slate are a popular choice for basements. The problem is that softer, faux stone may not hold up in basements and tougher, natural stone is often cost-prohibitive.
Need to find a pro for your Flooring Project?
Find Pros
Exercising Caution
If you've determined that your basement is for the most part dry, here are some additional flooring options to consider:
Engineered basement flooring — This hardwood flooring is layered with different kinds of hardwood and often fitted with a high density fiberboard core. The flooring is specifically engineered to withstand moisture and is thinner than solid hardwood flooring, allowing for the installation of extra insulation. Nonetheless, even engineered flooring can become warped and damaged with too much moisture.
Laminate flooring — This flooring comprises a wood core and aluminum oxide surface. Each laminate is slightly different and some are not designed to be used in basements. Check with the manufacturer and make sure your basement doesn't have a moisture problem; damaged laminate flooring is nearly impossible to repair. According to our laminate floor cost calculator, most homeowners spend just under $3,00 on installation.
Ceramic and vinyl tile — These tiling options will work for basements, but only if the sub-flooring remains dry enough for the adhesive. Take extra care preparing the sub-flooring before you start installing the tile.
Avoid at All Costs
Unless you live in the driest of climates and have ideal basement circumstances, these flooring options are generally not recommended for basements:
Solid hardwood flooring — There's really no way to justify the cost of a solid hardwood floor for a below grade installation. Engineered hardwood flooring looks and feels nearly identical to its solid hardwood counterpart and will hold up under basement conditions much, much better.
Carpet — The most common mistake homeowners make is installing carpet in their basements. Carpet will trap moisture and is especially susceptible to mold and mildew. If you feel strongly about the feel of carpet, it may be better to throw down some large area rugs and plan on having them replaced every few years.
---
No Comments Yet
You can be the first to comment!