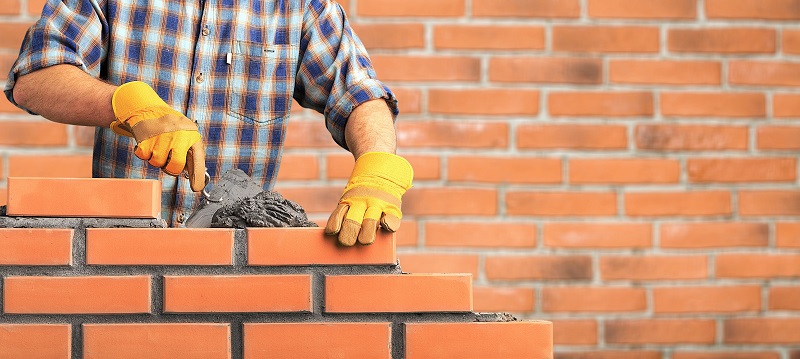 Reviewed by Bob Tschudi, Home Building and Remodeling Expert.
On This Page:
What Does a Mason Do?
Masons work with a range of materials like stone, brick and concrete to install chimneys, retaining walls, patios and entire homes. Their broad expertise is a largely untapped resource for homeowners. Even the simplest feature can enhance a space, like a pathway for curb appeal or a stone veneer accent wall for interior design.
A masonry contractor can guide you through a project and offer expert opinions that will help you get the most for your money and home. They can tell you what the most popular masonry choices are and why they are so popular. These pros can also tell you about lesser-known alternatives that are available to you, such as manufactured stone veneer and cement blocks.
There are three specialties that masons can have, and some will have experience and qualifications for all of these – stone, brick and concrete.
Stone Masons
Stoneworkers handle natural and manufactured stone as well as veneer products to create different installations. These include facades on homes, walls and both interior and exterior flooring.
Stoneworkers know how to manipulate the material to fit any design and look. They can also help answer questions you might have about the pros and cons for natural, engineered and veneer options for your project and budget.
Brick Masons
Brick masons work with brick, be it real, manufactured, solid or veneer. They are commonly referred to as "bricklayers." The process takes care and attention because the lines are typically very uniform and don't forgive mistakes.
Common installations include chimneys and fireplaces, columns, walls and patios.
Concrete Masonry Contractors
Concrete masons work with poured and block concrete. The process for pouring often involves leveling, finishing and managing the weather's effect as the cement hardens. Concrete workers may also work with metal reinforcements to support their installations.
Common jobs include driveways, sidewalks, house foundations, columns and walls.
Consult with a professional mason
Masonry Workers vs Masonry Companies
Choosing between a small local business and a large-scale company is a significant decision. There are advantages and disadvantages to both.
Local Contractor Pros & Cons

| Pros | Cons |
| --- | --- |
| Established reputation | Indirect communication |
| Thorough training | Higher overhead costs |
| Greater business stability | Less service flexibility |
Brick and Stonework Subcontractors
When people refer to brick and stonework subcontractors, they could be referencing one of two types.
Individual subcontractors – These are qualified individuals who are hired by homeowners companies to work on projects, but who are not a part of that company's regular team.
Subcontracting companies – These companies are hired by general project managers or contractors that homeowners work directly with. These companies usually have a set team or crew, but they may also hire individual subcontractors of their own. Well-established companies will often operate as both contractors and subcontractors – pursuing and contracting their own work, as well as accepting work from other contractors.
Masonry Repair and/or Restoration Contractors
Masonry restoration contractors maintain, repair and restore existing structures. This type of restoration often refers to work on historical homes and structures. Common work includes repointing (replacing mortar), rebuilding sections, fixing cracks and replacing individual pieces.
Mason Tenders
Tenders assist masons on the job site by:
managing deliveries
building and securing scaffolds
prepping materials like grout and mortar
cutting materials
keeping the job site clean
chipping extra mortar/grout away
Find a mason for your next project
What is Common Masonry Work?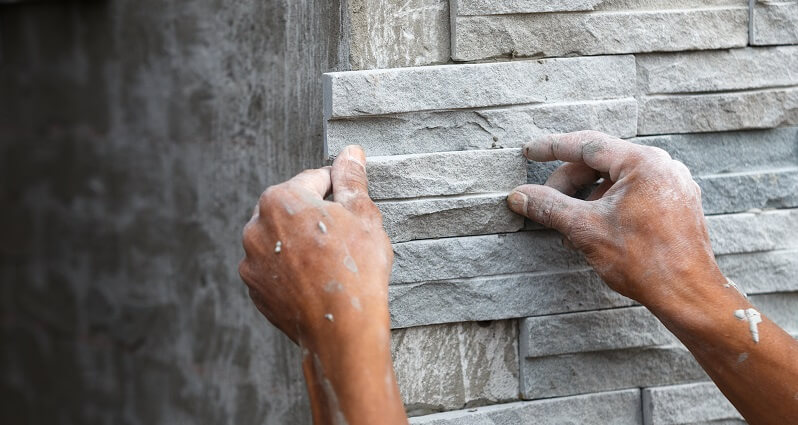 Masonry work takes many forms and can include installations that are slid and load-bearing, or simply for aesthetic.
Common projects include:
walls,
siding,
chimneys,
patios and walkways.
Common masonry repair jobs include:
fixing cracks,
rebuilding or adjusting compromised structures,
replacing mortar.
Interior Stone & Brick Walls
Installing an interior brick or stone wall costs $1,000 to $3,000. Load-bearing styles will cost more, while decorative options tend to cost less.
In many interior applications, homeowners can use veneer products to get the desired look. Veneer is lighter than natural stone or brick and is therefore easier to install. It often comes at a lower price point as well because it contains less natural stone or brick and transporting it is easier. People commonly make accent walls with veneer to simulate a vintage brick wall. Installation is similar to installing a backsplash in a kitchen.
Siding
Brick and stone siding costs between $6 and $30 per square foot on average, depending on the quality and type of product. Some high-end stone siding options cost up to $50 per square foot. Siding repairs cost $300 to $1,000.
Veneer products are popular for siding. These are thin blocks of brick or stone (natural or manufactured) that will give the façade the desired look. You could spend $10,000 to $50,000 to veneer an entire home exterior.
One of the first masonry projects (indeed, one of the earliest methods of home building), brick and stone siding is essentially the same thing used to build the pyramids. It's a natural insulator, fire-resistant and low-maintenance, among many other benefits of stone siding.
Fireplaces & Chimney Masonry
Installing a fireplace costs $1,000 to $3,500.
More than just a hole in the wall where you can burn wood, fireplaces can serve as a true hearth for your home. Professional work will really make a difference – and a stunning impression – when it comes to features like these. Arguably, no other place in the home can show a greater difference between authentic masonry work and imitations.
Patios & Walkways
Installing a patio or walkway costs $1,800 to $4,800. Brick pavers and patios cost $1,000 to $2,000.
A professional can transform your yard into a connected whole and give you more living space with the addition of a brick or stone patio and walkway. More than just these common projects, many other such landscaping projects can add value and curb appeal to your property.
Garden or Retaining Walls
Garden and retaining walls cost $3,000 to $8,000 to install. These walls are shorter and typically frame gardens or hold a sloping lawn. Many materials work for these installations. You can use natural or manufactured stone, brick or a veneer around a poured concrete or concrete block core.
Brick or Stone Steps
Stone step installation costs an average of $2,200 and can be as little as $1,000 and as much as $12,000. Brick steps should cost $150 to $300 per step.
Masonry Repair
Repair costs will vary depending on the structure, material and extent of damage.
Hiring a Licensed Masonry Contractor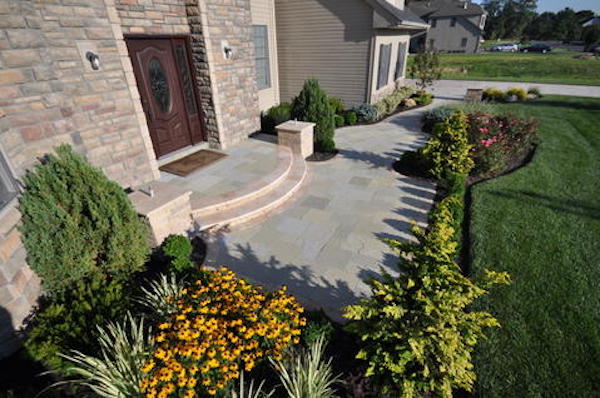 Finding a quality and experienced masonry contractor takes some time and work. You'll want to sort out a few details ahead of time, such as the materials you want and ballpark project measurements. This way, your bids will be more accurate, and you won't waste time calling the wrong professionals. Once you have that information, you'll want to do your homework.
Talk to at least three pros and get written estimates from each. This will let you know what's out there as far as pricing. You don't want to pay more than you have to, but there may be a reason one contractor's estimate is lower than another.
Know that different professionals may have specialized areas of expertise. Contractor X may be able to build a first-rate stone fireplace, while Contractor Y has the best retaining wall system in your area.
Ask for references not just from previous clients but also from clients who completed work like your own. And contact them for feedback.
Go with your gut when making the final hiring decision but protect your investment by signing a clearly written contract.
For more information and tips, read our guide to hiring a masonry contractor.
Get a call from a masonry pro
Masonry Alternatives: Concrete or Cement Block Contractors
Professional masons also work with concrete, usually block. Concrete contractors usually handle poured projects. Less precise than masonry, this work is, nevertheless, an art unto itself that is transforming the home improvement industry.
Modern finishing allows the material to appropriate any number of colors, textures, and finishes. You no longer have to choose between inexpensive concrete and the stunning look of classic stone. Whether you're looking for a smooth, shiny, bright red surface or the look of distressed leather, this product can accommodate.
Of course, brick and stone still have their place, and concrete can't perfectly match their timeless look and feel. But before you finalize your plans for your project, you should at least entertain a proposal and cost estimate for a finished concrete project.
DIY vs Hiring a Masonry Construction Company
Many homeowners try to do these projects on their own, and a good number of those features turn out great. However, knowledge and skill are vital to that success. Less skilled DIYers can end up wasting a lot of good product on an unusable structure.
These structures are some of the most timeless in that they've been around for centuries and they'll likely stay around for centuries to come – as long as they're installed correctly. If you don't have the expertise to get it right, it's best to hire a professional and secure your investment for the future.
A few common mistakes that low-skilled homeowners make are:
Not practicing or prepping: Poor preparation and lack of practice almost invariably results in sloppy, poorly fitted work.
Applying the wrong mortar: Not using the proper mortar for the material, location or grade (ex: above or below ground) can compromise your project.
Skipping waterproof techniques: Neglecting to divert moisture from the completed project will leave it susceptible to corrosion and damage. Diversion features include weep holes, flashing and caulking.
Looking for a mason?
1 Comments