Last Updated: June 9, 2020
Written by HomeAdvisor.
Home Sauna Costs
The average sauna installation costs between $3,000 and $6,000. On average, you'll spend about $4,500. Size and material costs play the biggest roles in what you'll pay. Labor costs usually account for between $700 and $3,000 of the total price. Prefab options cost between $70 and $120 per square foot.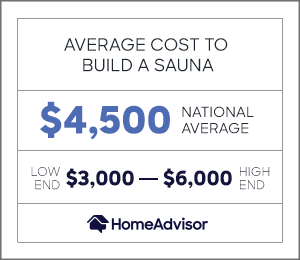 Typical sauna sizes range between 4 by 4 feet to 8 by 12 feet. The average 8 by 5 feet unit can seat 4 people. Larger versions that can seat 5 to 7 people will run closer to $6,000.
Relaxing in one benefits your health by removing toxins and bolstering the immune system. Most people don't realize that you can install one in the home. A professional can help you determine the best options and prices for your space.
| | |
| --- | --- |
| Average Cost | $4,500 |
| High | $6,000 |
| Low | $3,000 |
The total price to install falls between $3,000 and $6,000. Larger or more complicated options will exceed this range. Location and materials heavily impact your price. You can choose between indoor and outdoor options.
In-Home Sauna Cost
An indoor unit begins at $3,000 but can get up to $9,000+. In-home options cost more than outdoor units because you must vent it and protect the nearby area from heat and moisture. You can install it anywhere that space allows, like a walk-in closet or basement.
Cost of Building an Outdoor Sauna
Outdoor installations cost between $3,000 and $6,000. They rarely exceed this range since they don't come with constraints of existing space. The wood material chosen will increase the price. Cedar and redwood are the highest-quality woods for saunas.
These can make an excellent addition to an outdoor living space. It is usually built as a freestanding wood unit but will require a concrete slab to be poured as a foundation.
Prefab Sauna Prices
Prefab kits cost between $70 and $120per square foot. The standard 8 foot by 5 foot 4-person unit will run you about $2,800. The cost to install a kit will be much less than the price of a custom job. A professional should still perform the installation but using this type will help save on some costs.
Top Sauna Brands
| Brand Name | Types | Warranties Offered |
| --- | --- | --- |
| Finlandia | Custom, Prefab | 1 year |
| Sunlighten | Infrared | 7 year |
| Finnleo | Traditional, Infrared | 1 year to limited lifetime |
| Sunaray | Infrared | Lifetime guarantee |
Custom Sauna Room Costs
The average custom installation costs about $7,100. For an outdoor unit, there will be a range of wood to choose from such as cedar or redwood. Fiberglass or acrylic versions are very durable, but somewhat more expensive to repair than wood.
Different woods have their own costs and properties. You'll go through quite a bit of wood on a custom sauna. Use this chart to compare the more and less expensive options.
Outdoor Wood for Sauna Costs

| Type | Material Cost Per Square Foot |
| --- | --- |
| Pine | $2-$4 |
| Cedar | $3-$7 |
| Spruce | $4-$8 |
| Hemlock | $6-$9 |
| Nordic White Spruce | $13-$20 |
| Redwood | $30-$35 |
If you opt to install a door or windows, the materials for those will also affect the price.
A custom job will allow you to add more features and to make it a more customized size and shape.
Consult with a Pro for Sauna Costs
Infrared Sauna Costs
Infrared saunas cost between $1,500 to $6,900. Most of these units come as prefab kits. Infrared options don't generate as much moisture, so you don't need a strong and costly wood such as cedar.
Dry Sauna Costs vs. Wood-Burning Saunas
Wood-burning saunas costs begin at around $3,000. A dry sauna generally costs between $3,000 and $6,000.
A dry sauna heats up rocks that create warmth for the sauna experience. Wet saunas add water to the rocks to create steam. Both can be powered by wood-burning, electricity or gas. However, you'll pay more to operate a wood-burning sauna. The standard electrical sauna only costs between 12 and 50 cents to run for an hour.
Get Estimates for Sauna Installation
Residential Sauna Cost Factors
Beyond materials and indoor vs. outdoor, consider these factors for the cost.
Location
You can install in a variety of places. The cost will be determined by how much renovation is necessary to install. Common locations include garages, bathrooms and basement. Placing units in outbuildings is another option.
Two vs. Four-Person Saunas
A small two-person 4 by 4 feet unit costs around $2,000. You'll pay closer to $4,000 on average for an 8 by 5 feet version that handles four people.
Electrical
The cost to install will include the electrical wiring it requires to set up the system. They require a 220-volt circuit in the existing electrical panel and a 220-volt receptacle nearby. You'll want to make sure you hire a local electrician to handle all electrical work to ensure everything is set up safely and correctly.
Extras
Any extras you add will increase the cost to install a sauna, but it's typically these extras that will make your installation comfortable and more functional.
Sauna rocks
Water bucket with ladle
Hygrometer or thermometer
Consult with an Electrician
Sauna vs. Steam Room or Shower
A steam room costs between $1,000 and $5,000.Steam rooms and showers work differently than saunas. Rather than heating rocks or water, a steam room generates hot mist and sprays it throughout the room.
Installing a DIY Sauna Kit vs. Hiring a Pro
A DIY kit costs between $800 and $1,200. Contract a sauna professional to help or subcontract out the plumbing and electrical tasks.
FAQs
What is the ROI on installing a sauna at home?
Sauna return on investment heavily depends on how much the next buyer values the improvement. Some buyers perceive luxury and value, as long it's high quality, resulting in a high ROI. Others may consider it an unnecessary expense and maintenance task.
How much does running a sauna cost?
The cost of running a sauna depends on size and how much you use it. They don't generally use a lot of energy. For an electrical unit, your heater will have a kilowatt number attached to it. Multiply the kilowatt size of the heater by the electrical rate per kilowatt-hour by the number of hours used per month.
How much does it cost to repair a sauna?
Sauna repair costs between $170 and $600.
What are common sauna dimensions?
Sauna rooms are usually between 4 by 4 feet to 8 by 12 feet. You'll need an 8 by 5-foot unit to fit four people.
How much does it cost to build a salt room?
A home salt room cost begins at $5,000. This adds even more luxury to your home unit by adding halotherapy, or dry salt therapy. Small personal halogenerators don't have the same effect as a full salt room but can be bought starting for a few hundred dollars.
How much does it cost to remove a sauna?
You'll pay between $75 and $100 per hour per worker to remove a sauna. Some companies may charge a disposal fee as well. You will pay more to remove a custom unit than a prefab one. Outdoor versions cost much less to remove.
Consult a Pro for Your Sauna Installation
Thank you for submitting your feedback.