Review Middle Tennessee Crawlspace
Rate Your Overall Experience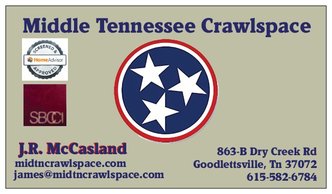 Reviews of Middle Tennessee Crawlspace
---
Review by Jim T. in Nashville, TN
Project: Waterproof a Basement or Foundation
Friendly professional and local.
---
Review by Linda L. in Greenbrier, TN
Project: Waterproof a Basement or Foundation
Excellent job on my crawlspace. I've been told by people who have been down there that it is one of the nicest crawlspace encapsulation jobs they've ever seen. Price was below other contractor quotes I'd received....
---
Review by Thomas W. in La Vergne, TN
Project: Waterproof Inspection / Certification Service
Did the job as expected
---
Review by Thomas W. in La Vergne, TN
Project: Waterproof a Basement or Foundation
They did the job as expected