Pool Fence Costs
A pool fence costs most homeowners $1,500 to $10,000+ to purchase and install. On average, you'll pay anywhere from $15 to $25 per linear foot. The type of materials you go with determine price. Chain-link and mesh run $1,000 to $5,000 while wrought iron, aluminum, vinyl or wood are double that at $2,000 to $12,000. On the high end, tempered glass ranges from $7,000 to $20,000+.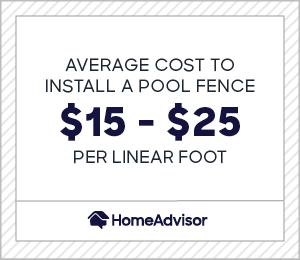 Many states and municipalities require fencing around a pool, typically with an inward swinging, self-closing gate. Height requirements for in-ground units range from 4 to 5 feet. Above ground only need 2 to 3 foot barriers and cost half as much. Before you decide to DIY this project, talk to a professional about safety concerns and code requirements.
Thank you for submitting your feedback.